Today, HJ is pleased to share with you

Lori Foster's

new release: 

Don't Tempt Me

Love comes along when it's least wanted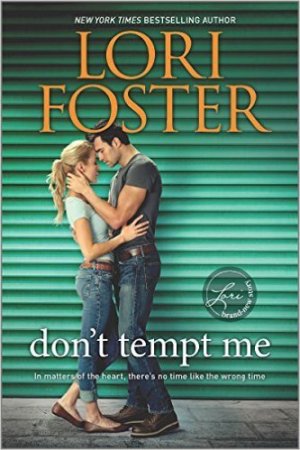 Jason Guthrie has no time for entanglements—between helping out his widowed brother and teenage nephew and getting his hometown back on its feet, his days are spoken for. But his nights are another story… And when his lovely new neighbor, Honor Brown, reluctantly accepts his help in remodeling her house, Jason finds himself wishing his handyman skills could knock down the defenses she keeps building around herself.

Martial arts teacher Sullivan Dean knows real danger when he sees it—even when it takes the form of the gorgeous blonde helping her friend move in across the street. After putting his wayward past behind him to focus on teaching control to troubled kids, Sullivan has learned to avoid party girls like Lexie Perkins. But Sullivan can't seem to keep his hands off the real woman behind that flirty charm—or keep his heart from landing at her feet…

Enjoy an exclusive excerpt from Don't Tempt Me: 
Honor and Jason were alone and with every fiber of her being, Honor felt it. Hoping not to be too obvious, she took a step back, then another. "I should get going, too. I need to drop off the truck tonight so I can get my car back. It's going to take me a few hours to get back here, and I still have to get things set up for the morning."
"What kind of things?"
"Alarm clock, coffee and I have to unpack enough clothes to get ready for work in the morning."
He had been looking down at the ground as they walked to the curb, but now his head lifted and he stared at her. "You have to work tomorrow?"
"Yes." But it wasn't a matter of having to. "I'll be taking all the hours I can get for a while. There are so many things I want to do to the house, but it all takes funds." Funds she didn't have. What money she'd saved would go to dire necessities, so overtime helped to pay for the extras she wanted.
"You have to be tired."
"A little." She rolled her aching shoulders, but resisted the long stretch. "I'm both excited and exhausted and I don't know if I'd be able to sleep in anyway."
"Excited?"
There were a hundred different reasons for her excitement, and one of those reasons was standing before her. Jason Guthrie was about the sexiest man she'd ever met. His careless hair, strong features, dark eyes and that body… Yup. The body definitely factored in.
But she also liked his intense focus, the way he smiled with pleasure at his nephew and his up-front honesty. That honesty had stung a little, since he clearly felt she was out of her league. Then again, he'd pitched in and done what he could to make her move-in easier.
How could she not admire him?
Naturally she wouldn't say any of that to him, so instead she shared other thoughts that would hopefully reaffirm for him that she was here to stay. "The move, the house—now that it's officially mine and I'm here, there are a million things running through my mind. What to do first, how much money I'll need, how to do it and when to do it." Forgetting her reserve, she whispered, "Tonight, I might just dance around and enjoy it all."
"Yeah? Since you don't have curtains yet, that could be interesting."
Heat rushed into her face. "After I get the windows covered, then I'll dance."
Amusement curled his mouth. "Spoilsport."
Their shoulders touched, electrifying Honor. She took a step to the side, ensuring that it wouldn't happen again. Remember that he wants you gone. Remember that he wants you gone. Remember…
"I get it," Jason said. "First big night in your own place." Lifting a brow, he added, "And yeah, curtains might not be a bad idea. Or at least tack up a sheet or something."
Maybe, Honor thought, he didn't dislike her as a neighbor as much as she'd assumed…
Excerpt. ©Lori Foster. Posted by arrangement with the publisher. All rights reserved.
Giveaway:

Signed copy of DON'T TEMPT ME by Lori Foster
To enter Giveaway: Please complete the Rafflecopter form and post a comment to this Q:

What did you think of the excerpt spotlighted here? Leave a comment for the author with your thoughts on the book…
Meet the Author: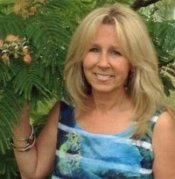 Lori Foster is a New York Times and USA TODAY bestselling author with books from a variety of publishers, including Berkley/Jove, Kensington, St. Martin's, Harlequin and Silhouette. Lori has been a recipient of the prestigious RT Book Reviews Career Achievement Award for Series Romantic Fantasy, and for Contemporary Romance. She's had top-selling books for Amazon, Waldenbooks and the BGI Group. For more about Lori, visit her Web site at www.lorifoster.com.