Today it is my pleasure to welcome New York Times bestselling author

Kristan Higgins

to HJ!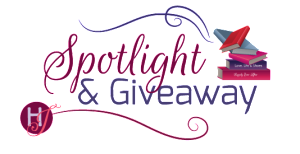 Hi Kristan, Welcome 🙂
Thanks for having me, Sara!
If someone wrote a biography about you, what do you think the title of the book should be? Why?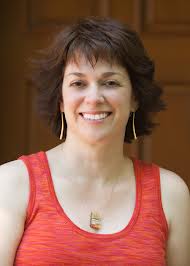 Um…How about The Many Fictional Husbands of Kristan Higgins?
Which of your prior characters would you most/least likely invite to dinner and why?
Least likely is easy—it would be Linda, Harper's mother in MY ONE AND ONLY. She was one of the few characters I didn't redeem. See, I love writing bad guys, love a nice juicy nemesis for my hero or heroine, but Harper's mother left her when she was 13 and never looked back. Her reason was completely selfish, and she never owned what that did to her daughter. When my own princess read that scene, she sobbed. How dare you, Linda! How dare you make my daughter cry!
Most likely…that's tough. I love all my characters (except Linda). If I had my heroes over, I'd start crushing on them again, and so I'd feel like I was the evil other woman, and my heroine would be giving me these looks, and then we wouldn't be friends anymore. So I'll go with a few secondary characters—John Holland and Mrs. Johnson from the Blue Heron books; BeverLee, Harper's stepmother in MY ONE AND ONLY; Margs, Grace's sister in TOO GOOD TO BE TRUE; and for purely aesthetic reasons, Joe Carpenter the Carpenter from FOOLS RUSH IN.
Let's talk about your newest release: Waiting On You
If you had to summarize the book for the readers here…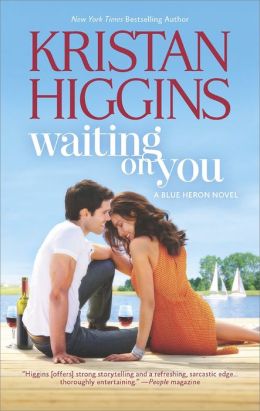 Colleen O'Rourke is the resident expert on love…except when it comes to herself. For ten years, she's been content to flirt and have a fling here and there, but she's never gotten over her first love, who left her to marry someone else. But now Lucas Campbell has come back to Manningsport to take care of his dying uncle, and they both find that the pull of first love is still as strong as ever. Lucas has a life back in Chicago, and Colleen isn't about to let him back into her heart and do the same kind of damage he did last time…except she kinda sorta can't help herself.
Please tell us about the characters in your book.
You bet! Colleen is one of my favorite heroines ever, because she's the sort of person I wish I'd been. She's funny, loyal, outgoing, confident and has a gooey caramel center that you might not expect. She's also a twin, and I love her interactions with her brother, who is alternately protective and irritated with his sister. Together, they run O'Rourke's, one of two restaurants in town.
Lucas Campbell is a brooding kind of hero who tries to take care of everyone and everything. He's absolutely decent and noble, but he has a hard time expressing himself, and way back when, he made a huge mistake. The last thing he wants is to hurt Colleen again, and he can't see how they can make a life together, since she's the heart of her little town, and he can't wait to get away.
As you wrote your protagonist was there anything about them that surprised you?
For Colleen, it was how much of a softy she is. In the first two Blue Heron books, we see her confident, fun-loving side…she's an accomplished flirt and a loyal friend. But in her own book, she surprised me a bit by how much she was willing to put up with in order to be a good sister to Savannah, her father's daughter from his second marriage, and how good she was to her mom and grandfather.
For Lucas, I was surprised at the depth of his loneliness. All his life, Lucas has tried to do the right thing and be a good guy, and yet he has no idea just how much he brings to the table. That sense of being on the outside, looking in…that just broke my heart in the best and most wonderful way, because like Colleen, I just wanted to take him home and love him up, you know? (Don't tell McIrish I said that.)
What scene did you most enjoy writing? Why?
The scene where Colleen cooks dinner. As someone who rather hates cooking, I loved writing this scene. See, Colleen is spoiled; Connor, her twin, is the chef, she owns a pub, so she never has to cook. But she wants to impress Lucas, and, well…she overcommits just a tad. This opens with Colleen way behind schedule and Lucas knocking on her door. She won't let him in because she's just a little panicked.
At the moment, she was wearing a now-filthy, beet-stained, scallop-stained, everything-stained O'Rourke's T-shirt with the sweatpants she'd stolen from Connor last month and hemmed by hacking off four inches at the bottom, and it wasn't as sexy as it sounded.
The smoke could dissipate on its own. She had to beautify. She yanked off her shirt, tripping over Rufus. "Sorry, baby."
"Did you say something?" Lucas asked. He may have been laughing.
"Shut up! Just wait for me!" The shirt caught on her hair clip, tugging painfully, and she whacked her knee on the door frame, then staggered into the door so that it slammed into the wall.
"Colleen?"
"I'm coming! Just keep your pants on."
Seven minutes later, she was slightly sweaty but totally gorgeous, please God. Tight black dress, hair down (if perhaps smelling of charred mollusks), some lip gloss, long silver earrings, barefoot because she'd spilled some boiling water on her foot and her slutty shoes were a bit painful to begin with.
Oh, crikey. She needed a nap. And possibly the fire department.
But no, no, Lucas was here. Her one and only love, etc. etc., and yes, she was excited about that. It would've been nice if she had time for a shower, but hey. What was a girl to do? She opened the door.
"Hi," she said, trying for dew-kissed and sultry, and her voice did sound huskier, thanks to the smoke inhalation from earlier. "Come on in." Rufus began his Serenade of the Visitor. Ah rah! Ah rah! Ah rooroo rah!
"It smells so good in here," Lucas said. "Were you burning feathers?"
"Hush, boy. It'll be delicious. I had a slight fire. It was nothing. Wine?"
"Sounds like I'll need some." He held out a bouquet of yellow roses.
"Thanks," she said.
They were her favorite. He remembered.
Le sigh.
What scene was the hardest to write? Why?
The scenes that are hardest to write for me are the heartbreakers, but I also love writing those the most. I always say that if I don't cry while writing a book, I'm not doing my job. Here's a little bit about Lucas's life when he goes to live with his aunt, uncle and cousin.
When it came time for back-to-school shopping, Didi bought Bryce's clothes from Hollister, and Lucas's from Kmart. Point taken. Joe bought him a new baseball glove for his birthday, the first never-been-used glove he'd ever had, despite playing for a couple of years already, and five minutes after he opened the package, Didi's tight lips and hissing whispers managed to convince Joe that Lucas didn't need a new glove. But Bryce did. Lucas could have Bryce's old glove.
And so it went. It was Didi's job that afforded the big house and tricked-out car in the garage ("Isn't it cool that your niece and our car have the same name?" Bryce said once). Didi was vice president of something, whereas Joe worked from home, and somewhat sporadically.
But despite his uncle's assurances that they were thrilled to have him, despite Bryce's adoration, Lucas had never felt so alone. He missed Stephanie, who was kind of a screwup, sure, but who was also funny and who let him have ice cream every night the year after Mom died, when Dad worked nights. He missed his niece, who smiled and drooled on him and babbled at him. Her first word had been Wookus and everything.
Being half–Puerto Rican was not a big deal in his old neighborhood, but here in the suburbs, he was the only non-white, as far as he could tell. He missed people knowing who he was—Dan's son, Steph's brother, widely regarded as a good kid. He missed his room with the poster of Yoda on one wall, one of Michael Jordan on the other.
Here at Didi's, the walls were bare. His bedspread was blue, the sheets new and stiff, the bed tightly made, unlike the nest of soft old blankets on his bunk bed back home. Didi asked him to throw out his battered feather pillow, saying she'd bought him a new pillow, and his probably had any manner of microscopic life growing in it.
He tried to stay out of the way.
Who would you cast in the role of your characters if your book were optioned for a movie?
Well, though he's not the right ethnicity for Lucas, I confess to having had Kit Harington in mind for Lucas. It's the hair. That is some amazing hair. For Colleen, I think I'd go with Eva Mendez (again, wrong ethnicity, I know, but who cares!). She's got such confidence and humor, and I love her madly.
If you could have given your characters one piece of advice before the opening pages of the book, what would it be and why?
I'd never give them advice, because then they wouldn't screw up, and there'd be no book. No, the whole fun in any romance is the difficulty the two characters have in finding their way to each other, or in this case, back to each other.
What are you currently working on? What other releases do you have planned for 2014?
At this very moment, I'm finishing up IN YOUR DREAMS, which is the fourth book in the Blue Heron series. A reluctant hero, a surprising heroine, some great issues, a wardrobe malfunction for the ages, and a puppy.
Where can readers get in touch with you?
www.KristanHiggins.com and www.Facebook.com/KristanHigginsBooks.
Thanks for blogging at HJ!
GIVEAWAY:

I'll give away a signed copy of THE BEST MAN and THE PERFECT MATCH to one commenter

. International's okay.
To enter Giveaway: Please complete the Rafflecopter form and post a comment to this Q:

Who was your first love? Did it take, or is he or she a fond/bitter memory now?
Excerpt
This is when Lucas and Colleen meet again for the first time since he broke her heart ten years before. She's trying to set up her friend with Bryce, who happens to be Lucas's cousin.
"What are you doing?" said a low voice behind her.
Colleen's heart froze, as though she'd swallowed a large ice cube, and it was stuck right over her heart.
She turned around.
Yep. Lucas Campbell.
None other. Standing approximately two feet from her, looking at her with those knowing, dark eyes.
Her skin suddenly felt tight. Mouth: dry. Brain: dead.
"What are you doing, Colleen?" Lucas asked again.
"Nothing," she said as if it hadn't been ten years since she'd last seen him. "What are you doing?"
"I'm here to see my cousin."
"So go see your cousin."
"What are you doing to my cousin?"
"I'm not doing anything to your cousin." So mature. And did they have nothing else to say to each other? Ten years apart? A river of tears (hers) and blood (his…well, she wished it was his blood).
Lucas just looked at her, his pirate eyes unreadable.
Shit.
Of all the gin joints in all the world, she started thinking, then squelched a blossom of slightly hysterical laughter.
Lucas Damien Campbell was here. Here in her bar. You think he could've called? Would that have been so much to ask, huh? Hmm? Would it? Hey, Colleen, I'm coming to visit my cousin, so be prepared, okay?
Colleen took a ragged breath, then coughed to cover. Unfortunately, the cough became genuine, and tears came to her eyes as she hacked and choked.
"You okay?" he asked in that ridiculously sexy, river-of-dark-chocolate voice.
"Yes," she wheezed, wiping her eyes. "Just great."