10 Shades of Seduction by Tiffany Reisz, Portia Da Costa, Alegra Verde, Alison Tyler, Lisa Renee Jones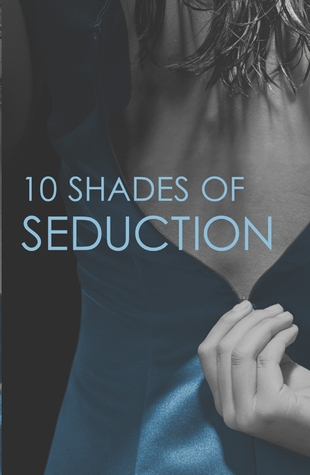 You know, if I had read the description of this book before reading it, I would have realized that it was 10 stories. Sure, to the average person, the whole "10" in 10 Shades of Seduction may have given it away but noooooo, not me!
After the 4th story, as I would finish the next one, I'd think that it was the last one and then another one would be there! I have to say, it was kind of awesome! It always kind of sucks when a good book is ending and with this one, it just kept putting the end of the book further and further away! Yay!
Since there are 10 stories, it would be difficult to give a full review on each of them. So I'm just going to give my quick impression of the story and if I liked it or not:
Submit to Desire by Tiffany Reisz
This one was just okay for me. The characters in this story are from the authors "Original Sinners" series. The hero seemed hot but that's all I got from him. The heroine was so-so. I think fans of that series will LOVE this story. I didn't love it so much but the Sexy Time was pretty hot.
Second Time Around by Portia Da Costa
These characters felt a little more real. Of course, this story was based at a high school reunion, so of COURSE its more relatable! Willa and James didn't really seem like a great match until they got back together. Then, it was clear that they were kind of meant to be!
Tempting the New Guy by Alegra Verde
I couldn't connect to this story. I liked it well enough but it was just sex and nothing else. Also, it ended really abruptly. Great porn, not an awesome story.
Giving In by Alison Tyler
I loved Giving In. This could easily be a full length story (maybe it is!). The characters were really great, there was plenty of Sexy Time and a little romance. There was also some humor, which is always fun. It was a great story but it was also a bit of a fairy tale too. The setting was pretty cool for me since I've never been to Italy. Over all, this was one of my favorites.
What She Needs by Anne Calhoun
This one started off a little strange but as it progressed to the end, I totally got where it was going. It was hot and sweet. Funny thing – I'm not sure if I ever learned the female character's name! If I did, it was only said once because I couldn't find it when I went through it a second time! But Jack, the male character, is certainly a keeper!
Vegas Heat by Lisa Renee Jones
I was ready to dislike Vegas Heat since I haven't connected with this author's other work but I was pleasantly surprised! I really enjoyed Vegas Heat; it felt like a full-length novel with all of the filler cut out. Dante and Sonya were really hot together but my favorite part was the fact that Sonya had made herself into the success that she is through hard work and own her own merit. Great story!
A Very Personal Assistant by Portia Da Costa
Patrick and Miranda were really great together in A Very Personal Assistant. Here though, Patrick is the assistant to Miranda BUT in his private life, Patrick is something of a Dom. Gah! Too awesome! I loved the switch up of the power roles. And I'm guessing that Miranda kind of dug it as well! LOL!
Tied up & Twisted by Allison Tyler
Oooh now Tied Up & Twisted was a strange one. Well, maybe not strange but I wasn't sure who the lead male character was! There were two guys and one got creepier and creepier as the story went along. Hadley has been a Domme in the past but now… we'll you'll see. I liked this story but I thought it was a teensy bit overly dramatic.
Letting Go by Sarah McCarthy
This was another one of my favorite ones. Marc and Becky are a married couple on a weekend retreat. At first, it sounded like Marc and Becky were kind of having problems but after a few chapters, it was easy to see what was going on. Marc is another keeper!!!!
Forbidden Ritual by Saskia Walker
Forbidden Ritual was a little bit slower. This one was more sensual than sexual, especially in the beginning. But I love what Giles was able to do with Imogen, who has a really hard time letting go. I mean, truly letting go. I think a lot of us will be able to identify with Imogen. I liked this one but it wasn't one of my faves.
Overall, I really enjoyed this book. I feel like its well worth the money to purchase this one. Although all of the stories in the book have some kind of BDSM angle, there's still a wide variety of tales within. There's a little something for everyone in this book and I'd highly recommend it!
Book Info:

Published: September 24, 2013 by Harlequin MIRA
Are you aching for more shade?
The experts in erotic romance invite you to delve deeper into the tantalizing world of BDSM with a selection of delightfully wicked novellas that will ignite your senses. Explore your darkest fantasies with ten daring, intense stories by some of the biggest names in the genre. If you're looking for a lip-bitingly sexy escape, 10 Shades of Seduction will claim you.
You know you want it
Sarah McCarty | Tiffany Reisz |Alison Tyler |Lisa Renee Jones | Portia Da Costa | Saskia Walker | Anne Calhoun | Alegra Verde