Beautiful Bastard by Christina Lauren: I've been tasked with the mission of critiquing not only the written versions of Christina Lauren's "Beautiful" series, but also the audiobooks. So look for the bit at the end about the audio version of this story.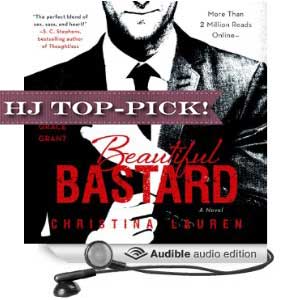 Chloe Mills has made a home at Ryan industries and owes them a huge debt for getting her through her MBA. So when she's assigned to intern for Bennett Ryan, the son who's returning from France to help run the family business – she's excited. She can learn a lot from someone like Bennett. After a few email exchanges, she's even more convinced that working with the man will be a great experience.
When it comes time for them to meet face-to-face, they don't exactly hit it off. In fact, he's a huge asshole. He catches Chloe in a rare moment of goof-offery while she discusses "Clerks" with a co-worker. It's not the best way to make an impression, but since she hardly ever slacks in her work, he'll surely get over his bias and learn to work with her civilly.
No luck. He's rude, curt, he treats Chloe like a servant, and overall he's a bastard. He's amazingly hot though, so that leads to his nickname – "Beautiful Bastard". "BB" as Chloe refers to him, never lets up, and after a particularly disastrous morning, he decides to rub salt into her already raw wounds. He wants to see her doctorate thesis presentation that afternoon – even though it's not due for weeks.
Chloe can't find enough profanities to utter through the course of the day – especially when she runs into even more obstacles that push her to the limit. So when her presentation turns into an encounter she wasn't even *close* to prepared for – she's taken by surprise. And "taken" is the right word.
Bennett and Chloe admit it, they hate each other – but they also can't resist the attraction that's been brewing since before day one. Bennett truly wants nothing to do with her outside the very unhealthy sexual relationship they've fallen into, but when he finds himself going incredibly caveman over the fact that his family wants to set her up with an old friend of the family, he has to reassess what's going on between them. Especially when his family points out that the *only* person who can't get along with Chloe is him.
Things come to a head between the two of them, and Chloe makes a decision that Bennett can't stand. However, in doing so, she forces him to confront his emotions regarding her, and it may just allow them to sort things out in the end. But is Bennett willing to sacrifice his pride in order to show Chloe that he's ready to risk it for her?
I'm not going to get into the whole "Fanfiction to Mainstream Fiction" debate here, but I will say that I have more than passing experience with both forms, and I find good writing to be good no matter how it's presented. This being the first installment of this series, it's based on a fanfiction piece authored by the two ladies who write as Christina Lauren. Personally, I don't consider good fanfiction to be derivative. It may be based on characters originated elsewhere, but ultimately, a good piece of fiction is good no matter who the characters are. And I also believe that (as the old adage goes) "there's nothing new under the sun". Most characters in books, movies, etc are based on, or similar to those found in previous works. So it's not an issue for me.
I like this book a lot. It's so incredibly hot I had to turn on my oscillating fan while reading it. I admit, Bennett is a dick to Chloe, but for some reason that just makes things hotter. I'm not a book snob – if I like something, then I like it. If I don't, I'll tell you that too.


Narrator: Grace Grant
Listening Length: 7 hours and 39 minutes
Version: Unabridged
Publisher: Simon & Schuster Audio
Now, on to the audiobook review. You know I already like the source material, so I'll just say that it translates well to the spoken word. It's read by Grace Grant, and she does a fantastic job. I've done some voice work, and I know how difficult it is to decide how to modulate to indicate secondary characters. Sometimes a female sounds slightly ridiculous when switching to a male perspective, but Grace transition seamlessly to Bennett's lines. She doesn't sound male per se, but that's fine. I'd rather she just hint at a male voice than go over the top. It's distinct enough that you have no trouble distinguishing between characters, but not so jarring as to take you out of the story. If you're into audiobooks, and you already like this title, I encourage you to pick this up (or rent it, or whatever) 🙂
Book Info:

HJ Top Pick
Published February 12th 2013 by Gallery Books | Series: Beautiful Bastard (Audio)
An ambitious intern. A perfectionist executive. And a whole lot of name calling.
Whip-smart, hardworking, and on her way to an MBA, Chloe Mills has only one problem: her boss, Bennett Ryan. He's exacting, blunt, inconsiderate–and completely irresistible. A Beautiful Bastard.
Bennett has returned to Chicago from France to take a vital role in his family's massive media business. He never expected that the assistant who'd been helping him from abroad was the gorgeous, innocently provocative–completely infuriating–creature he now has to see every day. Despite the rumors, he's never been one for a workplace hookup. But Chloe's so tempting he's willing to bend the rules–or outright smash them–if it means he can have her. All over the office.
As their appetites for one another increase to a breaking point, Bennett and Chloe must decide exactly what they're willing to lose in order to win each other.
Originally only available online as The Office by tby789–and garnering over 2 million reads on fanfiction sites–Beautiful Bastard has been extensively updated for re-release.