Beautiful Bitch by Christina Lauren is the follow-up to the first book in Christina Lauren's "Beautiful" series, Beautiful Bastard. This series is composed of full-length novels which then get a novella to finish the story and set up for the next book. I'll be talking about the print version as well as the audiobook. That being said, let's go!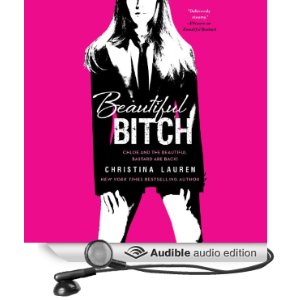 Beautiful Bitch serves two purposes. The main one being to tell us the story of Bennett and Chloe after their HEA in the first book. Secondly, we're given a better look at the main characters featured in the next full-length story – Sarah and Max.
Now that Bennett and Chloe have started life as a couple, things aren't exactly smooth sailing. The bickering is still there, but it's not the problem. The issue they have is that they hardly ever see each other. Chloe has begun her full-time career for Ryan Media, and Bennett is still the high-power executive he was when they started their whole "thing". The pair have been tapped to run the new New York office, so there's preparation for their move from Chicago as well.
When they're both in Chicago, they have a "batsignal" to call each other, and it's used to great effectiveness when Bennett just misses Chloe. But knowing that after they get to NYC they'll be even busier than they are now prompts him to make some plans. He calls his friend Max Stella, and asks if he can rent his French villa. When he's given the enthusiastic thumbs up from Max, he visits his mother for a last-minute addition to his surprise getaway. He informs Chloe that they're going to France in his requisite asshat style, but Chloe realizes that they really do need to spend some time alone together.
The only thing Chloe regrets is that she has to leave her friend Sarah when she needs her most. Sarah was very publicly cheated on by her politician boyfriend. Their breakup was common knowledge, and while Sarah knew she had to leave him, the publicity didn't help her heartbreak. Finding out that his meandering was well known by people she considered her friends was another blow. But Sarah knew she had to let Chloe run off with Bennett. She could wallow anytime, and Chicago isn't that far from New York, right?
With a few stumbles and frustrations, Chloe and Bennett end up in France together, but I don't want to spoil things for ya. It's a very memorable trip for both of them.
The novella is short and sweet, and it doesn't lack in the hotness department either. It's always nice to get the bow that ties up the main story, and this is definitely that. It's also very effective in setting up the backstories for the next characters to helm a Beautiful book, Sarah and Max.

Audiobook Info:
Audible Audio Edition
Listening Length: 3 hours and 26 minutes
Program Type: Audiobook
Version: Unabridged
Publisher: Simon & Schuster Audio
Audible.com Release Date: July 9, 2013
Grace Grant (Narrator), Kirby Heybourne (Narrator)
The Audiobook version is quite good. Grace Grant is back as the female narrator, and they've added a male voice for this book, Kirby Heybourne. Grace is lovely again in the role of Chloe and does the same professional job with both voices when it's her turn to narrate. I wasn't sure about Kirby at first – I think it's because he's not what I imagined Bennett would sound like. However, he does a wonderful job with cadences and pacing, and his modulation when he speaks for Chloe is very good. The main complaint I have is that "Papadakis" is pronounced two different ways, and that's a little jarring, but it's a pretty small nit.
Great book, short, fun read – and the audio version is well worth a listen.
Book Info:

Published July 9th 2013 by Gallery Books | Series: Beautiful Bastard (Audio)
Picking up where Beautiful Bastard left off, Chloe Mills and Bennett Ryan continue their steamy, combative relationship.
Just when Chloe's career starts to take off, Bennett wishes it would all slow down long enough to spend a wild night alone with his girlfriend. But after he refuses to take no for an answer, Chloe and Bennett find themselves with two plane tickets, one French Villa, and a surprising conversation that, predictably, leaves them wrestling under the covers.