Beautiful Stranger by Christina Lauren: Book 2 in the "Beautiful" series by Christina Lauren is by far my favorite. For some reason, Max makes my tummy flip and my heart go pitter-patter. And Sara is resilient and feisty – she sets her own rules and sticks by them… until Max comes along.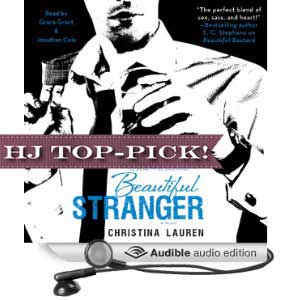 Max and Sara were both in the last book, "Beautiful Bitch" – the novella follow-up to "Beautiful Bastard". This is a full-length novel that gives us an in-depth look into Max Stella and Sarah Dillon's budding relationship. (if you've already read it, you might notice my little joke in that last sentence)
Max is thrilled that his friend Bennett Ryan and his fiancee Chloe have moved to New York. Not only does he like being able to connect with his old college chum, but the finance company he runs with his business partner will have some new business.
Sara Dillon is still healing from her recent very public, very scandalous breakup. She was the last to know about her ex's penchant for keeping a few women on the side. And by a few women, she meant almost every slutty chick in Chicago. Because he was a politician, he was using Sarah for respectability – but it also made things much harder when her story became breaking news. Luckily, her friend Chloe is in the process of moving to New York City, and is willing to hire Sara and take her along.
Max and Sara find themselves in a nightclub one night, and after finding it hard to keep their eyes off each other, they share a forbidden liason in the back halllway. Sara had never done anything like that before, and she was shocked to find out how much she enjoyed it. But she insisted they not share information about each other. No names, no seeing each other after that night, just a hookup in the club to start her new life off right.
Fate had other plans for the couple, because it doesn't take long for them to run into each other again… and again… until it's ridiculous to ignore their attraction. Plus, Sara kept thinking about the naughty things Max inspired in her, and how she wanted to do things like that again. She and Max find very inventive ways to use their assignations – especially frenzied because Sara makes the rule that they can only have one night a week together. But the things they do in that one night… whew!
Neither of them want to admit it, but they're both wanting to test the boundaries of their agreement. When they decide to step a toe over that line – it's no holes barred, they're in it for the long haul. However, Sara finds out that the press and a bit of thievery in an airport make a deadly combination that causes her to wonder just how much Max has settled down.
The book is fantastic, although if you're at all squeamish about SUPER hot naughty sex, you might want to steer away. Max and Sara make Bennett and Chloe look like highschoolers on prom night. If, on the other hand, you're okay with that, dive in. It's lovely to see how hard Max falls for Sara, and when he sees her pain, he just wants to hold her and protect her. He's a warm & fuzzy alpha, and they're few and far between.


Audible Audio Edition
Listening Length: 8 hours and 6 minutes
Version: Unabridged
Publisher: Simon & Schuster Audio
Audible.com Release Date: May 28, 2013
As far as the audiobook goes – this one is AMAZING. Grace Grant is back again for the third time – this time as Sara, and Jonathan R. Cole does the male narration, i.e. Max. I almost immediately got a huge crush on Jonathan… that accent *swoon*. He's crazy good, and reads a really racy novel in the best possible way. What can I say about Grace? She's stellar. She does such a good approximation of Jonathan's accent that it's scary. Her skills in creating distinct characterizations with seemingly very little effort blow me away.
I highly recommend both the printed (or ebook) and audio versions of this story. You can read/listen to this even if you haven't read the previous books in the series, but I think they should be read in order.
Book Info:

Published April 16th 2013 by Gallery Books |
A charming British Playboy. A girl determined to finally live. And a secret liaison revealed in all too vivid color. Book two in the NYT Bestselling series.
Escaping a cheating ex, finance whiz Sara Dillon's moved to New York City and is looking for excitement without a lot of strings attached. So meeting the irresistible, sexy Brit at a dance club should have meant nothing more than a night's fun. But the manner–and speed–with which he melts her inhibitions turns him from a one-time hookup and into her Beautiful Stranger.
The whole city knows Max Stella loves women, not that he's ever found one he particularly wants to keep around. Despite pulling in plenty with his Wall Street bad boy charm, it's not until Sara–and the wild photos she lets him take of her–that he starts wondering if there's someone for him outside of the bedroom.
Hooking up in places where anybody could catch them, the only thing scarier for Sara than getting caught in public is having Max get too close in private.