Escape with these hot off the press 

February Romance Releases 

from Escape Publishing.

Our mission: To connect readers all around the world with the stories they want to read.
We love romance, all romance, so when we imagined Escape Publishing, we imagined an imprint without restrictions, where romance readers can find the romance they want, in the style they want, at the length they want, whenever they want. In short, you want it – we've got it.
If it's science fiction, fantasy, contemporary, historical, erotic, gay romance, inspirational romance, urban fantasy, paranormal, or YA romance – or any mixture of the above, Escape Publishing's got it. We offer all levels of sensuality from the sweetest kisses to the hottest encounters. We offer different lengths, from short stories through novellas to full length novels. Our novels are standalone, loosely connected, or part of an ongoing series.
Escape Publishing is dedicated to bringing talented Australian voices to a global audience. All stories are DRM free, and available world-wide.
February Or Forever by Juliet Madison
In this heartwarming coastal romance, Escape bestselling author Juliet Madison asks, what if your favourite celebrity fell in love with you?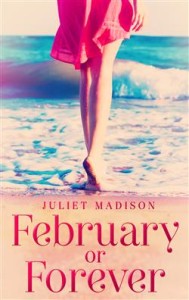 Yoga teacher and single mother, Chrissie Burns has a plan: move into the rundown beach house left to her by her deceased aunt, renovate it, sell it, and move on. The scene of a terrible accident years ago, the house needs to get out of Chrissie's hands as soon as possible.
But Tarrin's Bay, where the house stands, has more to offer than bad memories. The town is lovely, the people friendly, and even Chrissie's young son finds friends and begins coming out of his shell. Employed at Serendipity Retreat as a yoga instructor, Chrissie is shocked to be given the role of private teacher to Drew Williams, Australia's top singer/songwriter for the month.
Relationships between instructors and clients are strictly forbidden, but Drew draws happiness out of Chrissie with his down-to-earth nature and sense of humour. Days of stretching and bending may bring Chrissie unexpected peace and strength, but she knows that this interlude must end, and there's no pose or position to aid her when Drew walks away and leaves her broken-hearted.
Bespelled by Dani Kristoff
This isn't your mum's Bewitched…
Elena Denholm is a mild-mannered half witch. As a favour to her cousin, she agrees to meet with top Sydney lawyer, Jake Royston, to negotiate a property deal. Sparks fly immediately, but before they can even take a sip of wine, let alone explore where the sizzle might go, Jake is hit by a love spell and is helpless against his feelings for Elena.
Jake may be at her mercy, but Elena is keeping her hands off — exploiting humans is a no-no. But Jake's good looks and powers of persuasion are breaking down her resolve, and Elena knows she must do something fast.
Desperate to set things right before her resolve crumbles, Elena begins a frantic search to find the witch or warlock who hexed Jake and return him to his right mind, even if it means breaking her own heart…
Trusting A Stranger by Kimberley Brown
A new romantic suspense novel set in Italy, where not even the Tuscan sun can fully expose the dark and shadowy underbelly…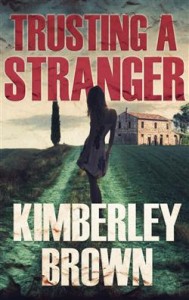 Hayley Wolfe will do anything to keep her father healthy and comfortable for as long as possible. When she is offered a hefty contract in return for some international travel, she jumps at the chance, and the security the paycheque provides. Though the beautiful Tuscan villa doesn't look like a hotbed of crime, nor its owner a deviant and evil man, looks can be deceiving…
Investigator Ethan MacDonald will do anything to keep his young daughter Katy safe from his ex-wife's family, even from beautiful young women who infiltrate his home. Hayley claims to have arrived under false pretenses, but Ethan well knows the lengths his in-laws will go to to get what they want.
With Katy's life on the line, there's no time for misplaced confidence. Will Ethan and Hayley risk everything for their families by learning to trust a stranger?
This Is Now by Maggie Gilbert
A gritty, urban New Adult Cinderella story where the princess can do her own rescuing — she just needs someone to believe in her.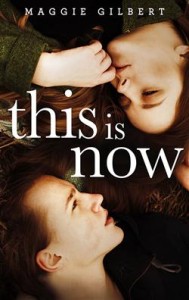 Sister to car thieves, ex-girlfriend to a drug dealer, high school dropout, no-hoper and loser — Jess is on the sidelines, watching her life become one epic fail. Her dreams of university are fading fast, as the people in her life fight to confine her to their own expectations.
Then she meets Sebastien, a gifted cellist from a very different walk of life. Sebastien is clean and strong and talented. He likes and respects her, but he too has expectations. Sebastien seems to think she can do anything, and Jess, despite her fears and the secrets she hides, is starting to believe him.
But just as Jess dares to hope, the secrets in her past and the lies in her present catch up with her. All seems lost and she has to make a choice. Between past and future. Between home and hope. Between now and never. And this is now.
Barbarian Bride by Eva Scott
On the bloody ground of the Colosseum, she fights to save her life. In the treacherous boxes above, he fights to save their love.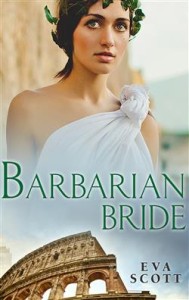 Though Klara didn't love the man who was to be her husband, she didn't want him murdered, and she vows to track down the man who committed the crime. Sickened that she'd been attracted to the mysterious Roman, Klara tracks Lucius Aurelius to the fringes of the Roman Empire, only to find that they've both been trapped in a clever plot to overthrow Klara's father, the Chief of the Huns.
Klara is separated from Lucius, captured by slavers and sold to a gladiator school. She is the only one who can save herself, by fighting for her freedom. Lucius can ensure her battle is easier, but only by sacrificing himself. How much is he willing to give up for the fiery woman he's come to love?
Star Pirate's Justice by S.E. Gilchrist
A brand new installment in SE Gilchrist's bestselling erotic Sci-Fi series about a dark and delicious alien race on a desperate quest for survival — and the human women who can cure their years-long curse.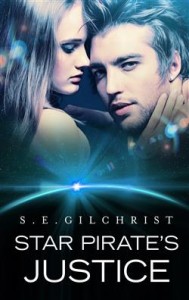 Carly has one focus in her life: to return home to her terminally ill younger sister. When she learns that a Darkon traitor possesses gateway maps to Earth, she uses all her skills to track him down. But capturing the charming star pirate turns out to be trickier than she anticipated…
Volkar is determined to prove his innocence to those who drove him to a life lived on the Outer Rim, and he will overcome anyone who gets in his way. But his surprisingly sweet captor has some skills that will come in handy, so he strikes a deal: the maps for her help. Neither expect their partnership to turn into more, but as dark secrets are revealed, their lives become forfeit — and the relationship blossoming between them nothing but a starburst of happiness in the deep shadow of the sky…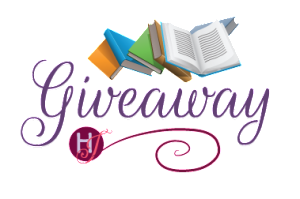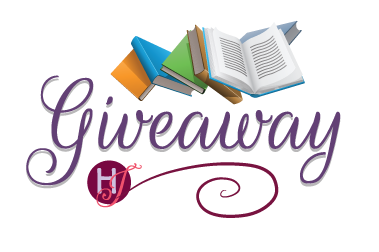 Giveaway: Thanks to Escape Publishing I will be giving away an e-galley of each the books listed above.
eBundle 1: February Or Forever by Juliet Madison + Star Pirate's Justice by S.E. Gilchrist
eBundle 2: Bespelled by Dani Kristoff + This Is Now by Maggie Gilbert
eBundle 3:  Trusting A Stranger by Kimberley Brown + Barbarian Bride by Eva Scott
To enter giveaway: Complete the Rafflecopter form below and Tell me which of these books caught your attention and why?
Good Luck!