Spotlight: Brand New Releases from Escape Publishing
Thanks to Escape Publishing I have one copy of each of these books to giveaway…
To Enter Giveaway: Please complete the Rafflecopter form and Post a comment letting  me know why you would like to read these brand new releases from Escape Publishing …

[framed_box bgColor="#E8F6FF"]
NO STRINGS ATTACHED BY BRIDGET GRAY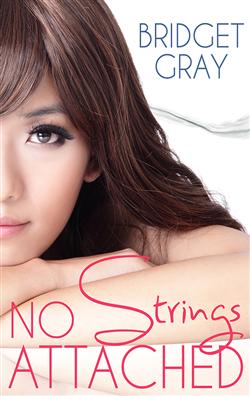 She saved his life, but she wants more from him than gratitude… Mei Jing is feeling conflicted about not telling Rod that she is his rescuer. And as their relationship grows, her conflict is heightened after each date… She knows Rod is seeking the woman who saved his life, but Mei Jing struggles to find the right time to tell him the truth. Will she be able to trust that what she feels is his love for her or Rod's gratitude for his rescuer?[/framed_box]
An Excerpt from No Strings Attached – www.escapepublishing.com.au

Chapter 1 

Chinese Proverb: Kissing is like drinking salted water: You drink and your thirst increases.

"We've met before."  Mei Jing eyed him with a half smile while his mates around the bar table grinned. She'd been introduced to them by her friend, Mick, only a moment ago, and she'd homed in on the cute blond one with glasses.

She'd recognised him immediately. The circumstances were dramatically different, but it was definitely him. Last time she'd seen him he'd been half dead, but … he was here in Brisbane, hanging out with her friend.  She stopped breathing.  Be brave.  Be cool. Breathe.

He half smiled back, looking nervous. "Really?"

Mei Jing nodded. "It doesn't do my ego much good that you don't remember. You're Rod Keller, right? An architect?"

"Yeah," he answered. "Where did we meet?" Rod squinted.  Mei Jing understood. Squinting always helped her remember better.

"Well, I could just tell you … or … I could flirt outrageously with you and not tell you." Mei Jing considered her options while the guys at the table started to snigger. "No. Not going to tell," she said firmly. "I'll give you a hint though. How many Chinese Australian girls have you met?"

The blond architect looked bemused. "A few."

"Hmm …" Mei Jing smiled as she pretended to ponder. "OK. Let's narrow it down. How many Chinese Australian girls have you kissed?"

He scrunched his forehead. "None that I can remember."

Mei Jing feigned distress. "This is seriously damaging my self-esteem."

He smiled properly this time, and asked hopefully, "Did we sleep together?"

Ouch! Mei Jing's face froze. That was a bit rude! The sniggering stopped. The awkwardness began. Some guys just took it too far. She knew she'd think of something clever to say later, but for now, she gave a disappointed raise of her eyebrows, turned and walked back towards the bar. It was Friday night and the Platform Bar at Central Station was crowded and getting noisier.

"You OK?" asked Tina. Her friend since college, it didn't take much of a blip in Mei Jing's mood for Tina to notice.

"Great," lied Mei Jing.

"OK, spit it out. Who got your goat up? Do you need me to take them out?"

Tina stretched herself tall and puffed out her chest. She clenched her fists by her side and did her best to look fearsome. Tina was a tiny size eight, with pale skin and a cute pageboy haircut. At twenty-five years old, she was often asked for ID. Mei Jing didn't think Tina did 'fearsome' very well.

"That guy over there," Mei Jing indicated with a tilt of her head, "I've seen him before but he doesn't remember. Not that he should, but …" Mei Jing's voice trailed off.

Tina glanced over at the group. Mick was still chatting to them and gave her a wave. "Which one?" she asked.

Mei Jing remained silent, sure that Tina would get it in a minute.

"Which one?" she asked again. "Oooooh … Isn't that …? That looks a lot like … Oooooh …?" Tina grabbed Mei Jing's arm and pulled her further away from Mick and his friends. "It's him, isn't it?" She was now staring openly at Rod, the architect.

"Yep," said Mei Jing, focussed in the opposite direction.

Tina gaped at Mei Jing. "And he had no idea who you are?"

"Nope."

"Oh! … My! … God!"

"Yep."

"Are you going to tell him?"

Mei Jing frowned and shrugged. "Why?"

"Girls! What's going on? M.J., what's with the bolt from the boys?" Mick manoeuvred his giant frame between the girls, slinging a muscled arm round each of them.

"Tina and I were just discussing whether the Cherry Ripe is better in the plain or dark chocolate," Mei Jing answered.

"Ah." Mick nodded in understanding. "Life's big questions."

Tina wiggled out from under Mick's arm and looked up at him. "Who's your friend with the glasses?"

Mick turned back to the group of boys who were pretending they weren't watching. "You mean Rod. He's Stewey's housemate. We played indoor cricket together last year. Why? Has M.J. got the hots for him? She definitely seemed keen there."  He waggled his eyebrows at Mei Jing.

Mei Jing willed Tina to keep her mouth shut. Mick and Tina had been best friends since they were kids, and secrets between them were rare. And this was a good one.

Tina leaned into Mick.  "That's the guy from Phuket," Tina stage-whispered

"What guy?" asked Mick.

Mei Jing rolled her eyes. It always took Mick a minute to catch up.

"What guy?" he repeated. Mei Jing and Tina watched as the cogs in his male memory turned and clicked into place.

"That guy?"

"Yep." Tina nodded earnestly.

Mick spun round to stare at Rod. Men were useless at subtlety. "Does he know who you are?" He turned back to Mei Jing.

"Nope." Mei Jing avoided eye contact and moved to a bar table to fetch the cocktail menu.

"Are you going to tell him?" Mick persisted.

"And say what?" Mei Jing studied the drinks on offer. The cocktail of the month, the 'Thai Salad Sensation', had caught her eye.

"Well, you might get a free beer at least."

Mei Jing shook her head. Mick knew how to simplify a situation.

"Mick. Don't tell him."  Mei Jing used her school teacher tone to dismiss him. "I'm going to get a drink," she said and moved to the bar with the cocktail menu in hand.

While she waited to be served, she tried to concentrate on the decision ahead of her. What to do? The Thai Salad Sensation did sound amazing; it was described as 'an adventure for the tastebuds', but she'd always been a Caprioska girl. She didn't do adventurous as a rule. But seeing Rod here tonight … her uncharacteristic flirting …  No. Flirting had failed; best stick to the tried and tested. A Caprioska it was.

Decision made, she looked up from the cocktail menu, but without an important beverage choice to focus on, she found herself thinking about Rod. An adventure that still caused her confusion. She'd often wondered what it would be like to see him again. He looked exactly the same. Except, of course, today he was conscious.

She looked down at the floor, wondering if she should tell him. Wondering if he'd want to know, or would that just make things awkward. Mei Jing didn't do awkward. So … No, won't tell him. Phew—another decision made. She looked back at the cocktail menu.

"What's the decision?" a voice beside her asked. Mei Jing turned to see Rod.

"No, not going to tell you," Mei Jing replied quickly.

"You're not going to tell me what cocktail you're having?" Rod asked, his eyes shining with amusement.

"Ah … that … Ummm, yes … I'm having a Thai Salad Sensation."

Hang on … that wasn't it.  Why was she talking to him anyway.  He'd been rude.  "I'll get it," said Rod. "A peace offering for being an arse before." He looked contrite. And cute. His eyes crinkled behind his glasses. And he really didn't seem like an arse. She hoped he wasn't an arse.

"You know …" said Mei Jing, "if we'd slept together you would have remembered."

There she went again. Oh God. She was such a farce. Mei Jing couldn't remember the last time she'd been suggestive. Surely he could see right through her. She was not a good flirter.

Rod laughed. "It doesn't matter how I reply to that—I'm in trouble aren't I?"

Mei Jing smiled. "Pretty much."

They'd reached the bar and Rod ordered a Thai Salad Sensation and a Caprioska.

"You drink Caprioskas?" Mei Jing asked, surprised. She looked at the cocktail menu. It wasn't even one of their standards.

"Yeah," said Rod. "You'll have to try it. I got hooked on them when I was on a scuba diving trip to the Polynesian Islands. They make them good there. They use a thick sugary syrup made with cane sugar and vodka, add more vodka, then pour it over crushed ice and add lime. I'm trying to find a bar in Brisbane that does them the same, but a lot of bar tenders don't even know what it is."

"I know!" said Mei Jing. "It's a travesty. I don't understand why Caprioskas aren't part of Bar Training 101."

"You drink Caprioskas too?" he asked.

"Almost always."

He tipped his head to one side to look at her. "What's with the Thai Salad Sensation then?"

"Just trying something a little adventurous."

Their drinks arrived and they carried them to the side of the bar. Mei Jing took a sip and allowed the flavours to settle in her mouth.

"Wow—that's good," she said, taking another sip. "I could convert."

"What?" Rod looked shocked. "And turn your back on the Caprioska? You are a fickle woman. I was about to ask you to join me on my Best-In-Brisbane-Caprioska mission but you can forget it now. Go back to your Thai Salad Sensation."

Mei Jing offered him her drink and Rod took a sip.

"Ahhhhh," he breathed out loudly as the chilli hit him.  "Whoa! That is rocket fuel. Thai Salad flavoured rocket fuel. Can I have some more?" He took another sip. "That's amazing. You can really differentiate the flavours. Basil, ginger, chilli, mint, and there's something else …"

"Coriander," Mei Jing offered.

"Yeah, of course." He nodded thoughtfully. "Tastes and smells can transport you, can't they? Like when I taste Caprioska …" he took a sip to helpfully demonstrate his point, "I can immediately see the bar in Tahiti where I'd hang out, and the big black islander bartender, Jimmy, who used to make them." He took another sip of the Caprioska.

"What about the Thai Salad Sensation?" Mei Jing asked.  She held her breath while he again tasted her drink.

"Ah, memories aren't so vivid there." He looked thoughtful, pausing while the chilli hit his palate. "That is so hot! Don't you find it hot?"

"My parents are from the Szechuan province. We put chilli in cupcakes."

"Ah." He nodded with respect. "Hardcore. So, back to the conflict at hand," Rod became business-like, "you promised to flirt outrageously with me and I don't see you flirting. So you're going to have to tell me where we met."

Mei Jing, sensing that the question was coming, had turned to seek out Tina. Luckily, Tina and Mick had been trying to eavesdrop, and so before Rod had finished his sentence, they were standing beside her, ready for their conversation rescue mission.

"Hey Rod, have you met Tina?" asked Mick.

"Hey Rod," Tina sung out. "I'm stealing M.J. to dance.  I love this song."
[framed_box bgColor="#E8F6FF"]
DRAWING CLOSER BY JENNY SCHWARTZ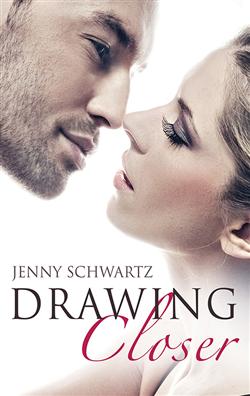 A story about taking love off the page and into real-life…
Zoe Loyola is keeping a secret between her and her sketchbook. She loves sculptor Nick Gordon. Her drawings of him are hot…and naked!
Nick has a secret, too. He's being blackmailed. Protecting his family means ignoring his desire for Zoe.
But in the world of art, passion breaks every rule and secrets are made for sharing.[/framed_box]
Drawing Closer – www.escapepublishing.com.au

Chapter One

 Zoe bit the tip of her paintbrush, grimaced and reached hastily for her bottle of water. Ugh, much as she needed to break the habit of biting the tip of the paintbrush while thinking, perhaps coating it in gag-inducing Vegemite was a bit extreme.

"You can't be a true Aussie. Every Aussie kid loves their Vegemite sandwiches."

The laughter in Nick Gordon's deep voice sent a shiver down Zoe's spine. Not that she was about to show him how he affected her. No way. No how. She'd seen how he treated the women who responded to his sex god looks. He had it down pat, one long gaze down and up the length of their body, then one blond eyebrow lifted in derision and he turned away. Zoe valued their friendship too highly to risk him turning away.

Carefully, she replaced the bottle of water at the base of her easel. "I thought you were buying clay."

Nick was a potter. It was his studio she shared in the heart of the port city of Fremantle. The marina where he kept his yacht was only metres away. Tourists ambled past daily and her vivid paintings of the Australian landscape lured them in just as much as Nick's pots with their incredibly sensuous shapes and stunning glazes. It was a perfect set up, but one she knew Nick hadn't wanted to share with her. When his previous studio partner, John Li, headed for Europe, she'd forced Nick to overlook the fact she was female—and therefore, in his experience, susceptible—by a nifty bit of emotional blackmail.

And she wasn't ashamed, nope, not one little bit.

"I've got the clay. Claude came through with terracotta from a different supplier. It'll work for the chunkier pieces I'm planning for summer."

"Huh." She turned back to her painting. Like Nick, she was already planning for summer although it was only early spring. She'd chosen beaches for her theme this year: the blues of the sea and sky, the warm browns of driftwood, white sand and the grey-tinged green of dune grasses. She never painted people into her pictures, although a swimsuit or towel would add a focal point of bright colour.  The dilemma of 'to people or not to people' was the reason she'd been chewing her paint brush. On the whole, she thought she'd stick with pure, unsullied landscapes, leaving it empty for people to colonise with their own dreams.

"Do you want a cuppa?" Nick headed for the kettle and mugs tucked in a corner of the room.

 For all that it exuded an untidy, casual welcome, every inch of the studio was planned with care. The two front rooms displayed Nick's pots and her paintings, plus coffee and tea facilities for customers, art reference books and the reception desk—a century old, solid jarrah office desk that wore its scars comfortably. She and Nick had separate work spaces in these public rooms—hers defined by her easel and corkboard, and his by a potter's wheel and blue tarpaulin laid out to catch the messiness of his craft. When they worked out here, they were like performance artists. People enjoyed the sensation of looking 'behind the scenes'.

Not that customers ever got to see the real back rooms. Nick had the use of most of them for his clay, pots and kiln, but she had her own snug room with canvases and paints, sketch books and photos. She had photos everywhere. She'd sorted through them and pinned her favourite beach snaps to the public corkboard. She took photos wherever she travelled in Australia—and she loved to travel through Australia's varied landscapes, from tropical beaches to desert and the snowfields that everyone forgot were part of Australia, too. Although she never painted a picture directly from a photo, she liked the reminders of colours and shapes. The photos sparked her memories of how the various landscapes felt. How they smelled, their immensity, the feelings that she wanted to evoke via her paintings.

Nick handed her a mug of tea and took his own with him to the sofa. Its battered leather was stained with paint smears and clay dust. It suited Nick as he lounged there in his faded jeans and a grey corded cotton shirt. He'd rolled up his sleeves.

He usually did, but she was as distracted as always by the sight of his powerful forearms. They spoke of his mastery of clay, the pursuit of his craft and the sheer strength that was Nick.

She didn't even care that there were traces of clay under his nails that even the nailbrush he used couldn't eradicate. Today's clay was orange, the terracotta he'd mentioned.

"Earth to Zoe."

She took a hasty sip of tea. Normally, she was more discreet in how she watched him. A girl couldn't wear her heart in her eyes.

He set his mug on the floor and leaned his elbows on his knees. "I've been thinking…"

"Ooh, dangerous."

He flashed his wicked grin. "The cruise ships will start calling in, soon."

She nodded. Fremantle was one of the cruise lines main Australian stops, but it was a summer thing. Winter was the town's quiet time. "Tourists. I can't wait." Tourists meant people with money to buy mementos.

"You say that now. Wait till they all come shuffling in, hoping for an air conditioned retreat from the heat."

"If they buy my paintings, they're welcome to all the cool air they desire."

"Fair enough. But my point was that we ought to take advantage of this breathing space before the panting hordes arrive."

She glanced back at her painting. "I am." She was painting steadily, aware how lucky she was at twenty-four to have a studio and be working at her art full time.

"I was thinking more of taking a break than working flat out."

Now he had her full attention. Nick cultivated a relaxed air, but she knew how intensely he worked. Collectors sought out his pots and he already had three in the National Gallery. He might be the only son of one of Australia's wealthiest businessmen, but Nick was no dilettante.

Her heart squeezed as she suddenly guessed why he'd want a break. She held her mug tightly and turned back to the easel. She didn't want him to see her face when he told her he had a new girlfriend and would be spending time with her. Just listening to his slow drawl hurt.

"I have a weekender down south, near Walpole. Tall trees and sea. I thought you might be interested in coming with me."

She whirled around. Tea spilled over the rim of her mug. Absently, she shifted her mug to her other hand and licked up the drops.

Nick's gaze followed her action.

She blushed at her gaucherie and whipped her free hand behind her back. "You have a house in Walpole?"

"Nearby. You can see the sea from the front veranda. I thought you might want to take photos." He glanced at the corkboard. "Of the beach."

She didn't mention that there were beaches in Fremantle and all along the coast or that she had hundreds of photos already. "I…um…"

"Obviously, you don't have to. But there's plenty of room. I'll be driving down Thursday to avoid the weekend traffic."

"What will you do, there? I mean, do you have a potting studio?"

"No. For me it'll be a complete break. I'll surf a bit, maybe fish."

She wrinkled her nose.

"It's okay, I wouldn't make you clean them."

"Gee, thanks."

"No problem." He finished his tea and stood. "Anyway, think about it. The offer's open. We all need a break sometimes, even if we love what we're doing."

She nodded as her heart beat fast and heavy. She wondered he couldn't notice it pounding beneath her cotton shirt. Nick had invited her to his house. It was a sign of trust that she treasured, but without the distraction of work and customers, would she give away her feelings? Could she risk stealing this time with him?

She watched him walk out of the room and realised she wouldn't be able to concentrate on her painting now. She cleaned her brushes and forced a smile as one of the three art students, who helped out as casual sales employees, entered.

"Sorry," Marly called as the wind caught the front door behind her and slammed it shut. It might be early spring, but the weather was still blustery. The Indian Ocean could brew up a powerful storm.

Two customers entered on Marly's heels.

Zoe welcomed them easily—years waitressing in her uncle's restaurant had honed her customer skills—before leaving them to Marly and retreating to her back- room. She needed breathing space.

Instinctively seeking comfort, she lifted the top three sketchbooks from her desk and picked up the fourth. It fell open at a sketch of a hand and arm. Nick's hand and arm. This book was her guilty pleasure. Here she indulged her artist's soul's craving to record the beauty of his body and how she ached for it.

She'd done life classes at art school. Other pages showed Nick as she imagined him, stripped even of the body suit he wore for surfing.

If she spent a week with Nick, would he let her sketch him for real? It would seem a natural enough request from one bored artist to another?

Her tummy clenched at the thought of having permission to study Nick as long as she wanted. She ached to draw him as he lay stretched out in front of a fire or lazing in a hammock with an invitation in his eyes.

It was all too easy to imagine taking his hand and falling on top of him in the hammock, loving and touching till the hammock tipped them both softly to the ground.

She shivered and dropped the sketchbook onto her desk. It was dangerous how real her dreams seemed sometimes.

Common sense dictated that she refuse Nick's invitation. To share a weekend house with him would be the most torturous illusion of intimacy. She would smell him fresh from the shower, laugh with him in front of the television, cook and eat with him.

"I can't." She abandoned the sketchbook and moved clumsily to the far corner of the room. Her hands closed around the edges of the most damning evidence of her preoccupation with Nick.

She lifted the painting out of the stack of discarded canvases that waited for re-surfacing.

Unlike the delicate detail of her landscapes, this square canvas was filled with bold slabs of colour, all centring into the male figure that stood in a doorway, arms raised to grip the frame. It was Nick's characteristic pose, straightening his spine after hours spent bent over his pots. Yet somehow, in her painting, his braced posture showed so much more. He occupied the edge, claimed and owned it, but wouldn't venture into the room.

It was how Nick lived his life, not risking being trapped into a relationship.

She sighed and replaced the painting in its hiding place—not that anyone here would be rude enough to rummage through her private room.

"Hey, Zoe, about Walpole…"

She spun around and lunged for her desk so fast that Nick rocked back on his heels in the doorway.

"Whoa." He braced his hands on the doorframe. "Secret project?"

Her heart galloped as she slapped the sketchbook shut, hiding her drawings of naked Nick. "Uh, you could say that."

If he'd seen her sketches, he'd have retreated like a man burned and she'd have died of embarrassment. She'd have had to give up the studio, his friendship, maybe move country.

She hugged the book to her chest. "Walpole, you said?" Too bright, too cheerful. She sounded like an inane game show host. No wonder Nick was giving her a narrow eyed look. On him, suspicion was sexy. Worse luck.

Nervous, she flicked her tongue to her top lip.

Nick swayed forward in the doorway. "About going away together…"
[framed_box bgColor="#E8F6FF"]
NEW YEAR'S KISSES BY RHIAN CAHILL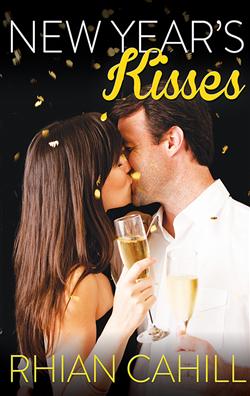 She didn't plan to fall in love, but he's not accepting anything less.
Emily has a five year plan, and romance isn't in it. Unfortunately, no one told Wade Johnson that.
Wade never thought he'd need to resort to blackmail to get a date. But if that's what it'll take to convince Emily Warner to join him, then that's what he'll do — and he'll make it a date neither of them will ever forget.
New Year's is all about new beginnings and Emily and Wade are about to discover the best beginnings start at year's end![/framed_box]
New Year's Kisses – www.escapepublishing.com.au

 Chapter One

Emily Warner threw another skirt back into her closet and cursed Wade Johnson. The man had her questioning every decision she'd ever made right down to the clothes in her wardrobe. Indecision was not her thing. She was a take-charge-get-it-done kind of woman. Except when it came to Wade. Her shoulders drooped and her head fell forward as all the air left her chest. How had one man managed to shake her confidence with such profound effect? If only she hadn't needed that favour. But she couldn't put on a Christmas concert for the children without a Santa. Refusing his offer of help to avoid a date hadn't seemed fair.

She'd met Wade months ago, their attraction mutual and obvious, but Em had a five year plan and nowhere was there mention of a man, least of all one who made her stomach drop and her mind wander through a white picket fence and down the garden path. With her plan firmly in place, she'd rejected every advance he made in the hope he'd give up and move on to greener, more amenable pastures. She should have known better. A man like Wade couldn't be brushed aside so easily. He was like a dog after a bone and now that he'd finally sunk his teeth into her, she doubted either of them would come out unscathed.

Cursing the man and his rotten timing – and her treacherous libido – Em dove back into her closet with the determination to wear the first thing she put her hands on. Whatever she pulled out next would be it. No more waffling. The black dress she came out with was the sexiest piece of clothing she owned. Wasn't that just typical of her current off-the-track life plan that it would be the outfit she'd grab?

"Dammit." Emily tossed the dress across the end of her bed and stared at it, muttering. "Dammit, dammit, dammit."

She didn't have to wear it. Except she'd made a decision and she would stick to it. She'd be damned if Wade Johnson was going to make her second guess one more thing. Head high, she spun on her heel, and stomped to the bathroom. He'd arrive in less than an hour and she needed every second of that to pull herself together. Heaven forbid he see her flustered. The man would pounce on any weakness she showed and Emily Warner never showed anything but calm, cool certainty. Her shoulders drooped slightly. Until Wade.

Steam from her shower still hovered in the bathroom and she had to swipe a towel across the mirror to clear the fog. Emily studied the face in front of her, but only saw the same woman she'd seen every day for years. Nothing had changed outwardly, but internally… Inside something was different. Cracked. It didn't matter how much she denied it or fought it, there was no way to hide from the impact Wade had on her. He made her think of things she'd put aside years ago. Made her remember what it was to yearn for something she didn't have and thought she didn't want. Not yet anyway. And now he had her questioning the plan.

With a sigh, Em pulled the towel from her head and picked up her comb. Her short hair was practical for work and the natural curl gave her a feminine look, but if she were being honest she'd have to admit the style was quite boyish. The robe she wore hung off her slender shoulders, emphasising the less than curvaceous body beneath. More proof she didn't live up to the image of most men's fantasies. With another sigh, she began to run the wide-toothed comb through her tangled curls. It didn't take long to remove the knots and fluff the waves into place. Reaching for her make-up bag, she pulled out her meagre supply and set to work on her face. She may lack curves in the places men lusted after, but her face was her saving grace.

She'd been called classically beautiful. What that meant Em wasn't sure, but her deep blue eyes and long lashes were often called bedroom eyes, and drew more than a few compliments. Her full red lips had been described as kissable by a number of guys she'd dated over the years. Personally she thought they were over-large and took up too much of her face. To counteract her large mouth, Emily emphasised her eyes and down-played her lips. The one place she didn't worry about make-up was at work; she never knew when one of the children would plaster a paint covered hand on her cheek, so it was best to not have to worry about cosmetic repairs at all.

The old cuckoo clock that had been her grandmother's whirred to life out in the living room. With a squeak of hinges and a time-worn voice, the little cuckoo sprang from his house and chirped seven times. She was down to thirty minutes before Wade arrived. He hadn't told her where they were going or what they were doing but considering it was New Year's Eve and he'd asked her to dress semi-formal Em expected to be attending a party or perhaps an upscale restaurant. Her stomach fluttered at the thought of spending hours with him. From the few conversations they'd engaged in over the last few months she knew he was intelligent and didn't doubt he'd be a charming companion for the evening. It was how charming he'd prove to be that had her worried.

Slicking on a coat of lip gloss she rolled her lips together to spread the layer evenly. She bypassed her foundation and blush and opted for a single swipe of mascara on her lashes. The temperature hadn't lowered a great deal and she'd learned not to risk melted make-up disasters long ago. Sydney's summers were best dealt with naturally and today was no exception. If the weathermen were to be believed there'd be no relief from the heat in the next few days and her car's climate control system had registered a stifling thirty-eight degrees when she'd arrived home at five o'clock.

Emily checked her reflection one more time. Happy with both her hair and face, she made her way back to the bedroom and the black dress awaiting her. She pulled a matching bra and panties set out of her top drawer while she eyed the slinky material draped over her quilt. The fabric shimmered in the low light and Em couldn't help but wonder what Wade would think when he saw her. A smile tugged at her lips. She'd never be a traffic stopper with her overly slender body, but that didn't mean she couldn't look good. Knowing how to play up her best assets had served her well in the past.

Not that she was out to impress him.

She slipped the belt of her robe free and shrugged out of the satin negligee she'd spent far too much money on last birthday. It wasn't often Em spoiled herself, the plan didn't allow for it for a start, but she'd never been one to indulge in frivolous things. While she hadn't needed a new robe Em had found it impossible to pass up and consoled her practical side by saying it was a birthday gift to herself after exceeding the first year's goal in her five year plan.

Stepping into the lace underwear Em thought about how far she'd come. From high school drop-out to business owner in less years than it took most to get their degrees. Years spent with her nose buried in books earned her not only a high school certificate, but a degree in early childhood education and a business degree with a minor in accounting: all things necessary to make her childcare centre such a success that parents put their children's name down on the waiting list before they were born. By most people's standards she'd already made it. But Emily wasn't quite done yet.

Two more years and she would have achieved her goal a whole year ahead of time. Then she'd be able to step back and enjoy the results of all her hard work. Until then she couldn't afford to be distracted by a good looking man, no matter how he made her insides churn. She'd go on this date and make it perfectly clear that she wasn't interested in anything more. Emily chewed her bottom lip as she bent forward to fit her breasts into the cups of her bra properly. The delicate lace hugged her size-A mounds, barely covering her nipples. She didn't normally wear such a low-cut undergarment, but the dress's scooped neckline made the risqué underwear a necessity. And Emily excelled at doing what was necessary.

Emily reached for her dress and lowered the zipper. Carefully, she lifted the fabric over her head and shimmied until the soft material floated down her body. The silky caress of cool cloth sent a shiver down her spine. Twisting, she managed to get the zip up to her shoulders before contorting herself like a pretzel to close it the rest of the way. With another small shimmy the dress rippled and slid into place. Satisfied with her outfit if not precisely comfortable, Em searched the cupboard for her black sandals then headed for the living room.

She checked her phone in the hope of finding a message from Wade telling her he had to cancel, but there was no little envelope icon on the screen. It was probably best if she just accepted she was going on a date with Wade Johnson no matter how much she'd fought against it. Resigned to the inevitable Emily sighed and sat on the couch to wait for him to arrive.

Wade parked in front of the small clapboard house and studied it. The paint looked fresh, the garden well kept, and the car in the driveway was brand new. Those things told him a lot more about Emily than she'd told him herself. He wasn't stupid; he knew she didn't want to go out with him. What he couldn't work out was why. They were attracted to each other – more than, if the sparks arcing between them were an indication. He'd taken a chance on tonight. No guy liked rejection, but in Emily's case Wade thought the risk would be worth it.

He pulled his keys from the ignition and opened the door. Brushing his hands down his slacks, he straightened them as he walked up the front path. Two steps led to the wide porch. A swing sat to the left, its cushions plump and inviting. There wasn't time to take in more of the cosy setting because he'd no sooner pressed the bell than the door swung open. Wade couldn't decide if that meant Emily was keen for their date to start or keen for it to end. Probably the latter. A smile tugged at his lips, but it froze half formed and his tongue stuck to the roof of his mouth as she stepped from behind the door and into view.

His gaze travelled from her dark curly hair to her strappy black shoes, taking in every sexy inch of her in between. He swallowed. Hard. Jeez, she'd be the death of him for sure. The black dress was made of material that sparkled as it shifted over her subtle curves. Emily wasn't waif thin, although she didn't have a spare millimetre of flesh on her either. Her breasts were on the small side, but he'd had more than one fantasy about getting his hands—and mouth—on them. With supreme effort, Wade gathered what remained of his wits and offered her a hand.

"Ready to go?"

Her shoulders pulled back and her breasts thrust forward making his mouth water and his mind splinter again.

"Yes." She spoke in her prim school teacher voice. The one Wade imagined she used on the children she cared for every day.

He took her elbow and urged her out of the house. "Let's go then." Making sure the door locked behind them, Wade led her down the stairs and to his car, his mind blank of anything intelligent to say.

Opening the passenger door, he waited while Emily slid in and buckled up before he closed the door and walked around to the driver's side. Slipping behind the wheel, he started the car and got them on their way before he dared to speak. He cleared his throat.

"I should have said this already: you look beautiful, Emily." From the corner of his eye he saw her fidget in her seat. Was she nervous?

"Um, thank you." She took a deep breath. "You look nice too."

The compliment wasn't said with the enthusiasm he would have liked, but it was a start, and, while the silence that stretched between them was slightly uncomfortable, he didn't feel the need to fill it with inane chatter. Neither did Emily and they remained quiet while he navigated the busy streets. Wade was thankful they didn't have far to go. In twenty minutes he was turning onto his street and hoping she wouldn't demand he take her home when she realised where they were spending the evening.

He'd planned the night down to the last second. Nothing was left to chance for this, what he hoped would be the first of many dates with Emily. Their dinner, catered by one of the local five star restaurants, would be delivered at eight-thirty. Wade had prepared their entrées himself, and they were ready to serve the minute they took their seats out on the patio that overlooked the sparkling waters of Sydney Harbour. There was no better entertainment for New Year's Eve in Sydney than the two spectacular fireworks displays and as far as Wade was concerned, no better place to witness them than his own backyard.

When he'd inherited the family home, Wade had thought about selling. It seemed silly to have just him wandering around the huge ten-bedroom mansion, but his sister had convinced him to keep hold of the one thing they had left of their parents. Now, as he pulled into his harbour side home, he was grateful for Vee's guidance. Winding down his window, Wade reached out and punched in the security code that would open the front gate. As the wrought iron monstrosity parted in two wide arcs the house came into view.

"Oh, my," Emily whispered beside him. "Are we attending a private party?"

Wade smiled. "You could say that."

"I think I'm under-dressed."

He glanced at her as he steered the car through the gates. "No. You're perfect." Returning his eyes to the driveway, Wade drove passed the garage to the front door. There was no point putting the car away when he knew he'd be driving Emily home later.

Unless he convinced her to stay.

A man could dream, after all, and if he was going to, he may as well go for the brass ring.

Wade stopped the car, shifted into park, and killed the engine. Without looking at Emily he climbed out and strode around to her side. Opening her door, he offered his hand. When she didn't immediately respond, a shiver of fear worked its way down his spine. Did she want to bail on him already? "Emily?"

She turned to face him, her eyes wide and mouth slightly parted. "I…I'm speechless. This place is gorgeous."

He smiled and grabbed her hand. "Come on, this is nothing compared to the view out back." Tightening his grip, Wade tugged her from the car and swung the door closed as she stepped aside.

"Oh, my gosh. The garden smells wonderful." She pulled free of his hand and walked over to his mother's prized rose garden.

Watching her lean forward and smell the blooms reminded him of his mother and the hours she'd spent tending her favourite flowers. Wade hired a gardening service to take care of them now. He'd never learned to appreciate the joys of gardening or the skills needed to keep his mother's creations alive. He joined her. "They're my mother's."

"Oh." Her gaze darted up to meet his before zeroing in on the front door. "We're at your parents' house?"

"No. They died a few years ago. I inherited the house from them."

"Oh, Wade. I'm sorry seems so insignificant in the face of such a loss." Emily glanced around the front garden and finally stopped when her eyes reached him again. "Nothing this beautiful should ever come at so high a cost."

Wade's chest ached. No one, not even his sister, had understood the depth of hate he'd had for this house when his parents first died. The pain had diminished over the years, but he still had days where he couldn't bear to be here. Emily seemed to hit the nail right on the head with a few words. How could he enjoy such luxury when he had to be without his parents to have it? "Thank you."

Her gaze held his. "For?"

"Understanding that beauty isn't everything." He reached for her hand and entwined their fingers. "Come on, enough of memory lane. I want to show you the rest of the place."

He led her around the garden to the door. Like the car, he'd left the door unlocked. Nothing could get passed the state-of-the-art security system and, if some genius managed it, there was still Brent to deal with. And his friend's two Dobermans. They entered the foyer and Wade punched his personal code into the control panel by the door. Pulling Emily farther into the house, he bypassed the front rooms and headed for what he liked to refer to as Wade's World. He'd changed very little since he'd moved back in, except the rooms running across the back of the house on the lower level. Here he'd put his stamp on the place.

An archway led into the spacious kitchen, and the back of the house opened up to the yard and back patio through the full wall of glass concertina doors. The sun hadn't fully set and the view of the harbour and foreshore was, as usual, breath taking. He let Emily's hand go and opened the fridge to pull out the platter of finger foods he'd prepared before going to pick her up. Turning, he led the way outside.

"Come on. The last rays of sunset beckon."
[framed_box bgColor="#E8F6FF"]
SHORT SOUP BYCOLEEN KWAN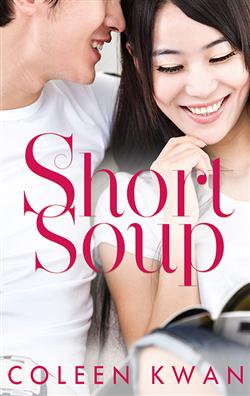 Toni Lau and Dion Chan were connected from birth — first via their parents' jointly-owned restaurant, then via their bone-deep friendship. But children grow up, and Toni leaves their sleepy hometown looking for more than it can offer.
Now Toni is back, raw with the knowledge that not all childhood dreams come true. Dion is on the brink of realising that both his own ambitions and his childhood friend have the power to derail all of his hard work. But loving Toni — and winning her love in return — has always been on his wish list. Can Dion really put her on the back burner while frying up his chef dreams? Or is it possible that together they can come up with a recipe for happiness? [/framed_box]
An Excerpt from Short Soup – www.escapepublishing.com.au
Chapter 1

"You're listening to Port Stephens FM, coming to you from Piper Bay, where it's a balmy twenty-seven degrees and looking great for the weekend…"

Toni Lau eased her foot off the accelerator as she reached the crest of the last hill before the long descent into her home town. The radio announcer was right about it looking great. The air was warm, the waters of the bay shimmering. A large white vessel edged out of the marina, laden with tourists on a dolphin-watching cruise. On this early summer day the blue water paradise looked picture perfect, but the sigh escaping her lips was heavy rather than carefree.

This wasn't the trip home she'd envisaged during her years abroad. Half a world away in foggy London, wrapped up in scarves and spreadsheets, she'd dreamed of the warm sea, the clear Australian light, the small town quiet. One day, she'd hoped, she and Nick would take a break from their busy careers and fly back for a visit. Well, she was back all right, but without Nick, her wedding ring, or her job.

"Coming up on the drive show," the radio announcer warbled, "we ask – is it ever okay to spy on your partner? Can it be justified, or is it a breach of trust?"

Huh. Well, she knew the answer to that. If you got to the point of spying on your partner, then the relationship was already doomed even before you discovered the smutty text messages and photos on your husband's mobile phone.

A spasm twisted her belly. Damn. Even though she'd been looking forward to seeing her parents again, right now she wasn't ready to face their well-meaning inquisitiveness. Especially from her mum. She wouldn't be satisfied until she'd picked over every bone of Toni's failed marriage.

Her knuckles whitened on the steering wheel. At the next intersection, instead of turning left towards her parents' home, she hooked right and drove away from the town centre, past the marina and the main beaches, heading east until she pulled up at Fly Point, a small promontory near the lighthouse. She got out and took the steep wooden stairs leading down the cliff face to the beach. Fly Point was rocky, inaccessible, and often deserted, which was why she and Dion had spent so much time here in their teens.

From the last step she jumped down onto the beach. The tide was out, revealing an expanse of smooth sand and weathered grey rock. The heat of the sun soaked into her shoulders. The sunlight was dazzling. Shading a hand over her eyes, she squinted out to sea and saw a man sitting on a rock a short distance to her right, looking out at the horizon. As if he could sense her eyes on him, he turned towards her, rising to his feet at the same time. Against the afternoon glare he was a dark silhouette, his features shadowed, but there was no mistaking who he was.

For a moment the man tensed as he caught sight of her, and then he came bounding towards her, his broad, bare feet kicking up sand.

"Hey, chuckle berry."

Only one person in the world would call her "chuckle berry". She peered up at him, a weird constriction crimping her lungs. "Dion?"

He spread his arms wide. "You don't recognise me?"

Dion Chan. Her childhood buddy. His parents and hers co-owned the Happy Palace, a Chinese restaurant in town, and she'd known him all her life.

She gave a laugh. "Sure I do. Who else would greet me with 'Hey, chuckle berry' after all this time?"

Oh boy. She couldn't stop staring at him. Dion had changed. He used to be elongated and lanky, his jet-black hair all long and shaggy, his body spare and loose-limbed. Now he was broader, more muscular, which seemed to add inches to his height. His shoulders and chest had filled out. His hair was cut short and no-nonsense, revealing a more angular face, all greenness gone, like an image brought into sharp focus. He wore black board shorts and white T-shirt, the thin material clinging to his solid upper body. Toni sucked in another breath. Jeez, why was she nervous about running into Dion again?

He smiled, his whiskey-brown eyes flicking over her, making her aware that the years had changed her too. A lot. "Yeah, it's been a while."

"I'm trying to remember how long ago since I last saw you. Were you here when I came up just before leaving for London? No, I don't think you were." She was babbling, but she couldn't seem to stop.

He shook his head, his smile fading. "No, I wasn't here."

Now she remembered. The last time she'd seen Dion had been five years ago at her wedding. She had a vague memory of him hanging in the background looking moody, but at the time she'd been too stupid in love with Nick to care about anything else.

"Oh. Right." Bugger. Since when did she get tongue-tied in front of Dion?

"Welcome back, Toni." A husky note lurked in his voice. An awkward pause developed before he moved forward and wrapped his arms loosely around her. "It's good to see you again."

As their bodies met, she found herself tensing. Over the years she'd received hundreds of hugs from Dion. But this one felt different. Now she was hyper-conscious of his physicality. His biceps were rock-hard, his chin rough stubbled, the mound of his shoulder disturbingly smooth. He smelt of sea and masculinity. Unfamiliar. This wasn't the Dion she used to know. She pulled away, perplexed.

"Sorry." He rubbed the back of his neck. "I probably need a shower."

She shook her head. "No, it's just–" She broke off, unable to explain why she felt so off kilter. "I'm not exactly myself today. That's why I stopped here for a breather when I arrived."

He nodded in sympathy. "Not ready to show up at your folks' place, huh?"

"I've been looking forward to seeing them so much, but now I kind of have to gather my thoughts first."

He pushed sand around with his foot. "Your mum's been worried about you. Your dad too, though he doesn't say as much." He pressed his sole down on the sand hill he'd created. "I know I've told you before, but I'm sorry about you and Nick."

The words sounded flat, rehearsed. She couldn't decide whether he meant it or not. Dion barely knew her ex-husband. She'd met Nick at Sydney University where they'd both been studying commerce. Nick's busy social calendar meant he'd only accompanied her to Piper Bay a handful of fleeting occasions. Soon after graduation, she and Nick had married and migrated to London, both of them landing jobs at the same investment bank. They were going to work and travel all over the world, forging their careers, then when they tired of globetrotting they would return to Sydney, buy a house together and start a family. So much for their dreams.

Toni drew in a deep breath. "Thanks," she replied. "So am I."

"You're better off without him."

"That's what I keep telling myself." But it didn't always help.

He shot her a sharp glance, his eyes not soft any more. He looked like he was about to say something, but at the last moment he changed his mind and shook his head. What? she wanted to challenge him. What were you going to say about Nick and me? I need to know. But he turned away to pick up his beach towel, leaving her to stare after him in disappointment.

"How long are you staying?" He was all politeness now. Unusually polite. In her company Dion had never pulled his punches. She could remember him calling a boy she had a crush on a douche bag – several times – until she told him to nick off. So why was he biting his lip now? Maybe her mum had said something to him, maybe told him of the last time she'd burst into tears on the phone. Ugh, she didn't want to remember that.

"Just a few days." She mimicked his casual tone. "I have a job interview in Sydney middle of next week. I need to get back for that."

Using the towel he wiped some specks of sand from his upper arms. The sun gleamed on his tanned skin. He was summer-dark, sleek and fit, shimmering with vitality.

"Still doing that bean-counting stuff, huh?" The corner of his mouth twitched.

Her back stiffened. "I'm a qualified CPA now," she couldn't help saying.

"A qualified bean counter, then." He lifted his eyebrows. She opened her mouth to shoot back at him before the grin stretching across his face halted her. "Still so easy to tease. Glad you haven't changed that much."

She let out her breath. "I've changed?"

"Yeah, you're all …" He waved towards her. "I dunno, all citified and cosmopolitan now. Before, you'd be wearing a singlet and shorts and rubber thongs, and your hair would be in pigtails. Now you're … all that."

She glanced uncertainly at herself. Boutique cotton and linen dress. Flat leather Italian sandals. Toe nails varnished pearly pink. Turquoise and silver medallion. Slimline wristwatch. Hair loose and long down her back. Altogether far more fashion-conscious than she used to be. What did she look like to Dion? High maintenance? Precious? She folded her arms across her chest. "I'm still me," she said defensively. Wanting to deflect attention, she added, "What about you? I hear you're practically running the restaurant on your own these days. How's that working out for you?"

"The jury's still out. We'll see once the relaunch happens. Either it'll succeed or both our parents will come down on me like a ton of bricks."

For thirty years the Laus and the Chans had been turning out unpretentious Cantonese meals; the husbands manning the woks while the wives took care of everything else, but recently there had been a radical change. According to her mother, the two couples were moving into semi-retirement and leaving most of the operations to Dion.

"You're braver than me," she said. "They've been running the place the same way for so long, I don't know how you convinced them to hand over the reins to you."

"It's conditional, didn't you know? If I don't make a good fist of it and very soon, my dad will step in."

That was no idle threat. The relationship between Dion and his dad had often been testy. "I'm sure it won't come down to that," she said.

He shrugged, still cagey. "Tomorrow, we'll see."

Tomorrow night was when the Happy Palace would be relaunched after several weeks of renovation. A party would be held, with lots of influential people invited. Toni had heard all the details via her mother and been none too subtly urged to come up to Piper Bay for the event. Toni had been meaning to visit her parents anyway, and she was curious about the changes Dion would make. Plus, it was her birthday in three days' time. She'd be turning twenty-seven. Damn – not even thirty and already divorced. Not a record she'd envisaged in her teens.

"I'm sure you'll manage," she said. "You always do."

For as long as she'd known him Dion had coasted through life, reluctant to break out in a sweat over anything. She was the one who'd stressed out over her marks, her friends, her future. Dion didn't care about grades. He had more friends than he could handle. Even ex-girlfriends couldn't stay mad with him. And he never worried about the future.

Except right now he didn't look all that carefree. There was a frown between his eyes and his shoulders were tense. Could he be nervous about taking on the responsibility of the restaurant? No, he'd been helping out there since he was twelve. His dad had taught him how to cook, and he'd worked overseas in Hong Kong and Beijing for three years. Was there something else then? She chewed on her lower lip, conscious of the distance between them. Five years was a long time. In the years they'd been apart they'd exchanged emails and Facebook updates, but cyberspace was no substitute for personal communication. They'd grown apart, and the gap couldn't be bridged with a few minutes of casual conversation.

"Dion?" she asked hesitantly. "Is everything okay? With you, I mean."

A strange expression flitted over his face, one she couldn't interpret.

"I'm great." He sucked in a breath, his T-shirt stretching tight across his chest. "I've just got a lot of things on my mind." He slung the towel over his shoulder. "I need a shower. You coming?"

For a split second she had a powerful visual of Dion in the shower, water cascading over his tanned, naked body. She blushed furiously. Jeez, how inappropriate could she get? Dion was practically her cousin, and you didn't mentally undress your cousin. It was too … bizarre.

Hurriedly she spun away, hiding her hot face behind a curtain of hair. "Yes, I should get going or my mum will start ringing." She began to walk back to the stairs, Dion following close behind. "Um, I'll see you soon."

"Tonight, to be precise."

"Oh?" She swung round. She hadn't realised how close he was. He bumped into her, the solidness of his chest surprising her.

He hissed out a breath, took a quick step back. "Yup, your, er, mum invited us over for dinner."

The front of her torso was still tingling from the brief contact with his body. What was the matter with her? Low blood sugar? PMS? Post-divorce craziness? She had to get out of here before she made a complete fool of herself.

"Right, right. Okay. See you tonight."

Glaring sunshine poured over her as she scrambled up the wooden stairs. The back of her neck was sticky, but somehow she didn't think that was entirely due to the air temperature.

Dion stared after Toni as she hurried up the stairs to her car. His gaze was glued to the tantalising sight of her thighs flashing beneath the short hem of her dress. Damn, she had sexy legs. And a luscious bottom. Did she know what an eyeful she was giving him from this angle? Probably not. Toni had never been a flirt.

Sunlight glinted off her blue-black hair. Her hair was like a midnight waterfall, shiny and immaculate. Probably cost a fortune to maintain. She looked a million dollars, despite her divorce … or maybe because of it. Her figure had rounded out, become more attractive, if that was possible. He stared after her until his eyeballs hurt. Eventually she disappeared from sight, and a few moments later he heard a car pulling off. Only then did he realise he'd been holding his breath. He exhaled, rubbing the dull ache in the centre of his chest.

Well, that could have gone better. How could he be so dumbstruck in front of such an old friend? This was Toni, for chrissakes. They'd shared baths when they were toddlers, discussed pimple creams when they were teenagers, argued over music and TV, seen each other almost every day for the first eighteen years of their lives. But everything was different now. He was different. For the first time in his life he was nervous around a woman.

Scowling, he tramped up the wooden stairs, his bare soles slapping on the rough boards. His SUV was parked a short distance up the road. He got in and pulled off in a flurry of gravel.

Trouble was, he didn't know how to act around Toni any more. Until the end of high school he'd taken her for granted. She was just a part of his life, always there, like his right arm. Then she'd left. With her drive and academic smarts it was a given she'd go to university. Everyone expected her to succeed, including him. While she went off to Sydney uni, he'd stayed behind in Piper Bay, doing what he did best which was not to take life too seriously.

When had he come to realise what a gaping hole she'd left in his life? Was it before or after his big blow up with his dad? He couldn't even label the emotion he'd felt every time he thought of her. Even now he couldn't. Those few minutes with her on the beach had been all kinds of things – terrific, terrifying, and miserable all at the same time. When her face had clouded over at the mention of her ex, he'd felt so furious and hamstrung. Furious that someone had hurt her so badly; hamstrung because he couldn't act on his instincts – which were to pull her into his arms, stroke her hair, and tell her everything was going to be all right. Nick had screwed her over, but at least the bastard was out of the picture now. Maybe now Toni would finally begin to notice him, not as a platonic friend, but as a man.

He definitely wanted more than friendship. He wanted to hold her close and smell her hair. Wanted to slide his hands over those tasty legs of hers, pull off that dress and get down and dirty with her. Wanted it more than ever after bumping into her near the stairs. The memory of her breasts squishing against his chest brought the heat seething through his body.

He pulled up in his driveway and jumped out the car. What was wrong with him? Five minutes with his childhood buddy and his brain was a mess. Where was his cool? Sure, he'd carried a yen for Toni for too long, but that was no excuse to lose it with her. She was here for a few days only. She'd split with her husband. And this was the worst time for him to become distracted. The relaunch of the restaurant was his golden opportunity to finally prove himself to his dad. No time to fool around with a woman, especially one in a vulnerable state like Toni. He'd just have to bring his balls into line. Keep things light between himself and Toni. Be the easy-going guy she'd always known.

And maybe a cold shower wouldn't be a bad idea either.

As he hustled into his house, the phone started to ring.

"Where are you?" his dad grumbled as soon as he picked up the call. "I'm at the restaurant. Why aren't you?"

Dion sucked in his stomach. His father wasn't supposed to be at the restaurant. The entire relaunch was meant to be Dion's baby, but of course his dad couldn't help himself interfering. "I'm just going to take a shower and I'll be right over," Dion said evenly.

His dad snorted. "So much work to do and you taking shower? How you going to be ready tomorrow?"

Dion gritted his teeth. "Dad, it's my responsibility. Let me handle it."

"I don't know if you're ready."

"Dad, just give me a proper chance, why don't you? I won't let you down."

His father groused further, but eventually hung up. Dion tilted back his head and let out a deep sigh. He stood for a while, flexing his toes against the cool floorboards, his thoughts returning compulsively to Toni despite his best intentions. He should focus on the restaurant and forget about Toni for a while. But he knew he couldn't. After all these years she was back, and available.

Blood thumped in his veins. He exhaled a long breath. Somehow he didn't think the cold shower would do it for him.