Welcome to Harlequin Junkie's

3rd

Annual

Reader Appreciation

#BOOKMAS

EXTRAVAGANZA
#Giveaway:

Day 11
Are you on HJ's Naughty list?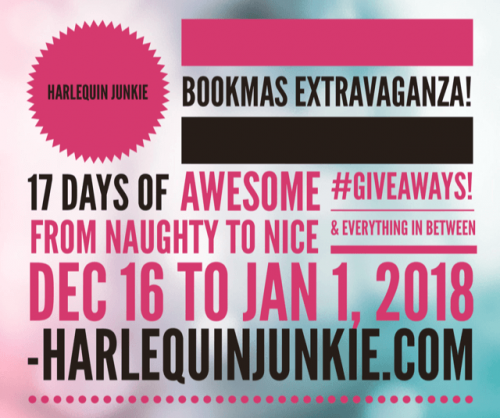 From Naughty to Nice and Everything in between….
The holiday season is the perfect time for Celebrating & Giving, considering HJ's Reader community is the BEST, we've decided to do both. 🙂
We are celebrating YOU and your continued support of the romance genre & Harlequin Junkie blog with 17 days of Awesome #Giveaways!
Thank You, for being a part of HJ's community.
Thank You, for all YOUR comments and interactions.
Thank You, for YOUR loyalty to the blog and Romance Genre
Most of all THANK YOU for making HJ a FUN place to hangout!
We <3 You! 🙂
Be sure to stop by everyday from Dec 16 to Jan 1 2018 for a chance to win: Box-O-books, Gift Cards, Kindle, Audio books, Author Swag, Gift baskets & more!

****
Up for grabs today, Box-o-Romance-Books from Berkley Publishing!
An industry leader in commercial and genre fiction, Berkley has a rich tradition of discovering new talent, defining emerging trends, and building authors and series into global franchises. With Berkley's dedicated focus and guidance many bestselling authors have grown into international brand names, including Nora Roberts, William Gibson, Laurell K. Hamilton, Jim Butcher, and Charlaine Harris. We're proud to publish Jane Green, Jayne Ann Krentz, Karen White, Patricia Briggs, Christine Feehan, Stephen Donaldson, Maya Banks, Susan Meissner, Catherine Anderson, Clare Mackintosh, Julie Garwood, and Fiona Barton, among others.
Our expertise in women's fiction, romance, science fiction/fantasy, and mystery/suspense makes us uniquely suited to introduce a new generation of popular novelists and to reinvigorate the publishing programs for established bestselling authors. Website: http://www.penguin.com/publishers/berkley/

A spotlight on a few upcoming 2018 
Berkley Romance titles:
THE WEDDING DATE by Jasmine Guillory; 1/30/18
He's cute. She's beautiful. He's single. She's single. And they're trapped in an elevator together. Things could be worse…like being a dateless groomsman in your former best friend's wedding to your ex. Which is why Drew spontaneously asks Alexa to be his date for the weekend.
There are no strings attached, since they live at opposite ends of California. But when they end up having the time of their lives together, neither one of them resists a little travel time to see the other again. Soon Drew and Alexa will have to decide between what they think they need and what they truly want.

THE KISS QUOTIENT by Helen Hoang; 6/5/18
Stella Lane firmly believes that math is the only thing that unites the universe. So she decides to apply her algorithmically inclined skills to dating, specifically sex and becoming better at it. Devoted to her job as an econometrician and leaving time for little else, Stella has accrued plenty of money and now knows exactly how she wants to spend it: by paying the enticing Vietnamese and Swedish escort, Michael Phan, for lessons. Because who better to teach her about seduction than a professional?
Michael can't afford to turn down Stella's offer even though it breaks his strict "one night only" rule. He agrees to help her check off all the items on her lesson plan and as he spends more time with her, he can't help but look forward to finishing every single task on that list.

JUDGMENT ROAD by Christine Feehan; 1/23/18
First in the new Torpedo Ink series… An outlaw motorcycle club sets up shop next door to Sea Haven and Reaper, its enforcer, falls for the bartender with secrets behind her eyes. The small town of Caspar has given Anya Rafferty a new lease on life so she's desperate to hold on to her job at the biker bar, even if the scariest member of the club seems to have it out for her. But when the past catches up to her, Reaper will have to choose between her and his club–his heart and his soul.

THE OTHER LADY VANISHES by Amanda Quick; 5/8/18
After escaping from a private sanitarium, Adelaide Blake arrives in Burning Cove, California, desperate to start over. Working at an herbal teashop she meets Jake Truett, a recently widowed businessman in town for a therapeutic rest. But unbeknownst to Adelaide, his exhaustion is just a cover.
In Burning Cove, no one is who they seem. Behind facades of glamour and power, hide drug dealers, gangsters, and grifters. And so enters psychic to the stars Madame Zolanda. Adelaide and Jake know better than to fall for her kind of con. But when she's killed fitting her own dire prediction, they're drawn into a murky world of duplicity and misdirection.


#1 GIVEAWAY : 

Berkley Box-0-Romance-Books 
US – Giveaway will include 1 print copy of each item noted below: 
Darkest Before Dawn – Maya Banks
Shadow Rider – Christine Feehan
Beauty like the Night – joanna Bourne
Dangerously Charming – Deborah Blake
Ever my Love – Lynn Kurland
 A touch of Frost – Jo Goodman
On broken wings – chanel Cleeton
Boardwalk Summer – Kimberly Fisk
Wake a Sleeping Tiger – Lora Leigh
Blue Skies – Catherine Anderson
Love Me Again – Jaci Burton
When I need You – Lorelei James
Going Dark – Monica McCarty
Hillbilly Rockstar – Lorelei James
Bright Eyes – Catherine Anderson
Someone to Hold – Mary Balogh
Someone to Love – mary Balogh
Someone to Wed – Mary Balogh
#2 GIVEAWAY : 

Berkley Box-0-Romance-Books 
US – Giveaway will include 1 print copy of each item noted below: 
Love Me Again – Jaci Burton
Someone to Wed – Mary Balogh
Monster in the Closet – Karen Rose
Allegiance of Honor – Nalini Singh
When all the girls have gone – jayne Ann Krentz
The Christmas Room – Catherine Anderson
Spring Forward – Catherine Anderson
Red Wolf – jennifer Ashely
Bully – Penelope Douglas
Strong Enough – M. Leighton
Every Little Thing – Samantha Young
Behind the Curtain – Beth Kery
The Thing about Love – Julie James
Nauti Angel – Loral Leigh
To enter Giveaway: Please complete the Rafflecopter form and
Leave a comment with your thoughts on the 2018 books spotlighted here, Tell us which one(s) grabbed your attention & why?  

a Rafflecopter giveaway


This giveaway is sponsored by Berkley Romance.


*Giveaways noted (US) can only be shipped to a US mailing address.