Welcome to Harlequin Junkie's

3rd

Annual

Reader Appreciation

#BOOKMAS

EXTRAVAGANZA
#Giveaway:

Day 13
Are you on HJ's Naughty list?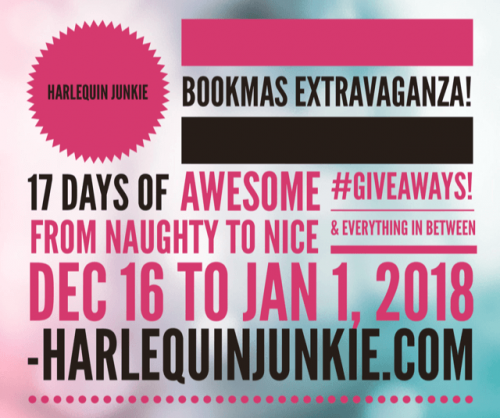 From Naughty to Nice and Everything in between….
The holiday season is the perfect time for Celebrating & Giving, considering HJ's Reader community is the BEST, we've decided to do both. 🙂
We are celebrating YOU and your continued support of the romance genre & Harlequin Junkie blog with 17 days of Awesome #Giveaways!
Thank You, for being a part of HJ's community.
Thank You, for all YOUR comments and interactions.
Thank You, for YOUR loyalty to the blog and Romance Genre
Most of all THANK YOU for making HJ a FUN place to hangout!
We <3 You! 🙂
Be sure to stop by everyday from Dec 16 to Jan 1 2018 for a chance to win: Box-O-books, Gift Cards, Kindle, Audio books, Author Swag, Gift baskets & more!

****
Up for grabs today, Box-o-AudioBooks & Swag from Entangled Publishing.
Entangled Publishing is an independent publisher of romantic fiction, in both the adult and young adult markets. Since its first release in July 2011, Entangled has published more than 1,200 titles, including the #8 bestselling book of 2012 by Jennifer Probst, The Marriage Bargain, as well as the blockbuster YA hit Obsidian by Jennifer L. Armentrout which was recently signed for a major motion picture to begin production in the Spring of 2017. Entangled has since grown to thirteen imprints, with 57 titles appearing on the USA Today Bestsellers list and 17 titles on the New York Times Bestsellers list. Currently, Entangled releases approximately 20-35 titles per month in digital first format and 4 per month in simultaneous print and e formats. Website: https://entangledpublishing.com/ Twitter: https://twitter.com/entangledpub

A spotlight on a few upcoming 2018 
Entangled Publishing titles:
Until You're Mine by Cindi Madsen
You might've heard of me, Shane Knox, the guy who rose quickly through the MMA fighter ranks, only to crash just as fast. No one cares about personal reasons when it comes to losing fights and money. I'm determined to get back to where I was. For you to hear my name again. I've finally convinced the owner of Team Domination to take a chance and get me back in fighting—and winning—shape. What I didn't bargain for is the guy's spitfire of a daughter. Factor in her two professional-fighter brothers who are acting as my coaches and the fact that my career hangs in the balance, and Brooklyn's the last girl I should be fantasizing about.
The closer we get, the more I want Brooklyn. The stakes are high, and I know there's a big chance of both of us getting hurt, but I won't stop until she's mine

The Billionaire's Unexpected Baby by Kira Archer
One minute, pregnant Leah Andrews is throwing up over the side of a yacht andthe next, she's married to party boy Brooks. It's an arrangement born of sheerdesperation to save her job, but now the tabloids are all over them, their friends are running a pool betting on whether they'll actually stay married until Baby Day, and worst of all, she and her new husband might just be falling for one another. But they belong in opposite worlds. It'll never work.
Billionaire app developer Brooks Larson lives his life on the light side. Until he tries to play hero and claims to be Leah's husband. Now he's up to his ears in Lamaze classes, baby powder…and unexpected marital bliss. But he'd make a rotten husband and horrible father. Leah and the baby deserve so much better. Add in major baby daddy drama and the whole situation is the worst idea EVER. But sometimes those bad ideas might just be the best ones.

Bargaining with the Boss by Jennifer Shirk
Kinsley just wanted to have some fun for a change. Then she wakes up in a stranger's bed, with her bridesmaid dress on backward and a hazy memory of what happened at her friend's wedding. With a quick escape, she can get back to her predictable life. But then she meets her new boss—the same guy she'd woken up next to—and seeing him with a clear head doesn't make him any less attractive.
Mixing business with pleasure has never been Damon's style, and easily avoided, but the hotel he just bought comes with an unexpected perk—its manager. "Sensible" Kinsley today is as alluring as "impulsive" Kinsley was the night before, and she talks him into a deal. If she can turn around the hotel by the end of summer, he won't tear it down to put up more profitable condominiums.
Their plan is simple…until falling for each other becomes more than they bargained for.

Crazy Love by Kendra C. Highley
Semi-pro SBXer Luke Madison can't afford any distractions. He's chasing his dreams in Aspen, not realizing the dire consequences of his actions. Now, if Luke can't pull off a miracle, his family could lose everything, and there's no way he'll let that happen.
No pressure or anything.
Charlotte Brown is determined to become a doctor—a neurologist to be precise, and she's always precise. She doesn't have time for anything except school, waitressing at a mountaintop café, and studying. Meeting the ridiculously sexy Luke Madison won't change that plan, even if kissing him makes her pulse race.
Neither can afford to slip up. If Charlotte doesn't pass the MCAT this time, that's it. Her dream of saving people—people like her mother—is over. And when Luke risks everything one last time, losing is not an option.
Even if it means losing each other.

Scoring with the Wrong Twin by Naima Simone
Shy, awkward Sophia Cruz has a hard time telling her vivacious identical twin "no." But when her sister begs her to swap places for a modeling shoot, she caves … again. Then Zephirin Black walks onto the set. The brooding, aloof, and gorgeous tight end for the Washington Warriors. But she can keep it professional… She has to. Because the adorkable Cruz twin has no luck with guys once they compare her to her sister.
After a bad break-up, Zeph hasn't been big on second chances—and even less with trust. But he finds himself giving please-call-me-by-my-middle-name-Sophia both. The woman he'd dismissed as a spoiled cover model is different from the first time he met her. Quirkier. Funnier. Definitely sexier. What started as one night turns into another…and another…and another…
Still, Sophia can't go on keeping her secret from him. But telling Zeph the truth will mean losing him for good.



#GIVEAWAY: 

Box-o-10 Audiobooks, Custom Swag, Hand/Body Lotion.
US – Giveaway will include 1 copy of each item shown in the photo: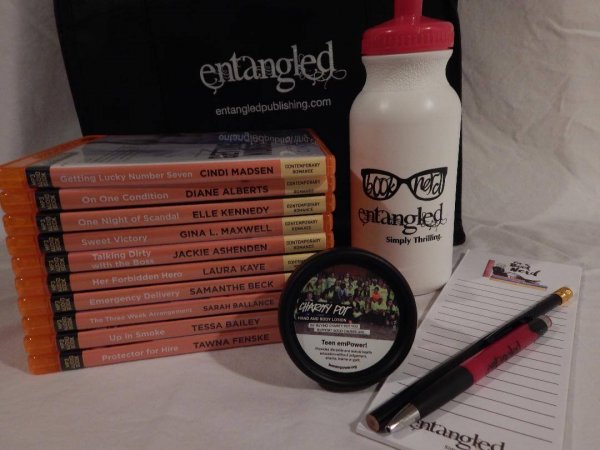 To enter Giveaway: Please complete the Rafflecopter form and
Leave a comment with your thoughts on the 2018 books spotlighted here, Tell us which one(s) grabbed your attention & why?  
a Rafflecopter giveaway


This giveaway is sponsored by Entangled Publishing.
*Giveaways noted (US) can only be shipped to a US mailing address.