Welcome to Harlequin Junkie's

3rd

Annual

Reader Appreciation

#BOOKMAS

EXTRAVAGANZA
#Giveaway:

Day 15
Are you on HJ's Naughty list?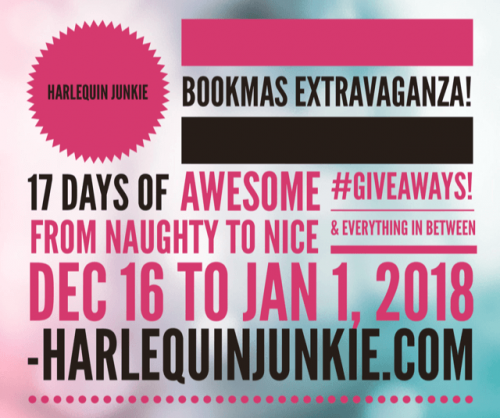 From Naughty to Nice and Everything in between….
The holiday season is the perfect time for Celebrating & Giving, considering HJ's Reader community is the BEST, we've decided to do both. 🙂
We are celebrating YOU and your continued support of the romance genre & Harlequin Junkie blog with 17 days of Awesome #Giveaways!
Thank You, for being a part of HJ's community.
Thank You, for all YOUR comments and interactions.
Thank You, for YOUR loyalty to the blog and Romance Genre
Most of all THANK YOU for making HJ a FUN place to hangout!
We <3 You! 🙂
Be sure to stop by everyday from Dec 16 to Jan 1 2018 for a chance to win: Box-O-books, Gift Cards, Kindle, Audio books, Author Swag, Gift baskets & more!
****
Up for grabs today, Box-o-Romance-Books from SMP Romance.
Founded in 1952 by Macmillan in London, St. Martin's Press was for many years primarily a distributor of Macmillan books. However, particularly during the last 30 years, St. Martin's grew rapidly as a publisher in its own right, finally becoming one of the seven largest publishers in America. From their home in the Flatiron Building in New York, St. Martin's publishes books under four imprints: St. Martin's Press, Griffin, Minotaur, and Thomas Dunne Books. Website: http://smpromance.com | Twitter: https://twitter.com/SMPRomance

A spotlight on a few upcoming 2018 
SMP Romance Publishing titles:
I Flipping Love You by Helena Hunting
From New York Times bestselling author Helena Hunting comes I Flipping Love You, a love story about flipping houses, taking risks, and landing that special someone who's move-in ready
Rian Sutter grew up with the finer things in life. Spending summers in the Hamptons was a normal occurrence for her until her parents lost everything years ago. Now Rian and her sister are getting their life, and finances, back on track through real estate. Not only do they buy and sell houses to the rich and famous but they finally have the capital to flip their very own beachfront property. But when she catches the attention of a sexy stranger who snaps up every house from under her, all bets are off…
Pierce Whitfield doesn't normally demo kitchens, install dry wall, or tear apart a beautiful woman's dreams. He's just a down-on-his-luck lawyer who needed a break from the city and agreed to help his brother work on a few homes in the Hamptons. When he first meets Rian, the attraction is undeniable. But when they start competing for the same pieces of prime real estate, the early sparks turn into full-blown fireworks. Can these passionate rivals turn up the heat on their budding romance―without burning down the house?

The Real Deal by Lauren Blakely
April Hamilton wants you to know she hasn't been on Craigslist since that time she sold her futon after college. She doesn't even spend that much time online. And even if she did, she would not be looking up personal ads. But going home alone for her family's summer reunion is an invitation for every single relative to butt into her personal life. She simply can't handle another blind date with the butcher, the baker or the candlestick maker from her hometown. So when she finds the Craigslist ad for a boyfriend-for-hire, she's ready to pay to play.
Heading Home and Need a Buffer? I'm the REAL DEAL.
Theo Banks has been running from the past for years. He's this close to finally settling all his debts, and one more job as a boyfriend-for-hire will do the trick. He's no gigolo. Please. He's something of an actor, and he knows how to slip into any role, including pretending to be April's new beau — the bad boy with the heart of gold.
Even if it means sleeping in close quarters in that tiny little bed in her parents' inn. Even if it means spinning tales of a romance that starts to feel all too true. What neither one of them counts on is that amid the egg toss, the arm wrestling, and a fierce game of Lawn Twister that has them tangled up together, they might be feeling the real deal.
She only wanted to show her family once and for all that she had no need to settle down.
He didn't expect to have the time of his life at her parent's home.
They didn't plan on loving every single second of the game.
But can a masterful game of pretend result in true love?

Collision Point by Lora Leigh
SHE'S NOTHING BUT TROUBLE
Riordan Malone is more than a bodyguard. As an Elite Ops agent, he's ripped, raged, and ready to rumble―a true warrior, inside and out. But no war zone can compare to the battle in Rory's heart when he lays eyes on the only woman he's ever loved―and thought he had lost forever.
HE'S EVERYTHING SHE NEEDS
As the daughter of a crime lord, Amara Resnova has endured the cruelty of her father's enemies―and has tried to escape that world ever since. Now, she must reach out to the one man who saved her life, even if she's never forgiven him for breaking her heart. But Amara is tougher today than she was then. She's also more desirable to Rory―and dangerous to love. Can he protect her from her father's enemies without surrendering to his own passions…or will love seal their fate for good?

Darkest Night by Tara Thomas
SHE THOUGHT SHE'D LOST HIM FOREVER
Tilly Brock has learned—the hard way—how to take care of herself. Once a pillar of Charleston society, her family lost everything in the wake of a shocking scandal. And then Tilly lost the only boy she ever loved.
BUT NOW THAT HE'S BACK IN HER LIFE
Keaton Benedict is Charleston's most notorious bachelor. But in spite of all his advantages—the money, the women, the family name—he longs for more: the heart of the young woman he still can't forget.
THE DANGER HAS JUST BEGUN…
When Keaton re-enters Tilly's life, after all these years, she is torn between feelings of doubt and desire. Can they put the past behind them and learn to love again? Tilly is willing to try. But Keaton is afraid that a vengeful enemy is watching—and waiting to destroy them. Can the rekindled flame of their love defeat the deadliest rival and light their way forward in the darkest night?

The Duke with the Dragon Tattoo by Kerrigan Byrne
The next stunning, captivating historical romance from Kerrigan Byrne!


  #1 GIVEAWAY: 

Box-o-Holiday Titles
US – Giveaway will include 1 copy of each item noted below:
Christmas at Two Love Lane
A Season of You
Hope at Christmas
The Christmas Cowboy Hero
Pride and Prejudice and Mistletoe
Christmas in London
#2 GIVEAWAY: 

Box-o-2018 Releases
US – Giveaway will include 1 copy of each item noted below:
Cowboy Stole My Heart by Soraya Lane
A Devil in Scotland by Suzanne Enoch
Baby, I'm Howling For You by Christine Warren
Darkest Night by Tara Thomas
Collision Point by Lora Leigh
To enter Giveaway: Please complete the Rafflecopter form and
Leave a comment with your thoughts on the 2018 books spotlighted here, Tell us which one(s) grabbed your attention & why?  

a Rafflecopter giveaway


This giveaway is sponsored by SMP Romance.
*Giveaways noted (US) can only be shipped to a US mailing address.