Welcome to Harlequin Junkie's

3rd

Annual

Reader Appreciation

#BOOKMAS

EXTRAVAGANZA
#Giveaway:

Day 7
Are you on HJ's Naughty list?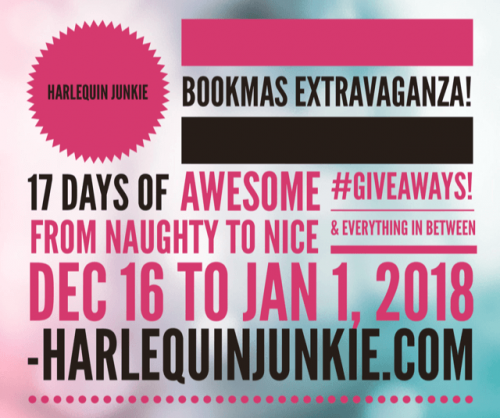 From Naughty to Nice and Everything in between….
The holiday season is the perfect time for Celebrating & Giving, considering HJ's Reader community is the BEST, we've decided to do both. 🙂
We are celebrating YOU and your continued support of the romance genre & Harlequin Junkie blog with 17 days of Awesome #Giveaways!
Thank You, for being a part of HJ's community.
Thank You, for all YOUR comments and interactions.
Thank You, for YOUR loyalty to the blog and Romance Genre
Most of all THANK YOU for making HJ a FUN place to hangout!
We <3 You! 🙂
Be sure to stop by everyday from Dec 16 to Jan 1 2018 for a chance to win: Box-O-books, Gift Cards, Kindle, Audio books, Author Swag, Gift baskets & more!

****
Up for grabs today, Book Bundle and Swag from Sourcebooks!
A spotlight on a few upcoming 2018 
Sourcebooks titles:
Sourcebooks, Inc. is an independent book publisher outside of Chicago that publishes fiction, romance, children's books, college guides, history, business books, and more. Website: https://www.sourcebooks.com/

Heart on Fire by Amanda Bouchet
In the epic conclusion to The Kingmaker Chronicles, the destiny Cat has spent her entire life running from has finally caught up to her. But in order to truly accept her fate and become Queen of Thalyria, Cat and her dedicated husband, Griffin Sinta, will have to go to war with the severely oppressed Fisa—and its violent alpha, Cat's homicidal mother.
But when Cat's magic refuses to work like it should, she has to unleash the power she's been most afraid of…with dire consequences.
Ones Who Got Away by Roni Loren
It's been twelve years since tragedy struck the senior class of Long Acre High School. Only a few students survived that fateful night—a group the media dubbed The Ones Who Got Away.
Liv Arias thought she'd never return to Long Acre—until a documentary brings her and the other survivors back home. Suddenly her old flame Finn Dorsey is closer than ever, and their attraction is still white-hot. When a searing kiss reignites their passion, Liv realizes this rough-around-the-edges cop might be exactly what she needs…
I Am Justice by Diana Muñoz Stewart
Rescued from a brutal childhood and adopted into the wealthy Parish family, Justice Parish wants payback. As a trained assassin, she's targeted a sex-trafficking ring run by two violent misogynists in the war-torn Middle East. She just needs a cover so she can get close enough to take them down…
Sandesh Ross left Special Forces determined to make a difference. Creating a humanitarian group comprised of veterans set on helping citizens in war-torn countries was easy. But, to save the world, he realized he needed money. Enter Parish Industries. But their money has a price tag—their hot and prickly PR lady, Justice Parish.
The Color of Love by Sharon Sala
Welcome to Blessings, Georgia, the best small town in the South.
No, there aren't many secrets kept there.
And yes, everybody knows your business.
But when bad things happen, good people come to your rescue.
Ruby Dye loves everything about Blessings, Georgia—she loves her hair salon, she treasures the townspeople…and now she has a secret admirer! When she finds out it's none other than the town's esteemed lawyer, P. Butterman ("Peanut"), she is beyond thrilled. But her ex-husband has other plans…
Last Wolf by Maria Vale
For three days out of thirty, when the moon is full and her law is iron, the Great North Pack must be wild. Silver Nilsdottir is a lone runt with a crippled leg, facing a life of endless submission in the Pack.
Then Tiberius Leveraux stumbles wounded into their territory with a plea for protection. If Silver is to make a real place for herself, she must fight for Tiberius—her only chance at ever having a mate. And in the end, she is forced to shield all of them—the Pack, the land, and the man she loves—from ancient enemies.



#GIVEAWAY 1: 

Sourcebook 

Book Bundle & Swag
US / CAN  – Giveaway will include 1 print copy of each item noted below: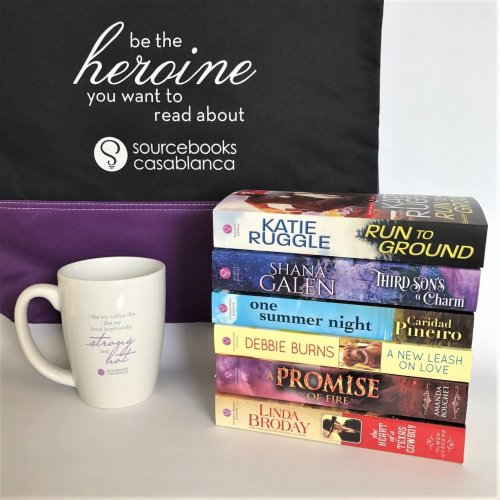 #GIVEAWAY 2: 
Sourcebook 
Book Bundle & Swag
US / CAN  – Giveaway will include 1 print copy of each item noted below: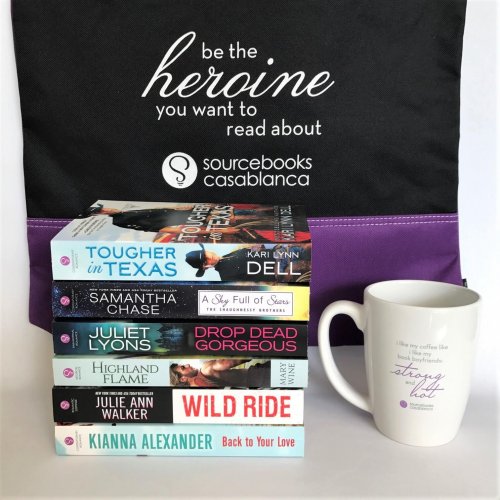 To enter Giveaway: Please complete the Rafflecopter form and
Leave a comment with your thoughts on the 2018 books spotlighted here, Tell us which one(s) grabbed your attention & why?  

a Rafflecopter giveaway


This giveaway is sponsored by Sourcebook.

*Giveaways noted (US) can only be shipped to a US mailing address.