Welcome to Harlequin Junkie's

3rd

Annual

Reader Appreciation

#BOOKMAS

EXTRAVAGANZA
#Giveaway:

Day 8
Are you on HJ's Naughty list?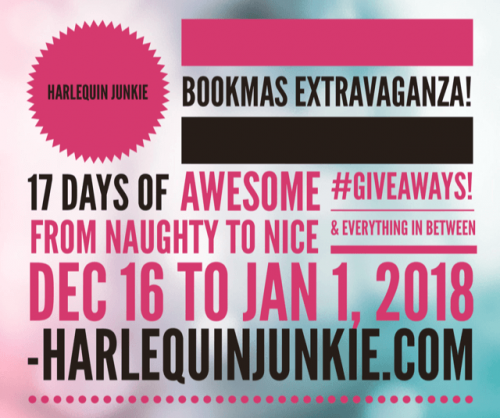 From Naughty to Nice and Everything in between….
The holiday season is the perfect time for Celebrating & Giving, considering HJ's Reader community is the BEST, we've decided to do both. 🙂
We are celebrating YOU and your continued support of the romance genre & Harlequin Junkie blog with 17 days of Awesome #Giveaways!
Thank You, for being a part of HJ's community.
Thank You, for all YOUR comments and interactions.
Thank You, for YOUR loyalty to the blog and Romance Genre
Most of all THANK YOU for making HJ a FUN place to hangout!
We <3 You! 🙂

Be sure to stop by everyday from Dec 16 to Jan 1 2018 for a chance to win: Box-O-books, Gift Cards, Kindle, Audio books, Author Swag, Gift baskets & more!

****
Up for grabs today, Book Bundle and Swag from Forever Romance!

Forever, the romance imprint of Grand Central Publishing, publishes a wide array of romantic fiction, featuring everything from Regency rogues to sexy billionaires, Scottish Highlanders to Texas cowboys, Navy SEALs to immortal shapeshifters to the gorgeous guy next door. Authors include #1 NYT bestseller Jodi Ellen Malpas, #1 NYT bestseller J.A. Redmerski, Jill Shalvis, Jessica Sorensen, Rachel van Dyken, Kristen Ashley, Jennifer Haymore, Kristen Callihan and Hope Ramsay. Since its founding in 2003, Forever has launched the careers of Elizabeth Hoyt, Larissa Ione and Paula Quinn, all of whom have become New York Times bestselling authors.
Forever Yours is the digital-first sister of the Forever romance imprint, which publishes ebook-only editions of a wide array of original works and classic favorites, ranging in length from novellas to epic sagas. Website

A spotlight on a few upcoming 2018 
Forever Romance titles:
Zero Hour by Megan Erickson (on sale: January 30, 2018)
Hacker extraordinaire Roarke Brennan lives each hour – each breath – to avenge his brother's murder. His first move: put together a team of the best coders he knows. They're all brilliant, specialized, and every one an epic pain in his ass. Only now Wren Lee wants in too, threatening to upset their delicate balance. The girl Roarke never allowed himself to want is all grown up with sexy confidence and a dark past… and she's the wild card he can't control.
Roarke might still think she's a kid, but Wren's been to hell and back. Nothing and nobody can stop her-especially the tatted-up, cocky-as-all-hell hacker. But when years of longing and chemistry collide, Wren and Roarke discover that revenge may be a dish best served blazing hot.

A Duke in the Night by Kelly Bowen (on sale: February 20, 2018)
Duke. Scoundrel. Titan of business. August Faulkner is a man of many talents, not the least of which is enticing women into his bedchamber. He's known-and reviled-for buying and selling companies, accumulating scads of money, and breaking hearts. It's a reputation he wears like a badge of honor, and one he intends to keep.
Clara Hayward, the headmistress of the Haverhall School for Young Ladies, on the other hand, is above reproach. Yet when she's reunited with August all she can think of is the way she felt in his arms as they danced a scandalous waltz ten long years ago. Even though her head knows that he is only back in her life to take over her family's business, her heart can't help but open to the very duke who could destroy it for good.

One and Only by Jenny Holiday (on sale: February 27, 2018)
With her bridezilla friend on a DIY project rampage, bridesmaid Jane Denning will do anything to escape–even if it means babysitting the groom's troublemaker brother before the wedding. It should be a piece of cake, except the "cake" is a sarcastic former soldier who is 100% wicked hotness and absolutely off-limits.
Cameron MacKinnon is ready to let loose after returning from his deployment. But first he'll have to sweet talk the ultra-responsible Jane into taking a walk on the wild side. Turns out, riling her up is the best time he's had in years. But what happens when the fun and games start to turn into something real?

With This Man by Jodi Ellen Malpas 
(March 20, 2018)
:
Life is good for Jesse "The Lord" Ward. If it weren't for the fact that he's turning fifty this year, life would be perfect. He still has the charm, he's still in great shape, and he still reduces his wife, Ava, to a pool of desire with a mere look. He's in full control, just how he likes it. But Jesse's perfect world falls apart when a terrible accident lands Ava in hospital with a head injury that causes her to lose her memory of the last fifteen years. Now Jesse must do whatever it takes to support his beloved wife and help her find her memories-their memories-and fall madly, passionately in love all over again. But he has no idea someone is plotting to destroy their family.

More than Words by Mia Sheridan (On sale: June 12, 2018)
As children, Jessica Creswell and Callen Hayes's friendship was an escape from the darkness that surrounded them at home. Then one day, Callen never returned to the secret spot where they'd always met. Jessica, who had no way to find him, was heartbroken. Years later, she's living in Paris and working as a translator of ancient documents, and Callen has found fame and fortune as a musical composer, when their paths collide once again.
Callen has never forgotten the girl he left behind. Back then, Jessica and music were the only things that brought him any measure of peace. Now, memories of his past make him feel unworthy of any love or affection. But there's something about Jessica. Something that calls to the boy he used to be and the man he could be. With her, Callen sees the chance for a new life. If only he's brave enough to take it.



#GIVEAWAY : 

Forever Romance 

Book Bundle & Swag
US – Giveaway will include 1 print copy of each item noted below: 
Jen Gilroy's Back to Firefly Lake
Deb Mason's Sugarplum Way, Long
Tall Christmas Cowboy by Carolyn Brown
Slammed by Victoria Denault
No Other Duke Will Do by Grace Burrowes
A Forever tote bag.
To enter Giveaway: Please complete the Rafflecopter form and
Leave a comment with your thoughts on the 2018 books spotlighted here, Tell us which one(s) grabbed your attention & why?  

This giveaway is sponsored by Forever Romance.

a Rafflecopter giveaway


*Giveaways noted (US) can only be shipped to a US mailing address.