Harlequin Books Spotlight & Giveaway: 
Showcasing APRIL romance releases

!


Harlequin is one of the world's leading publishers of books for women. The Toronto-based company publishes more than 110 titles a month in 34 languages in 110 international markets on six continents. These books are written by over 1,300 talented authors worldwide, offering women a broad range of reading from bestseller fi ction to romance, from young adult novels to nonfi ction, from African-American novels to inspirational romance, and more. With half of its books sold overseas and a tremendous 95% outside Canada—it is both the country's most successful publisher and one of its most international businesses
Thank You Harlequin for providing giveaway copies of these titles!
The Black Sheep's Inheritance by Maureen Child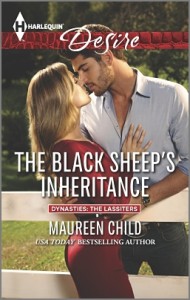 Follow the money…into bed!
Estranged from his adoptive father, Sage Lassiter earned his own billions. But when J.D. Lassiter leaves a fortune to his private nurse in his will and cheats his own daughter of her rightful inheritance…Sage is enraged, to say the least. He's sure nurse Colleen Falkner isn't the innocent she appears. And he's willing to go to any lengths to expose her…even seduction.
But using sex—crazed, incredible sex—to find out what she knows could backfire. Because Colleen is not what Sage expected. And like it or not, she's about to demolish all the barriers he's carefully constructed around his heart.
What the Greek's Money Can't Buy by Maya Blake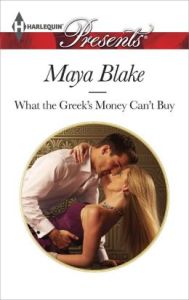 The forbidden tastes all the sweeter…
Oil magnate Sakis Pantelides always gets what he wants—after all, he's drop-dead gorgeous, powerful and wealthy beyond words. But the one thing he can't have is his stunning assistant, Brianna Moneypenny—because she's the only woman this cynical Greek can trust.
But when an international crisis throws them together 24/7, intriguingly buttoned-up Brianna reveals a sensual hunger that rivals his own, and he realizes just what he's been denying himself for so long. But when his perfect PA's secret is discovered, will he pay the price for taking what he wants?
Stolen Kiss From a Prince by Teresa Carpenter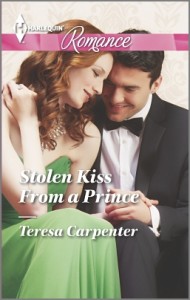 When royal duty calls…
Charged with the care of the newly orphaned heir to the Kardana throne, nanny Katrina Vicente finds herself faced with an even more formidable task—working alongside the boy's uncle, the devastatingly handsome Prince Julian, the prince regent.
Desperate to keep the secrets of her past under lock and key, getting involved with a prince is the last thing Katrina needs, particularly with the world watching. But it's hard to ignore their instant chemistry—especially after one stolen kiss! Could her royal assignment be about to transform into the most magical of fairy tales?
GIVEAWAY:

The Black Sheep's Inheritance + What the Greek's Money Can't Buy + Stolen Kiss from a Prince + A box of Godiva chocolates + A billionaires themed book mark.
To enter Giveaway: Please complete the Rafflecopter form and post a comment to this Q:

What was the last Harlequin book you read? Would you recommend it to readers here?