Harlequin Books Spotlight & Giveaway: 
Showcasing MAY romance releases

!


Harlequin is one of the world's leading publishers of books for women. The Toronto-based company publishes more than 110 titles a month in 34 languages in 110 international markets on six continents. These books are written by over 1,300 talented authors worldwide, offering women a broad range of reading from bestseller fi ction to romance, from young adult novels to nonfi ction, from African-American novels to inspirational romance, and more. With half of its books sold overseas and a tremendous 95% outside Canada—it is both the country's most successful publisher and one of its most international businesses
Thank You Harlequin for providing giveaway copies of these titles!
Breaking Point by Lindsay McKenna
In the line of fire…
OPERATION SHADOW WARRIORS
An ongoing U.S. military experiment to test the integration of trained female military operatives in live combat scenarios…
The Alpha Platoon. A unit of Navy SEALs stationed in the unforgiving dryness of Afghanistan…who just learned that their newest team member is a woman. But Bay Thorn has a spine of steel—and the chops to prove it. Without a team to back her up, however, she's dead in the water. And her only ally is Gabe Griffin, a lone SEAL who is lethal, dangerous and unbearably attractive….
Between the open hostility from her team and the harsh Al Qaeda territory, Gabe is a lifeline for Bay. But mutual respect quickly grows into mutual attraction. And with each day and every assignment, the longing only deepens.
They mustn't speak of it. Mustn't act on it. Because in this line of work, falling in love can get you killed…
Push by Claire Wallis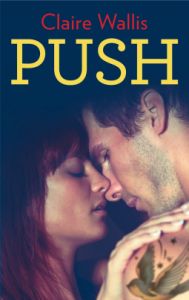 I feel like I am wrapped in a cyclone. Everything is whirling around me, drawing the air out of my lungs and filling me with the best kind of turmoil. Every time his tongue slides against mine, a prickle in my gut tells me how right we are together. How much I need David. How much I need us.
I hope the cyclone never stops.
Emma Searfoss has spent a lifetime trying to escape her abusive stepfather. It's why she moved far away from home. It's why she's kept no ties with her remaining family. And it's why she's got a major rage problem. When her neighbor shows up to fix the kitchen in her new apartment, his enigmatic charm calms the fire in her. David is cool and collected, and he makes Emma feel safe for the first time ever. But David has his own chilling past—his six previous girlfriends have all disappeared without a trace. Emma's walking a dangerous line, but David's pull is intoxicating. And impossible to resist…
GIVEAWAY:

Breaking Point by Lindsay McKenna (Print) + Push by Claire Wallis (ebook)
To enter Giveaway: Please complete the Rafflecopter form and post a comment to this Q: 

What was the last Harlequin book you read? Would you recommend it to readers here?