Barefoot in the Rain by Roxanne St. Claire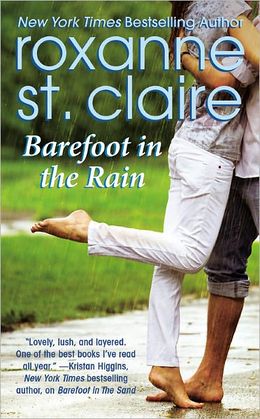 A Barefoot Bay Novel
They say you can never go home again . . .
When "Life Coach to the Stars" Jocelyn Bloom is embroiled in scandal, the only place she can hide is the one place she wishes she could forget. She left Barefoot Bay-and the boy next door who knew all her secrets-years ago. Now nothing about the tiny island off the coast of Florida is quite how she remembers it, especially Will Palmer. He's even more gorgeous and tempting . . . and still capable of turning her world inside out.
But what if someone is waiting for you?
To Will Palmer, Guy Bloom is more than the elderly, senile neighbor he looks after-he's the last connection to Jocelyn, the woman Will loved and lost. But the reunion with Jocelyn doesn't go smoothly. Shocked by the change in her father's personality, Jocelyn struggles to reconcile her dark childhood with the sweet, confused man who has grown close to Will. Jocelyn has guided countless clients to happiness-but can she escape the rainy days of her past for a new sunny future with Will?
 Mark your calendars: The HEA Book Club Live chat for Barefoot in the Rain by Roxanne St. Claire will be held Thursday March 21st at 6:00PM PST, 9:00 PM EST.

Author 

Roxanne St. Claire

 will be joining us for a Live Q&A. 
Barefoot Bay Series is more than just a slice of paradise on tropical Mimosa Key. It's a community of friends and family, a world of pain and promise, and a celebration of laughter and love.
JOCELYN BLOOM 
(Barefoot in the Rain)
In Barefoot in the Rain, Jocelyn Bloom — a "life coach to the stars" in L.A. — is forced to head home to Barefoot Bay to hide from scandal. When she gets there, she finds out that the only way to have a sunny future is to face her rainy past.
WILL PALMER 
(Barefoot in the Rain)
A former professional baseball player and current carpenter helping to build Casa Blanca, Will grew up next door to Jocelyn and knows all her secrets. Now, he's caring for the very man who tore them apart…and determined to make up for the pain of their past.
GUY BLOOM
A former sheriff with a violent streak, Jocelyn's aging father has mellowed with age and illness. Is his shocking change in personality a symptom of his illness…or a true change of heart?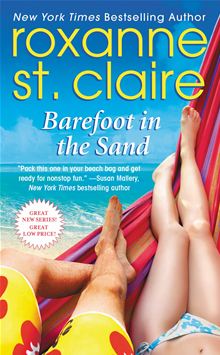 Have you read the first book in the Barefoot Bay Series:
Barefoot in the Sand

? If you did what did you think of it?

[divider_line]

Thank You GC Forever Romance for providing the HEA Book Club with 10 giveaway copies of Barefoot in the Rain!

Source: http://www.roxannestclaire.com/contemporaryromance/barefootbayseries.html