HEA Book Club Pick (Jan):

Ain't She Sweet? by Susan Elizabeth Phillips
The Huffington Post says the books of Susan Elizabeth Phillips provide a "gateway drug to the whole [romance] genre," which she assumes is a good thing. Bookpage magazine calls her "the crown jewel of romantic comedy writers," which is definitely a good thing.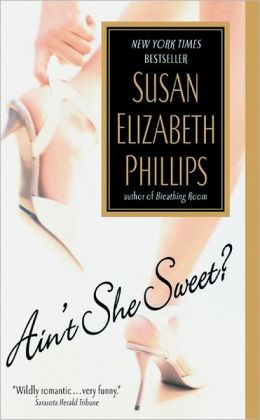 Sugar Beth Carey's come back to Parrish, Mississippi, and she'sbrought her reputation for wreaking havoc with her. She's broke,desperate, and too proud to show it, even with her old enemieslining up for a chance to get even. Her former girlfriends havetheir eyebrow pencils sharpened into lethal points. Winnie Davis,her longtime rival, is fully armed with the money, power, andprestige that had once been Sugar Beth's. But worst of all isColin Byrne, the man whose career Sugar Beth had destroyed — and not exactly accidentally.
Now Colin's a famous novelist living in Sugar Beth's old mansion,and this modern day dark prince is using his writer's imaginationto figure out how to bring the town's beautiful former princessto her knees. But despite her sassy mouth, feisty spirit, andhardheaded ways, Sugar Beth's no longer the spoiled rich girlthey all remember. No, now she's a woman to be reckoned with …and a great big reckonin' is about to happen, not least of allfor one dark prince who might — just might — be thinking aboutfalling in love with the wickedest girl in town.
Mark your calendars:

LIVE CHAT for Ain't She Sweet? is scheduled for Thursday January 23rd at 6:00PM PT, 9:00 PM ET.

Author Susan Elizabeth Phillips will be joining us for a live Q&A
If you've written a review, please drop a link to your review here… we would love to read what you thought about the book.
We hope you will join us for what is always a fun and lively discussion 🙂
Heather & Sara