HEA Book Club Pick (Mar):

The Way You Look Tonight by Bella Andre

Over a million books sold so far in Bella Andre's New York Times and USA Today bestselling Sullivan series. Fall in love with the Sullivans…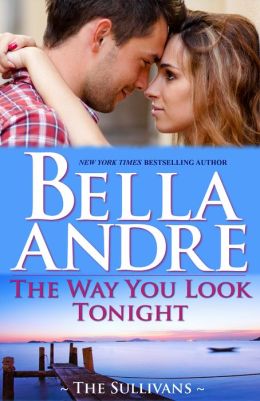 As a very successful private investigator who has caught most of the cheaters in Seattle with their pants down, Rafe Sullivan believes true, lasting love only happens once in a blue moon. Needing to get away from the city to clear his head, he finds the lake house where he spent the best summers of his life is now a wreck…but the sweet girl next door is all grown up and prettier than anything he's ever seen.
While Brooke Jansen is happy making and selling chocolate truffles in her small Pacific Northwest lake town, she secretly longs to experience something wild. So when her favorite "Wild Sullivan" moves in again next door after more than a decade away, and sparks fly between them, she can't stop wondering if being bad is really as good as it always seemed…and just how long it will be before she can find out.
But when their summer fling quickly spirals into deeper emotions than either of them were expecting, can they survive the heat between them? Or will Rafe make the biggest mistake of his life and end up losing the best thing that's ever happened to him?
Mark your calendars:

LIVE CHAT for The Way You Look Tonight is scheduled for Thursday March 27th at 6:00PM PT, 9:00 PM ET.

Author Bella Andre will be joining us for a live Q&A
Author's Note: While THE WAY YOU LOOK TONIGHT can easily be read as a stand-alone story, you'll likely enjoy reading the earlier Sullivan books, too.
THE SULLIVAN series:
The Look of Love (Chase)
From This Moment On (Marcus)
Can't Help Falling In Love (Gabe)
I Only Have Eyes For You (Sophie)
If You Were Mine (Zach)
Let Me Be The One (Ryan)
Come A Little Bit Closer (Smith)
Always On My Mind (Lori)
One Perfect Night (co-starring Mia Sullivan & Rafe Sullivan)
The Way You Look Tonight (Rafe, The Seattle Sullivans)
Kissing Under The Mistletoe: A Sullivan Christmas (Mary & Jack Sullivan)
It Must Be Your Love (Mia, The Seattle Sullivans) ~ coming Winter 2013!
If you've written a review, please drop a link to your review here… we would love to read what you thought about the book.
We hope you will join us for what is always a fun and lively discussion 🙂
Heather & Sara