HEA Book Club Pick (Nov):

Barefoot by the Sea by Roxanne St. Claire
Barefoot Bay is more than just a slice of paradise on tropical Mimosa Key. It's a community of friends and family, a world of pain and promise, and a celebration of laughter and love.
A Barefoot Bay Novel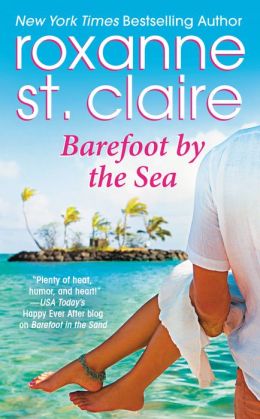 When you think you know your heart's desire . . .
Tessa Galloway is a gifted nurturer-her verdant garden at Barefoot Bay's new resort is living proof. If only the woman who can grow anything could grow what she wants most: a baby. Her friends think the right guy will come along, but Tessa doesn't want to wait. All she needs is the perfect donor to make her dream come true. Then John Brown is hired at the resort. If anyone could make beautiful babies, it's this gorgeous, mysterious man. So why does Tessa suddenly find herself wanting so much more?
Can you give up all your dreams for love?
It's been three long years since John Brown had to leave his old life. Forced into the witness protection program, he's desperate to be reunited with his toddler twins. When he gets that chance, there's a catch-he must prove he's got a steady job and a new wife. Landing a gig as a chef in Barefoot Bay is easy enough. And falling for lovely Tessa is even easier. The hard part? Can he win the heart of a woman who prizes honesty-when the truth may shatter it?
Mark your calendars:

LIVE CHAT for Barefoot by the Sea is scheduled for Thursday November 21st at 6:00PM PT, 9:00 PM ET.

Author Roxanne St. Claire will be joining us for a Live Q&A.
CAST OF CHARACTERS
IAN BROWNING aka JOHN BROWN
(Barefoot by the Sea)
Placed in the witness protection program after identifying his wife's killer, John Brown is a loner and drifter who arrives in Barefoot Bay planning to keep his identity and past secret. That's no easy feat when he falls Tessa, a woman famously opposed to secrets. When he learns that the system requires him to marry, he escalates their growing attraction to a full-on seduction, leading right to the altar. But will his secret he keeps prevent their love from ever being real?
TESSA GALLOWAY
(Barefoot by the Sea)
An earth mother who longs to be a real mother, Tessa can grow anything, it seems, but a baby of her own. Divorced after years of infertility, she's come to Barefoot Bay to create a self-sustaining organic garden for the resort, but will she ever be able to fulfill her nurturing nature?
I'd like to thank

Forever Romance

for providing the HEA Book Club with giveaway copies of Barefoot by the Sea
Winners:

| Jennifer | Melody | Tammy Y | Belinda |
If you've written a review, please drop a link to your review here… we would love to read what you thought about the book.
We hope you will join us for what is always a fun and lively discussion 🙂
Heather & Sara