HEA Book Club Pick (OCT):
Last Chance Book Club by Hope Ramsay
"Last Chance captures the essence of Southern charm and quirkiness. I'm totally captivated!" —- Sherryl Woods, New York Times bestselling author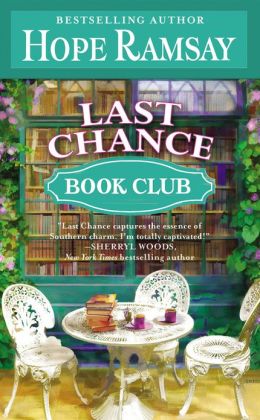 After a painful divorce, Savannah White wants nothing more than to find her happy place. So when she gets the chance to pack up her life -and her son – and move to the idyllic town where she spent childhood summers, she jumps at the opportunity. Last Chance is just as charming as she remembered. She's even invited to join the local book club, where talk soon turns to Savannah's plan to bring the ramshackle downtown movie theater back to life. A new challenge is just what Savannah needs to move forward.. . .
Dash Randall wants to put his fortune to good use, but he remembers Savannah as the bratty "princess" who descended upon him each June, causing no end of trouble. But the teenager he remembered has grown into a gorgeous and generous woman, and it isn't long before Dash finds himself wanting to make brand new memories with Savannah. But first, Dash and Savannah will need to make peace with their pasts to find a new chance for love.
 Mark your calendars: 

LIVE CHAT for Last Chance Book Club by Hope Ramsay is scheduled for 

Thursday October 24th 

at

6:00PM PT

, 9:00 PM ET.

Author 

Hope Ramsay

 

will be joining us for a Live Q&A.
About: Last Chance
The incorporated town of Last Chance, South Carolina, situated at the western boundary of Allenberg County, is located in the region of South Carolina known as the Coastal Plains. This is a polite way of saying that Last Chance isn't close to the often-visited coastal region, nor is it located in mountains along I-85.
Last Chance sits smack-dab in the middle of the state.
Some folks think that means our town is neither here nor there, but that would be incorrect. We feel like we're right in the center of things.
Read More: The Christ Church Ladies Auxiliary Guide to Last Chance (includes maps)
The Ruby Slippered Sisterhood's free cookbook includes several recipes from Last Chance, including Jenny Carpenter's pie crust, among others.  Includes book excerpts in addition to recipes.  You can download it fromAmazon.com
I'd like to thank

Forever Romance

for providing the HEA Book Club with giveaway copies of  Last Chance Book Club
Winners:

 | Jennifer | Heather | Becky | Tammy Y | Belinda | 
If you've written a review, please drop a link to your review here… we would love to read what you thought about the book. 
We hope you will join us for what is always a fun and lively discussion 🙂
Heather & Sara