HEA Book Club Pick (Sept):
 Beautiful Bastard by Christina Lauren
An ambitious intern. A perfectionist executive. And a whole lot of name calling.
Discover the story that garnered more than two million reads online.
Book Summary: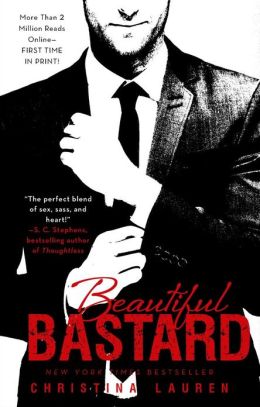 Whip-smart, hardworking, and on her way to an MBA, Chloe Mills has only one problem: her boss, Bennett Ryan. He's exacting, blunt, inconsiderate—and completely irresistible. A Beautiful Bastard.
Bennett has returned to Chicago from France to take a vital role in his family's massive media business. He never expected that the assistant who'd been helping him from abroad was the gorgeous, innocently provocative—completely infuriating—creature he now has to see every day. Despite the rumors, he's never been one for a workplace hookup. But Chloe's so tempting he's willing to bend the rules—or outright smash them—if it means he can have her. All over the office.
As their appetites for one another increase to a breaking point, Bennett and Chloe must decide exactly what they're willing to lose in order to win.
 Mark your calendars: 

LIVE chat: 

Thursday Sept 26th

 at 6:00PM PT, 9:00 PM ET.

Authors

Christina & Lauren

 will be joining us for a Live Q&A.
Quotes from the book:  (Adult Content)
"Mr. Ryan was going to have my ass. I was twenty minutes late. As I experienced this morning, he hated late. "Late" was a word not found in the Bennett Ryan Dickhead Dictionary. Along with "heart," "kindness," "compassion," "lunch break," or "thank you."
― Christina Lauren, Beautiful Bastard
"If only he would keep his mouth shut, he'd be perfect. A piece of duct tape would do the trick. I had some in my desk that I'd occasionally pull out and fondle, hoping someday I could put it to good use."
― Christina Lauren, Beautiful Bastard
"She'd proven to be one of the most aggravating people I'd ever met. Unfortunately for me, she was also the best sex I'd ever had.
― Christina Lauren, Beautiful Bastard
"So here were the facts: I felt possessive of her. Not in a romantic sort of way, but in a "hit her over the head, drag her off by the hair, and fuck her" way. Like she was my toy and I was keeping the other boys in the sandbox from playing with her. How sick was that? If she ever heard me admit to that, she would cut off my balls and feed them to me."
― Christina Lauren, Beautiful Bastard
Thank You Gallery Books for providing the HEA Book Club with giveaway copies of  Beautiful Bastard
Winners:
| Jennifer Z | Alexis | Pennie | Yazmin | Melody M | 
If you've written a review, please drop a link to your review here… we would love to read what you thought about the book. 
We hope you will join us for what is always a fun and lively discussion 🙂
Heather & Sara