[JAN] HEA Book Club Read:
Something Sweeter by Candis Terry
Book Three in the Sweet, Texas Series

The men in Texas are hard to resist . . .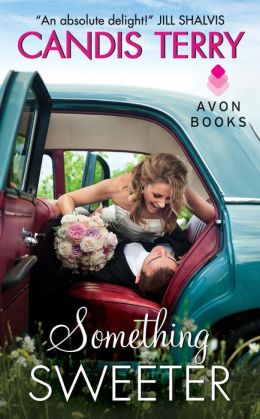 Seattle event planner Allison Lane is an expert at delivering the perfect wedding—even if she might not exactly believe in the whole "'til death do us part" thing. When her father decides to tie the knot with a woman he barely knows, Allison heads to Sweet, Texas, to make sure his new honey is the real deal. What she didn't expect to find at the local honky-tonk was a sexy Southern man as bent on charming her pants off as he is on blowing her "true love doesn't exist" theory all to hell.
And they always promise . . .
Veterinarian, former Marine, and Sweet's favorite playboy Jesse Wilder takes one look at Allison and knows she's a handful of trouble he can't deny. But even after a sizzling kiss and obvious mutual attraction, it seems Allison has no such problem. When Jesse uncovers her sweet side, can he crush his playboy image, melt her cynical heart, and change her mind about taking a trip down the aisle?
Something sweeter
Mark your calendars: LIVE CHAT for Something Sweeter is scheduled for Thursday, JAN 29th at 6:00PM PT, 9:00 PM ET.

Author Candis Terry will be joining us for a live Q&A

If you plan to attend this chat Please RSVP via comments on this post.
Fun Facts about Something Sweeter:
1. Originally the Golden Girls/Cougars of Sweet, Texas, Gladys Lewis and Arlene Potter were going to be nice little old ladies who knitted blankets for hospital patients. If you read Something Sweeter you'll discover that these two eighty-something-year-olds might be nice but they definitely have a lot of spice left in the cupboard.
2. There is a real gentleman I modeled old Chester (Cowboy Casanova) Banks after. He once gave me a tour of a very small museum in Montana. I'm not sure he's a skirt-chaser like old Chester, but they do share the same nose. Read More
3. Miss Giddy, the resident fashionista pet goat at Wilder Ranch, came to be after I visited the Texas Hill Country and saw so many goats in the area then discovered an antique shop called Miss Giddy's.
4. The flurry of pick-up lines in the first chapter were inspired by an incident a friend of mine and I had in Vegas when we were about twenty-two years old. I still laugh when I think of it.
5. There is a "cat" incident with Jesse Wilder that I had to rewrite twice because my editor was worried about how my fans would feel about it in its original form.
If you've written a review, please drop a link to your review here… we would love to read what you thought about the book.
We hope you will join us for what is always a fun and lively discussion 🙂
Heather & Sara