JULY HEA Book Club Pick:  

FAST FORWARD

by Juliet Madison
Fast Forward is a romantic comedy about a model who wakes on her twenty-fifth birthday to find she's jumped ahead to the future where she's a fifty-year-old housewife married to the high school nerd…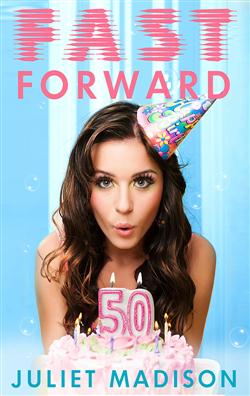 Book Summary:
Aspiring supermodel, Kelli Crawford seems destined to marry her hotshot boyfriend, but on her twenty-fifth birthday she wakes in the future as a fifty-year-old suburban housewife married to the now middle-aged high school nerd.
Trapped in the opposite life of the one she wanted, Kelli is forced to re-evaluate her life and discover what is really important to her. Will she overcome the hilarious and heartbreaking challenges presented to her and get back to the body of her younger self? Or will she be stuck in the nightmare of hot flushes, demanding children, raunchy advances from her husband and hideous support underwear forever?
 Mark your calendars: LIVE chat for

FAST FORWARD

 will be held 

Thursday July 25th

 at

6:00PM PST

, 9:00 PM EST.

Author 

Juliet Madison

 will be joining us for a Live Q&A.
5 FUN FACTS ABOUT FAST FORWARD
Fun Fact #1:
I usually come up with titles first, but when the idea for this story first came into my head I gave it the working title of 25 Going On 50. I knew I wouldn't keep it, but find I need a title in order to write a story. When I realised the character was sort of 'fast forwarding' into her future I knew the title had to be Fast Forward.
Fun Fact #2:
Fast Forward was a spur of the moment New Year's Resolution in a way. On New Year's Day 2012 I was wondering what story idea to start next as I flipped through a magazine, and an article titled Fast Forward caught my eye. I'd already come up with the book title, so I took this as a sign and decided to start it right away and finish it as soon as possible!
Fun Fact #3:
When I was plotting the novel I almost decided to do the total opposite with the story – have the character go into the future that she wanted for herself so she could see if it was all it was cracked up to be. But I soon realised it would be way more fun to put her into a future that was the opposite of what she wanted.
Fun Fact #4:
Fast Forward took me four months to write, part time. I had the best time writing this book and the words just flew onto the page. I couldn't wait to get the whole story down and get to the ending, so that propelled me forward (hehe).
Fun Fact #5:
There's an awkward and somewhat dangerous underwear scene later in the book which 'may' have been partly inspired by real life experience. I'll say no more. Read the book and see what you think! Some of you might nod your heads and think 'Yep, I've been there!'.
[divider_line]
Thank You Escape Publishing for providing the HEA Book Club with giveaway copies of   FAST FORWARD
Winners:
| Tammy | Belinda | Becky M | Jennifer | Melody M | 
[divider_line]
If you've written a review, please drop a link to your review here… we would love to read what you thought about the book. 
We hope you will join us for what is always a fun and lively discussion 🙂
Heather & Sara