JUNE HEA Book Club Pick: 

It Had To Be You by Jill Shalvis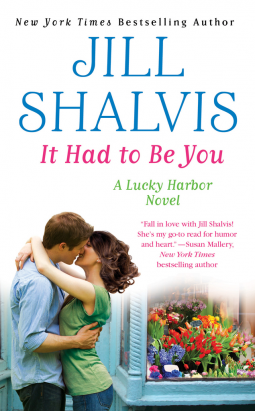 Ali Winters is not having a good day. Her boyfriend left her, everyone in town thinks she's a thief, and now she's about to be kicked out of her home. Her only shot at keeping a roof over her head and clearing her name is to beg for help from a police detective who's as sexy as he is stern….
After a high-profile case goes wrong, Luke Hanover returns to his hometown for some peace and quiet. Instead he finds a bombshell brunette in a heap of trouble. As he helps Ali put her world back together, the pieces of Luke's own life finally seem to fall into place. Is this the start of a sizzling fling? Or are Luke and Ali on the brink of something big in a little town called Lucky Harbor?
 Mark your calendars: The HEA Book Club LIVE chat for

It Had To Be You by Jill Shalvis

 will be held 

Thursday June 27th

 at

6:00PM PST

, 9:00 PM EST.

Author 

Jill Shalvis

 will be joining us for a Live Q&A.
Five Fun Facts on IT HAD TO BE YOU by Jill Shalvis
1. The idea for hot, tired, and grumpy detective Luke Hanover to walk into his house and find a half naked woman talking to herself might be very slightly autobiographical. I don't want to talk about it… ☺
2. I consumed twelve boxes of Mother Double Fudge cookies in the writing of this book and gained five pounds. I don't to talk about that either.
3. Ali's name was originally going to be Samantha. Her nickname would have been Sam, but I couldn't talk editorial into letting me use it because it sounded to male.
4. Every morning when I would wake up the muse and go to write on this book, all my characters wanted to do was jump into the sack. Naughty characters.
5. I've never had so much fun with a hero as I did putting Luke in those sexy board shorts and on a paddle board…
[divider_line]
Thank You 

GC Forever Romance

 for providing the HEA Book Club with giveaway copies of  It Had To Be You by Jill Shalvis
Winners: | Alexis | Pennie | Pam B | Melody M | Tammy Y | 
[divider_line]
We hope you will join us for what is always a fun and lively discussion, Don't forget to drop a link to your review here 🙂
Heather & Sara