[LIVE CHAT] HEA Book Club:
Something Sweeter by Candis Terry
Book Three in the Sweet, Texas Series

The men in Texas are hard to resist . . .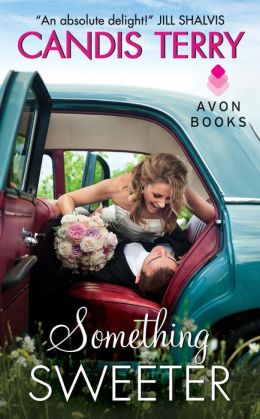 Seattle event planner Allison Lane is an expert at delivering the perfect wedding—even if she might not exactly believe in the whole "'til death do us part" thing. When her father decides to tie the knot with a woman he barely knows, Allison heads to Sweet, Texas, to make sure his new honey is the real deal. What she didn't expect to find at the local honky-tonk was a sexy Southern man as bent on charming her pants off as he is on blowing her "true love doesn't exist" theory all to hell.
And they always promise . . .
Veterinarian, former Marine, and Sweet's favorite playboy Jesse Wilder takes one look at Allison and knows she's a handful of trouble he can't deny. But even after a sizzling kiss and obvious mutual attraction, it seems Allison has no such problem. When Jesse uncovers her sweet side, can he crush his playboy image, melt her cynical heart, and change her mind about taking a trip down the aisle?
Something sweeter
The chat window below will go live on Thursday, JAN 29th at 6:00PM PT, 9:00 PM ET.

Author Candis Terry will be joining us for a live Q&A

If you plan to attend this chat Please RSVP via comments on this post.
Interested in being a Part of the HEA Book Club? Click HERE to join!
Thanks for joining us this evening  

Heather & Sara