LoveSwept Spotlight & Giveaway:
Showcasing APRIL Romance Titles!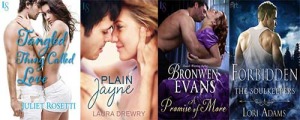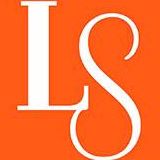 LOVESWEPT, the e-originals imprint from the Random House Publishing Group, brings the best, the boldest, and the newest voices in romance directly to savvy readers.
Twitter | Facebook | Website |
Thanks to LoveSwept I have e-books of April titles to giveaway!
Plain Jayne by Laura Drewry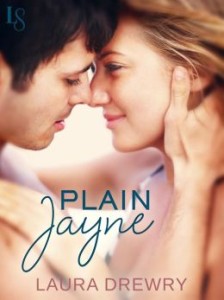 In Laura Drewry's funny, heartwarming Loveswept debut, a man and a woman learn the hard way that a little bit of love makes staying friends a whole lot harder.
Worn out from the long drive back home, Jayne Morgan can only smirk at the irony: Of course the first person she sees from her old life is Nick Scott. Once best friends, they lost touch when Jayne left town at eighteen, but nothing could keep them apart forever. Jayne has returned to take over her grandmother's bookstore, determined to put all her bittersweet memories and secret disappointments strictly in the past—until, that is, Nick insists she bunk at his place.
Nick never did care what people thought about having a girl for a best friend—or the "scandal" she caused by showing up to his wife's funeral four years earlier—so he's got no problem with the gossips now. Jayne was always the one person he could count on in his life. Now Nick is starting to realize that he never wants her to leave again . . . and that being "just friends" isn't going to be enough anymore.
Tangled Thing Called Love: Life and Love on the Lam by Juliet Rosetti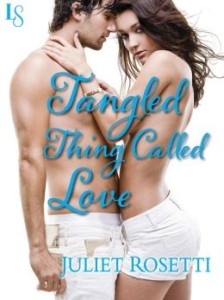 Janet Evanovich's Stephanie Plum has Ranger and Joe. Now Juliet Rosetti keeps readers swooning with Mazie Maguire and her hot-to-trot boy toy, Ben Labeck.
Mazie's boyfriend—photojournalist and sex god Ben Labeck—might be trouble on two very strong, very sexy legs, but he's got no idea what he's signing up for when he invites himself along to the family farm in Quail Hollow to meet the Maguires. Mazie knows that bringing a guy home is a recipe for disaster, especially when she's not sure whether their relationship is serious or just seriously steamy. That goes double when she finds herself reluctantly squeezing back into a bikini and sash for the anniversary of a supposedly cursed local beauty pageant.
All this is wreaking havoc on Mazie's love life. Suddenly Ben's too busy playing gentleman farmer on the Maguire estate to indulge in a more discreet kind of play in Mazie's bed. And when he's not tilling the soil, he's digging up dirt on the Curse of Miss Quail Hollow. Maybe that swimsuit competition isn't such a bad way to get Ben's attention back where it belongs—and get him to admit that he's head-over-heels in love with her.
A Promise of More: The Disgraced Lords Series by Bronwen Evans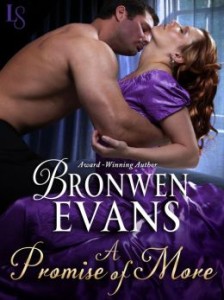 In the second novel in Bronwen Evans's sexy new Disgraced Lords series, two very independent souls find themselves fighting to resist a deepening passion.
When Beatrice Hennessey sets out to confront Lord Coldhurst, the notorious rogue who killed her brother in a duel, her intent is to save her family from destitution. She's determined to blackmail the man into a loveless marriage. She'll make the wealthy Lord Coldhurst pay for the rest of his life. But while greeting his ship, Beatrice takes a tumble into the Thames—only to be fished out by a pair of strong masculine arms that tempt her to stay locked in their heated embrace forever. That is, until she realizes those arms belong to Sebastian Hawkestone, Lord Coldhurst himself.
The little drowned mermaid has an interesting proposition indeed; one that Sebastian is surprised to find quite agreeable. Although he's had women more beautiful, she is pleasing to the eye, and besides, it's time he fathered an heir. Beatrice promises to be the ideal wife; a woman who hates him with an all-consuming passion is far too sensible to expect romance. However, it isn't long before Sebastian's plan for a marriage of convenience unravels, and he's caught up in the exhilarating undertow of seduction.
Forbidden: The Soulkeepers by Lori Adams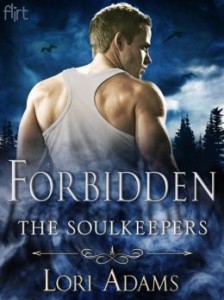 Lori Adams puts a twist on paranormal romance with the first novel of The Soulkeepers, a series that blends ancient legends and new myths with an enchanting mix of thrills, humor, and high drama.
When Sophia St. James learns that she'll be moving from Los Angeles to a podunk town somewhere in Connecticut for her senior year of high school, she isn't expecting an otherworldly encounter. But there is more to Haven Hurst than meets the eye: it's home to a family of Guardian Angels, and she is the only one who can see them in spirit form. Sophia soon realizes she wants to see much more of Michael, an irresistible yet volatile Guardian who seems drawn to her too.
As Michael battles his forbidden desire for the beautiful young newcomer, one of Hell's most notorious Demon Knights arrives. Handsome and charismatic, Dante has come to claim the reincarnated soul of his lost lover trapped in Sophia. Cursed with the demon of Persuasion living inside him, Dante will use his seductive charms to lure Sophia into a dangerous game that ends with the kiss of death—unless Michael, who has captured Sophia's heart, can now capture her soul.
Giveaway: (e-book from retailer of choice)
E-book: Plain Jayne by Laura Drewry
E-book: Tangled Thing Called Love: Life and Love on the Lam by Juliet Rosetti
E-book: A Promise of More: The Disgraced Lords Series by Bronwen Evans
E-book: Forbidden: The Soulkeepers by Lori Adams
To Enter Giveaway: Please complete the Rafflecopter form and post a comment:

Tell me which of these books caught your attention and why?