LoveSwept Spotlight & Giveaway:
Showcasing JUNE Romance Titles!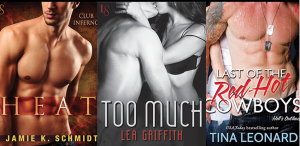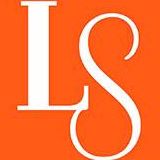 LOVESWEPT, the e-originals imprint from the Random House Publishing Group, brings the best, the boldest, and the newest voices in romance directly to savvy readers.
Twitter | Facebook | Website |
Thanks to LoveSwept I have e-books of June titles to giveaway!
Heat: Club Inferno by Jamie K. Schmidt
Style and seduction collide in Jamie K. Schmidt's Heat—sure to please fans of Fifty Shades of Grey—as the world's best-dressed men and women shed their clothing . . . and their inhibitions.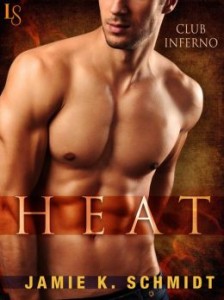 On the run from her abusive fiancé, ER doctor Mallory Bryant arrives at her sister's Connecticut resort desperate for a place to restore balance to her life. But Club Inferno is more than a haven for the rich and fashionable. Beneath its elegant facade is an erotic playground where dominants and submissives play out their fantasies. At first, Mallory is wary of Max Spencer, the martial arts trainer acting as her bodyguard—until he introduces her to passion so intense she wants nothing more than to surrender to his touch.
As one of Club Inferno's most skilled doms, Max enjoys taking Mallory to the limits of pleasure. It's a dangerous proposition, and as their sensual games draw them into a relationship beyond the boundaries of pupil and master, Max starts spiraling out of control. But when Mallory's violent past catches up with her, Max knows what he must do: draw her closer than ever before, even if it means risking a surrender of his own.
Too Much by Lea Griffith
In Lea Griffith's Loveswept debut, a novel that's perfect for erotic romance readers, two lovers who have shared exquisite pain and unforgettable bliss find solace back in each other's arms.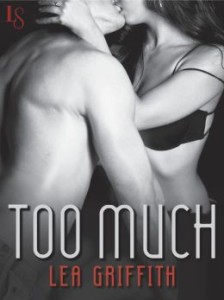 Jeremiah Copeland and Daly Edwards have a history. Even though he grew up a criminal struggling to care for two younger siblings, and she's the pampered daughter of a power-hungry senator, they formed a bond that nothing could break. Only a lack of trust ripped them apart.
Seven years later, Daly has reason to believe that Jeremiah's brother is in trouble. She reaches out to Jeremiah the only way she knows how: at his BDSM club, The Underground. But one look ignites a heat she thought had cooled forever. As Jeremiah takes control of her body once again, Daly quickly loses control of her carefully rebuilt world. Too much has never been enough between them, and as danger swirls in the shadows, Jeremiah forces Daly to recognize what has never changed: She still loves him. His command is that she return her heart—and he will make her obey.
Too Much is an erotic romance intended for mature audiences.
Last of the Red-Hot Cowboys: Hell's Outlaws by Tina Leonard
A sexy cowgirl gives a rugged Texas loner the ride of his life in USA Today bestselling author Tina Leonard's seductive new series.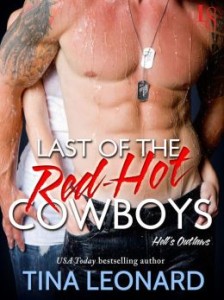 Ava Buchanan dreams of a career on the rodeo circuit. Winning a spot on a one-of-a-kind team would be her ticket to the life she's always wanted. Ava won't let anyone stand in her way—not even a stubborn cowboy whose slow-molasses smile and red-hot swagger set her senses aflame . . . and whose talents as a trainer could make her a star. Rodeo might be a man's game, but Ava knows the right woman's touch can tame the wildest heart.
Trace Carter believes his mayor's plan to raise the town's profile has disaster written all over it, and he won't allow the Hell's Outlaws Training Center to be dragged into the fiasco. Yet watching Ava's delectable body on horseback proves too much of a temptation, and his fantasies stray to her riding skills outside the arena. Soon Trace is fighting like hell to rein in his unbridled desire for the petite brunette before it becomes a passion hotter than the Texas sun.
Addicted: An Ethan Frost Novel by Tracy Wolff
Ethan Frost returns in the breathtaking conclusion to New York Times and USA Today bestselling author Tracy Wolff's seductive novel Ruined—perfect for fans of Release Me and Bared to You.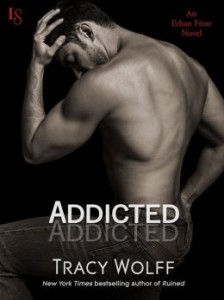 As Chloe Girard discovers, there's love . . . and then there's addiction.
Ethan Frost is everything a woman could want in a man. He's rich, gorgeous, powerful, one of the most eligible bachelors in the world.
But that's not why I'm with him.
I love Ethan for all the things no one else gets to see: his innate kindness, his reckless spontaneity, his unwavering determination to use his brilliance for good. I love the way he looks at me, the way he touches me. The way he makes me forget the wreckage of my past and the twisted fear that still lives inside me.
But sometimes it terrifies me how much I crave him, how much I need him just to breathe. I always thought it would be my past that ruined us, but there's a darkness in Ethan I never dreamed existed. Can we survive as his secrets surface—threatening to unravel us both?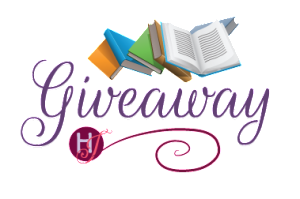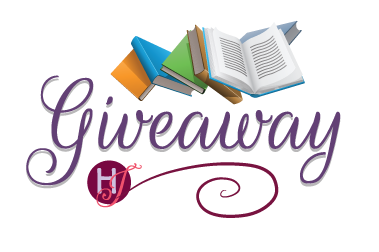 Giveaway: (e-book from retailer of choice)
E-book: HEAT by Jamie Schmidt
E-book: TOO MUCH by Lea Griffith
E-book: LAST OF THE RED-HOT COWBOYS by Tina Leonard
E-book: ADDICTED by Tracy Wolff
To Enter Giveaway: Please complete the Rafflecopter form and post a comment: 

Tell me which of these books caught your attention and why?