A Bride for the Italian Boss by Susan Meier: Some people spend forever searching for their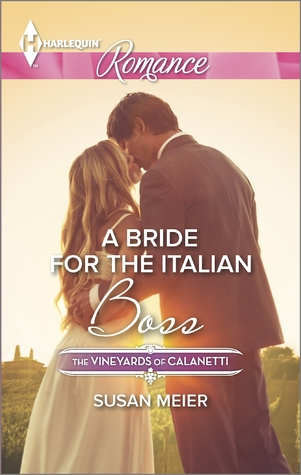 homes, and a sense of belonging. Some people spend forever avoiding commitments and putting down roots. The problems begin when these two types of people realize they have immense attraction.
Daniella Tate was searching for something. She wasn't really sure what but she knew she was searching. Was it home? Was it belonging? A foster child she knew what it was like to be rootless but now in Italy searching for her foster mother's family would she find what she was looking for? Or would she go back to New York to the man who proposed to her?
Rafe Mancini had a lot on his plate, a famous restaurant and a lot of plans. The problems were growing though, a famed critic was coming, his temper was flying and he just lost his maître de. He didn't know what else was coming but he knew he needed something.
When Daniella was sent to Rafe it seemed like the answer to both of their prayers. Would these two very different people be able to see past their differences to realize how much in love they really could be?
This sweet novel is the first in the series that looks to be a cool glass of wine on a summer's eve. This novel can be read as a standalone but you can definitely see where Ms. Meier might be going with her next novel. Don't expect this to be about lust or even romance in the hit you over the head kind of a way. Ms. Meier takes you on a ride with these two allowing them to fall in love through the everyday. She does a fantastic job with making everything real though and having you really relate to the characters. I'm looking forward to seeing where this goes…
Book Info:

Publication: July 7th 2015 | Harlequin Romance | Vineyards of Calanetti #1
Holiday romance on the menu?
Passionate chef Rafe Mancini is renowned for his food—and his temper! No one meets his exacting standards, until stand-in maître d' Daniella Tate breathes new life into his restaurant, and Rafe…
Daniella is only visiting the picturesque Tuscan village of Calanetti, but with Rafe she finds the sense of belonging she's always craved. Clutching her ticket home, Daniella must make a decision…return to her old, safe life or stay as Rafe's bride!
The Vineyards of Calanetti
Saying "I do" under the Tuscan sun&#133