In A Christmas Affair (Ransom Canyon #6.5) by Jodi Thomas, Maria Anne Davis has mixed feelings about Christmas. While she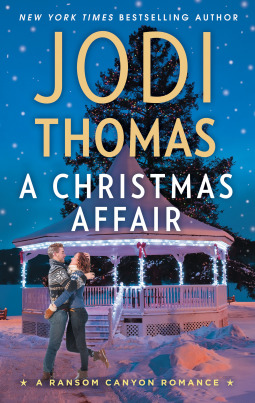 loves the joyfulness of the season, the feel of snow on her face and hearing the carols sung in town, it also reminds her of the accident that took her eyesight. And the fact that she has no man in her life to enjoy the season with, unlike the couples in the steamy audio books she frequently listens to. Maria decides what she wants for Christmas this year is an affair with Wes Whitman, the kind, shy owner of the local grocery store. Does she have it in her to make the first move? It turns out she does. But what Maria wasn't counting on was that a brief encounter wouldn't be enough for her…or Wes.
"I'll just listen to one of my books. While you're talking banking, I'll be having a wild affair."
Blade laughed. He didn't believe her any more than Dakota did. "You and those romance books. Real life isn't like that, you know."
"But what if it was?" Maria smiled.
Wes has been admiring Maria from afar since she started selling her wonderful jams and preserves in his store. He's in awe of her cooking talent and in how no one would ever know she was blind, with how independent she is. Even his new stockboy Travis is wowed by Maria and how easily she moves around, beautifully stocking shelves with her products. While Wes has dreamed of the day he would feel confident enough to ask Maria out, he never expected her to admit that she wants him, if only for a short time. When it comes to her, he'll take whatever she'll give him. Or so Wes thought. Because he realizes rather quickly that a brief liaison is not exactly what his heart had been hoping for.
'He was a brain-dead fool in love with a woman who thought she only wanted an affair. Maybe he was the one who was blind, because he couldn't see an affair as ever being enough.'
A Christmas Affair was a short story that proved the Christmas spirit was still alive and well in Ransom Canyon, Texas, as an unsettled teen found his way in life, and a couple of tender souls fell head over heels in love.
"Is this real between us or am I dreaming now. It's hard to tell sometimes when all the days are dark."
Wes's voice was raw. "It's real. I may not be some handsome knight riding in on a white horse, but I think I've loved you since the day you first walked into my store."
Jodi Thomas's emotional writing always gets to me and she has a way of creating characters who seem so real and flawed that you can't help but like them. And it doesn't matter if it's historical or, like in this case, contemporary. Either way she knows just how to play the characters off of each other and create just the right amount of tension. And here we had lots of delicious attraction between Maria and Wes. I kind of liked that he was the shy one and that she ended up being the aggressor in the relationship, letting it be known that she wanted him, even if it was only for a steamy fling. I do wish this was a full length novel so things could have been developed a bit more between Wes and Maria–their romance felt a little rushed–but I had to cheer over how their well-deserved HEA came about.
The other part of the storyline was about Travis, a troubled teenager who was brought to Ransom Canyon to live with his great-uncles. I really liked him and my heart went out to him over his rough upbringing. Travis could have gone two ways, following his parents' bad example or listening to his gut and making something of himself. Thankfully with the help of local townsfolk and his eccentric great-uncles he found a path that will hopefully keep him out of trouble and on the way to a rewarding future.
If you're looking for a sweet Holiday novella with lots of heart, small town charm, and the warmth of family–and a gorgeous book cover!–look no further than A Christmas Affair.
Book Info:

Publication: Published October 1st 2017 | HQN Books | Ransom Canyon #6.5
A shy soul and an adventurous heart. As the holidays approach, can they find happiness together?
Maria Anne Davis was on her way to an exciting career as a chef in Dallas, until a terrible car accident left her blind. Ever resilient, Maria has reinvented her life on her own terms, starting a business out of her home kitchen, selling her jams and jellies to the local grocery.
Maria loves romance novels, and despite her bold spirit, she fears she'll never have a big love affair like ones her heroines experience. That is, until she realizes how much she cares about the quiet Wes Whitman, the owner of the grocery.
Wes can't keep Maria's wildly popular jam on his shelves—just like he can't keep the fierce, beautiful Maria out of his thoughts. But how could a firecracker like Maria come to love a shy, nervous man like him? Maybe all they need is a grand affair. Wes needs to convince Maria that some affairs last forever, though—just in time for Christmas.