In A Family Affair by Robyn Carr, The McNichols family has been through its challenges over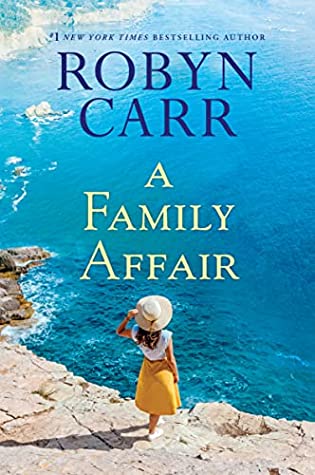 the years but they've managed to stick together and make the best of what life has to hand them. And Anna is proud of her three grown children–Jessie, Mike, and Bess–who are as different as night and day. Anna's husband Chad has also been their children's big supporter, even if it seemed he rarely had her back and was possibly even jealous of her success as a lawyer-turned-judge. But it's all a moot point when Chad suddenly passes away.
"In the end you will see that no matter who you're married to, you are responsible for your own happiness or security, two things no one can give you."
Wading through her grief, trying to hold her family together and make sense of new details emerging about Chad's life, Anna feels like she's on an emotional roller coaster. As one jarring event after another has her wondering if she ever truly knew her husband, she picks up the pieces, focusing on a new future for her adult children and herself. Anna finds consolation and even a new relationship when least expected. She never would have dreamed that months after being widowed at age fifty-seven she would be able to find her way–much less to thrive in her much-changed life.
"Remember that it's all right for you to be happy. To think of yourself sometimes instead of putting everyone else first. That's what you've been doing, I know. This next stage, this can be yours."
"Thanks, Joe," she said. "No one has ever said that to me before."
No one can tug on a reader's heartstrings quite like Robyn Carr. And her newest novel, A Family Affair, had all the genuine emotions, nuggets of wisdom, well thought-out characters, and drama that I so love in her work.
'The only thing she was completely sure of–she had loved her husband and had done her best to be a good wife and mother. But is that what her children thought?'
Dare I say Robyn Carr was at her best with A Family Affair–a family saga told from several POVs (Anna, Jessie, Joe, and Mike) that was fast-moving but had so many layers of feelings that I simply couldn't stop reading. Ultimately a book about healing and each character finding their true path to happiness and fulfillment in life, my heart broke for the McNichols. The loss of Anna's husband, Chad, father to their three grown children: Jessie, Mike, and Bess, shook them all to the core. As did the secrets he'd been keeping, which they didn't find out about until after he passed. It changed everything for them. And it made Anna, Jessie, Mike, Bess, and even Chad's best friend Joe, view him in a totally different light.
To me, Carr's books are driven by the characters she creates and the entangled relationships they form together. That's where the intensity and emotional depth comes from–and what keeps me hooked from page one. I always seem to gravitate toward her heroines, finding them the most relatable in the story and Anna was exactly that. I loved her strength, her compassion for others, the way in which she tried so hard to be fair and spend equal time with loved ones–even treating them better than they sometimes deserved (Chad and Jessie!). Through every hardship they faced after Chad's death, Anna was the cornerstone of her family. And it was so satisfying to see that by the end, her children realized precisely how lucky they were to have her in their lives and how hard she worked to keep them all safe and feeling cherished. *happy sigh*
QOTD: Have you read any of Robyn Carr's novels? If so, do you prefer her contemporary romance or women's fiction more?
Book Info:

Publication: Published April 5th 2022 | MIRA |
Life's biggest dilemmas can provide its sweetest rewards.
Anna McNichol knows how to take charge. Raised by a single mother, she's worked to ensure her three children have every advantage she didn't. And while her marriage has its problems, she values commitment and believes in "till death do us part". Now an empty nester, she's at the peak of her career and ready to seize the opportunity to focus on her future.
But life can change in an instant, and when her husband dies suddenly, Anna's carefully constructed world falls apart. The mysterious young woman at the memorial service confirms her husband had been keeping secrets, and Anna is determined to get to the truth.
For once, she doesn't have the answers. Her kids are struggling with their grief, her mother's health is in decline, and Anna needs closure. Faced with one challenge after another, she finds support from an unexpected source. And as she puts her life back together, Anna realizes the McNichols may not be perfect, but they'll always be family, and family is forever.