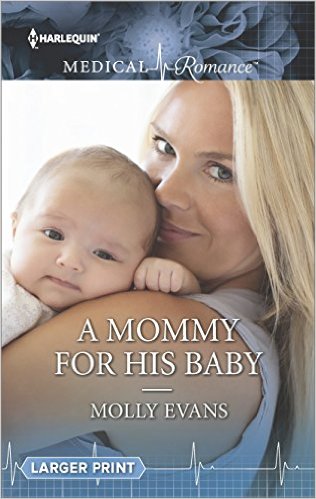 In A Mommy for his Baby by Molly Evans, Aurora Hunt hasn't had the easiest of times lately both personally and professionally, not after a serious car accident that almost took her life. Determined to pick up the pieces and get her life back on track, she's headed back to her hometown, which isn't her idea of a fun time. Except the moment she meets her new doctor, Beau Gillman, who just happens to be an old friend from school, things start looking up. Will Aurora get the fresh start she's hoping for and possibly a chance at happy ever after?
"According to your doctors you've made excellent progress."
A snort of derision escaped her throat. "According to them, but it's not enough for me. It won't be until I get my life back."
A grin split his face, lighting up his eyes and adding a sparkle to them she hadn't yet seen today. "Knowing you, you won't be satisfied until you're swinging from the rafters in your dad's barn."
What made this book such a fantastic read for me was the medical incidents that Beau and Aurora need to attend to and the growing relationship between them. Despite the fact that they haven't seen each other in years, it's like they've never spent any time apart at all. Right from the beginning, this book was captivating, fast-paced and a story I wanted more of because I love discovering the day in the life of a doctor. And it seemed for Beau that no two days are the same, especially now that Aurora is back in his life.
Both the main characters were compelling, and I loved every moment they were together. Their back stories are intense due to Beau having lost his wife in a tragic manner but something good coming from that moment – his daughter. While with the heroine, she's still coming to terms with all that happened since her accident. She's had to give up a wonderful career and move back home, which isn't easy because her mother's a bit controlling. Can she reconnect with her mother? Will she find that her mother has changed?
Aurora is strong, brave and I liked how determined she was to get her life back on track, which Beau certainly helps a lot with by giving her a chance both personally and professionally. Moreover, he helps her in other ways to by showing her that her accident shouldn't hold her back from what's important – love and happiness. While Beau, he's been through a lot and giving love another chance seems scary because he has his daughter to consider. He and his daughter share a special bond, but so do he and Aurora, especially because they have such good memories of their friendship in the past and begin to make better ones in the present. Their teasing and walks – so to speak — down memory lane certainly up the sexual tension between this pair until it made me wonder when they were finally going to become intimate. Eventually though, this couple's intense chemistry does spill over onto the pages in nicely-detailed sex scenes that illustrate how right they are for each other and prove that second chances can help heal the wounds of their pasts.
She sighed and pulled away, then sat up on the edge of the bed. "But what if we don't work out? It's not fair to Chloe to think I'm going to be around and then for me not to be here."
"There are no guarantees in life." He snorted out a bitter laugh. "My life is certainly evidence of that."
"I'm not asking for a guarantee, Beau."
"Yes, you are. You aren't saying it in so many words, but that's what it is – and I don't know. I just don't know."
Overall, this was a really good story and has me looking forward to reading more of Ms. Evan's books. Because she definitely caught my interest with this entertaining plot and the wonderful characters that are very deserving of the happy ever after they get in the end. The way this story ended brought tears to my eyes because of Beau's definition of their relationship, which is definitely explosive. However, it was the epilogue that wrapped this story up perfectly because Aurora finally has the life she's always wanted with a man that makes her feel cherished and loved. I would recommend A Mommy for his Baby by Molly Evans, if you enjoy the friends to lovers trope.
Book Info:

 February 7th, 2017 | HQN Medicals |
The nurse to heal his family?
When Aurora Hunt returns home after an accident nursing more than physical wounds, she needs local GP and childhood crush Beau Gutterman to help her. Only she hasn't counted on his offer of a job…or the attraction that reignites between them!
Recently widowed Beau is bringing up his baby daughter alone, and Aurora's arrival is a gift. He's not ready to move on, but working with Aurora stirs long-buried desires. Can they really heal each other's hearts—and make a family for baby Chloe?