A Passionate Reunion in Fiji by Michelle Smart is a sexy 'marriage in trouble' romance for a couple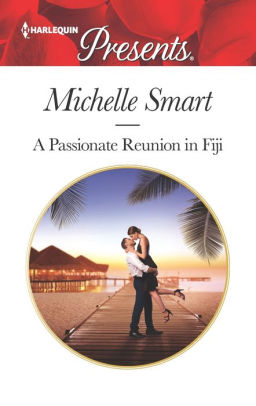 on the verge of divorce who find themselves with one last chance to reconcile.
Workaholic billionaire Massimo Briatore knows that it was a mistake to get married to vivacious but too tempting Livia. Right from the start their tempestuous relationship started going downhill, especially when they moved to Los Angeles from their native Italy and her increased isolation and his long working hours drove them further and further apart.
As Livia is a former caregiver for his grandfather, a man who had been delighted by their marriage, Massimo knows he must invite her to the 90th birthday party he is throwing for his dying grandfather on an island in his native Fiji. For their family they must pretend to be happily married even though no one knows they've been living apart, preparing to get divorced. Livia has even been keeping up the pretense while visiting Massimo's family, explaining his absence as unavoidable work commitments. Under romantic skies and in a lush tropical locale, will Massimo and Livia find a way to rekindle the passion that first brought them together and give them a second chance to start again?
I love this story, mostly because everything isn't automatically fixed just because the couple is thrust back together to pretend they are happily married. The circumstances that drove them apart haven't changed. Massimo is still a workaholic, and even at this family celebration he spends a lot of time on his laptop and phone. He's always felt that he must make up for his family's poverty when he was younger and even though he's very successful now, the drive to succeed hasn't dwindled.
Livia comes from a much different background than Massimo, one damaged by her father's association with the mafia. She had gotten herself out of tough circumstances and worries now for her brother that she left behind. She has a hard time asking for help, and Massimo never really understood the difficult and stressful life she lived before she got out. But what changes for them this time around is they are both willing to admit that they made mistakes and dealt with their problems poorly. Livia wanted arguments to hash things out while Massimo needed time to think things through and wouldn't engage with her. And once they stopped being intimate things got a lot worse.
They both still have a strong attraction to each other and when their enforced isolation brings out those feelings, they share some passionate scenes that make them rethink their positions on the marriage. Having resumed their sex life, they figure out a way to get beyond their feelings of hurt and anger and seriously consider a second chance, though Massimo takes longer than Livia to come around. Eventually they get their well deserved happy ending. If you're a fan of passionate romances where the couple must admit to their faults and work at fixing their relationship, I definitely recommend this story!
Book Info:

Publication: Sep 17, 2019 | Harlequin Presents | Passion in Paradise #7
A remote island paradise…
A chance to rekindle their marriage!
Nothing fazes workaholic billionaire Massimo Briatore. Not even the idea of his estranged wife, Livia, accompanying him to Fiji for a family celebration. He's sure he'll have no problem pretending for one weekend that their whirlwind marriage is still intact. Until he lays eyes on her again…
Trapped in paradise, Livia can't escape from the memories of the tenderness and heat that once bound her to Massimo. An explosive reunion is on the cards, but only if their passion can burn away their past!