In A Promise at Bluebell Hill (Valentine Valley #4) by Emma Cane, Florist Monica Shaw has just been asked to supply the floral arrangements for the biggest wedding Valentine Valley has ever seen: the President's son is marrying one of her close friends, Ashley, who grew up locally before moving to D.C. Special Agent Travis Beaumont heads a team sent to scope out local businesses involved in the festivities, including her shop. Monica decides to get the handsome uptight guy to relax and have some fun while in town, capitalizing on their instant attraction. But her emotions get involved when they spend time getting to know each other in spite of her best intentions to keep it casual. As Travis gathers info for the Presidential visit, Monica begins to wonder if he's just using her for intel or if he truly has feelings developing for her as well.
'She had to find some way to remember this was just for fun, to keep her distance, to not get too emotionally involved. She feared it was already too late.'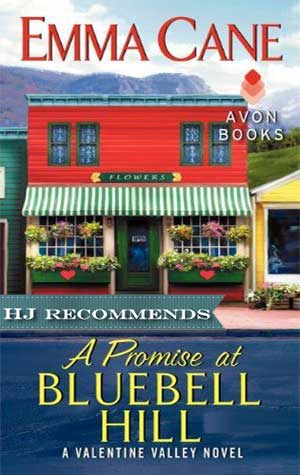 Secret Service Agent Travis Beaumont grew up in a small town similar to Valentine Valley before enlisting in the Marines and serving in Afghanistan. Now on his way up the career ladder, he's the lead agent for the advance team ensuring the safety of the President. Going business to business, Travis meets stunning beauty Monica Shaw and keeps finding excuses to return to her flower shop. Lack of focus in his job has never been an issue until now. He can't stop thinking of how he'd love to spend more time with Monica and see where their chemistry could take them. Travis knows his time in Valentine Valley is severely limited, but he can't help but hope he'll find a way to make her see they deserve a shot at happiness.
"Then I met you, and it was like I had the chance to show you that you're my world."
A Promise at Bluebell Hill is a feel-good, charming romance set in beautiful Valentine Valley, Oregon, filled with quirky locals and where controversy is always brewing.
There is a fairly large cast of characters in book four of the Valentine Valley series, the majority of which appeared in previous installments. If you're new to this series, you could probably get away with reading them out of sequence, but there will be some spoilers as we catch up with previous couples. I enjoyed Emma Cane's writing style once again. There's a nice down-home feel to her characters that makes them seem grounded and fairly realistic. I was so happy the widows were still up to their devious ways, trying to help out the community any way they can. I get the biggest kick out of them!
It was easy for me to like Monica's character. She was an optimistic, positive person who would do anything she could to help family and friends. I thought it was so interesting that she would want to take gruff Travis under her wing and try to get him to open up and enjoy life while in town whenever possible. She was quite insightful and could tell he basically just lived his job and didn't let go emotionally at all. I enjoyed the chemistry between them. It seemed realistic in that there were awkward moments alongside the passionate ones. It wasn't perfect and they definitely did have their disagreements. But there were also some very tender yet sexy times as well. Their kiss in the hot springs was one of my favorite scenes. Whew…hot is right!
If you're a contemporary romance fan who likes small town settings and lots of unforgettable characters, I think you'll enjoy A Promise at Bluebell Hill.
Book Info:

Published February 25th 2014 by Avon
Welcome to Valentine Valley, where romance blooms and love captivates even the most guarded of hearts . . .
From the moment Secret Service agent Travis Beaumont strides into the town and through the door of Monica Shaw's flower shop, she feels a sizzle of attraction. After years of putting everyone else's needs first, Monica is ready to grab hold of life. If she can just persuade the ultimate protector to let his own walls down for once . . .
The President's son is getting married in Valentine Valley, and Travis should be avoiding all distractions . . . not fantasizing about a forthright, sexy-as-hell florist. Especially when she's keeping secrets that could jeopardize his assignment. But just this once, Travis is tempted to put down the rulebook and follow his heart—right to Monica's door.
Roses are red, violets are blue, and in Valentine Valley, love will always find you.