In A Seaside Christmas (Chesapeake Shores #10) by Sherryl Woods, Songwriter Jenny Collins is finally going home to Chesapeake Shores after several years working successfully in Nashville. Her cousin talked her into writing songs for a local Christmas play so Jenny feels like this is the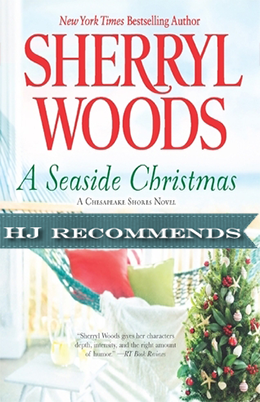 right time to make amends with her family for her previous quick departure.
"I don't want to start something thinking it's going to fail," she said. "That's way to fatalistic."
"Then believe in it with everything you've got until the very second that you can't," he advised.
Getting out of Nashville during the holidays also seemed like a good idea to Jenny after her disastrous break up with singer Caleb Green. Little does she know that he is on a mission to get her back and will show up in town just in time to make matters more complicated. It's then up to Jenny to figure out if she can make things right with her family and if she can trust Caleb again after he broke her heart.
'The kind thing to do would be to let Jenny go to start over with someone more deserving. And if it was all about a song, perhaps he could do that, but it wasn't. It was about reclaiming the missing piece of his heart.'
Caleb Green feels like he's been living out a country song the last several months since losing his girlfriend Jenny and battling alcoholism. He knows it was his own doing that led to their break up but he's made up his mind to apologize and win back Jenny's trust. Caleb takes things slowly, building her trust step by step, until a misunderstanding threatens to ruin all they've overcome. Can he find a way to make Jenny understand how much she means to him before she shuts him out for good?
"So you like the surprise?"
"I love the surprise," she said. "And if I weren't trying so darn hard to hang onto my last shred of sanity, you'd be getting very lucky about now."
A Seaside Christmas is a very sweet holiday romance from Sherryl Woods centering on forgiveness and redemption.
The latest in Chesapeake Shores series is written as beautifully as always. The spirit of the season as well as family togetherness and romance comes shining through on every page. I love how much of a tightknit group the O'Briens are and that they all took their turns warning Caleb that if he hurt Jenny, he would have to answer to them. It's such a small-town thing to do, to band together and watch out for their loved ones.
I thought both protagonists were well developed. Jenny is still growing into adulthood, learning through every situation she experiences. She may have made some hasty decisions in the past but she is trying to put more thought behind her choices now. Caleb was the quintessential artist to me. His passion is his music but he has demons to conquer before he can find happiness. He seemed like a good person who made some bad decisions and has paid for it but is trying to make it up to those he hurt.
I would recommend A Seaside Christmas to those of you who enjoy heartwarming small town holiday romances. With its beautiful setting and lovely characters, you can't go wrong with this one.
Book Info:

HJ Recommends
Published October 1st 2013 by Harlequin MIRA | Chesapeake Shores #10
New York Times bestselling author Sherryl Woods takes you back to Chesapeake Shores for another heartwarming holiday season
As the only child of a single mom, Jenny Collins wanted nothing more than to be part of a large, rambunctious family like the O'Briens. Ironically, though, when her mother married into that family, Jenny found herself feeling more like an outsider than ever.
Now, after years in Nashville as an established songwriter, Jenny's drawn back to Chesapeake Shores to collaborate on a Christmas production…and to make peace with the past. As if that's not challenging enough, Caleb Green, the singer who broke her heart, has followed her to town, determined to win her back.
With the help of a little O'Brien holiday magic, will Jenny and Caleb find a way to make sweet music forever?