A Sheriff's Star by Makenna Lee  is the first book in her Home to Oak Hollow series. This is a truly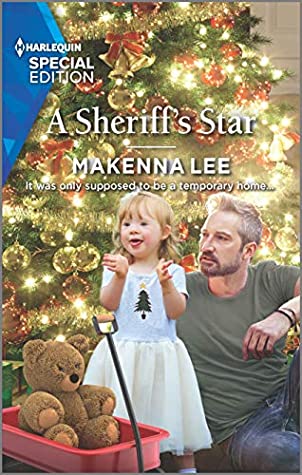 heartwarming story.
Tess Harper has rented a house in Oak Hollow, Texas. She has taken a job that will mean living there for a few months. In January she plans to move to Houston where her four-year-old daughter Hannah, who has Down syndrome, is scheduled for heart surgery. Upon hearing that Tess was pregnant with a baby with Down syndrome Tess' ex-husband Brent practically divorced her on the spot. Tess knows she is quite capable of raising Hannah on her own. She has been blessed with the sweetest little girl. Upon arriving in Oak Hollow Tess meets her landlord Police Chief Anson Curry. She feels an attraction to Anson but men and especially a relationship is not in her life plan. Anson Curry may just end up making her adjust that life plan especially since he and Hannah get along famously. Hannah just adores Anson.
Anson Curry was once married but that didn't work out at all well. His ex-wife probably tricked him into marrying her with a false pregnancy announcement which supposedly ended in a miscarriage. Anson has always envisioned his life with a wife and kids. His ex-wife never really wanted kids. Since he is divorced now the single ladies in town keep vying for his attention, stopping in at the station dropping off baked goods. It has gotten so bad his dispatcher, Betty refers to these women as the Pantie Posse. Anson is not interested in any of them.
When Tess Harper and her daughter Hannah arrived in town and moved into his rental house Anson quickly fell for them both. Anson knew he had a long road ahead of him to convince Tess to take a chance on him. She lost her police officer father and military brother to occupational violence. She wants no part of having a relationship with a man with a dangerous occupation. Hopefully Anson can change her mind.
I loved the strength and love of Tess who was raising Hannah on her own. I especially loved the super caring, loving man that Anson is. The way he was with Hannah was enough to make my heart melt and his patience and love with Tess brought tears to my eyes. Little Hannah really made the story special.

Book Info:

Publication: November 1st 2020 | Harlequin Special Edition | Home to Oak Hollow
It was only supposed to be a temporary home…
He interrupts her plans…
When police chief Anson Curry returns a lost little girl to her frantic mother, his only goal is to ease the single mom's anxiety. But it doesn't take long for Tess Harper's amazing child to have Anson wrapped around her little finger—and for Tess to have him thinking about a possible relationship. As for Tess, she's tempted—even though she had planned to be in Oak Hollow, Texas, only temporarily. But after losing her father and brother in the line of duty, Tess thinks Anson's job poses too much of a risk to her heart. And Anson has no plans to get involved with someone who's planning on leaving.
From Harlequin Special Edition: Believe in love. Overcome obstacles. Find happiness.
Home to Oak Hollow
Book 1: A Sheriff's Star