In About That KIss (The Malone Brothers #3) by Cindy Miles, Sean Clark is a woman scared by just about everything, and giving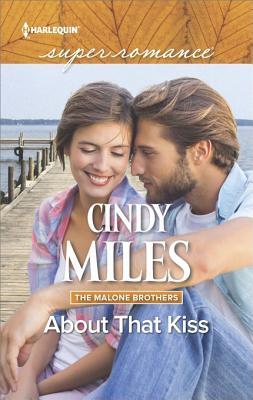 another man a chance is the hardest thing of all for her, especially when the man she thought loved her turned out to be a man she wished she'd never gotten involved with. However, Nathan Malone is a man determined to win her heart, even after learning what they face to be together. Will Nathan win Sean's heart, or will her fear of her past keep them apart, especially if it means keeping his family and her daughter safe?
"Jep, enough about the hair," Nathan said, pouring coffee into an insulated thermos. "It's getting old."
"Well, I'm old, dammit, and I'm tired of lookin' at my eldest grandson with long, girlie hair." He swore under his breath. "Ponytail and such. Like a pirate or some such nonsense. Or a hippie. God almighty damn."
Nathan chuckled. "Chicks dig it."
Jep snorted. "Sure they do, boy. I can tell by how they're lining the drive each weekend. Now quit arguing and eat up."
The way this story started off with the prologue was a very emotional moment and had me hooked, as I wanted to discover how things would turn out and how one of the main characters would handle the tragedy. However, it was from the moment the hero and heroine met that really drew me into this story, because it's palpable that Sean and Nathan are good for each other and have incredible chemistry, even though both are uncertain whether they'll ever be able to move on from their pasts with Sean still running from hers and Nathan not sure he'll be able to absolve himself of his guilt when it comes to what happened to his fiancé. Will Nathan and his family be able to help Sean be free of her ex? Will Sean be able to help Nathan realize that what happened to his fiancé wasn't his fault?
As for the dialogue, it was a nice blend of intense, emotional and playful banter that made me loved all the characters including Sean's powerful ex, even though he's an evil man willing to do whatever it takes to get her back. Moreover, I loved the teasing banter between the members of the Malone family, as it illustrates the tight bond they have as a family beautifully, especially when they were so welcoming to Sean and her daughter and made the heroine contemplate staying in one place instead of continuing to live like she was to keep one step ahead of her ex. Will Sean finally be able to put her trust in someone? Will the heroine ever feel like she belongs?
"Shy? No, can't be shy," Nathan teased, playing with the shell of her ear. "I think we've just kissed those days goodbye."
Sean giggled as Nathan tickled her ear. "Not hardly," she confessed. "I'll probably be eternally shy."
"Well. Even better," Nathan confessed, continuing to explore her face with his fingertip. "It will be my ongoing pleasure to attempt to break you from eternal shyness."
"Good luck," Sean advised. "I'm a hard nut to crack."
"That sounds like a challenge," Nathan said, then nodded. "I accept."
Both the main characters were absolutely delightful and the secondary characters in the hero's family made this story extra special, especially Nathan's grandfather, as both he and Nathan form a special bond with the heroine's little girl who is absolutely adorable with her carefree nature and the way she says whatever is on her mind. Those moments had me laughing and smiling. Moreover, the heroine was strong and brave by giving Nathan and his family a chance, even though she knows the kind of man her ex is and that he will do anything in his power to have her back in his life. I also liked how Sean managed to overcome so much in her life and how she would do anything to keep her daughter safe, even if it means living the way they have for years. Yet, what I liked most about the heroine is how she trusted the hero and let him get to know the real her including her ugly past and all she did to survive her teen years and escape her ex.
While the hero, he's had his own tough past with what happened to his fiancé and the guilt he's felt since the moment he lost her. The decisions he made wouldn't have been easy, especially the one when it came to his career. Then again, if it wasn't for his family, who knows how he would have handled the tragedy, even though his family could only do so much to help him move forward. I also liked how open and honest the hero was and how he showed the heroine that he was someone she could trust, which was proven when it comes to finally getting her free from her past.
Nathan's eyes were shining. His fingers squeezed hers. "I like that you've taken to my family," he said. "To that crazy old man."
Sean laughed, and the breeze swallowed it up. "It's kind of impossible not to fall for that crazy old man."
Overall, Ms. Miles has penned a wonderful read in this book where the romance was wonderful and does justice to this couple's intense chemistry, which was present from the moment they met. The way this story ended had me concerned for the main characters when it came to how far the heroine's ex would go to get her back. However, I liked how things worked out for Sean and Nathan in the end, as the hero proves that he will never let Sean down and can be her Fairy King. Moreover, the epilogue wrapped this story up perfectly, as it shows second chances are possible and that love is worth fighting for. I would recommend About That Kiss by Cindy Miles, if you enjoy second chance romances or books by authors Tara Taylor Quinn, Nan Dixon and Rachel Brimble.

Book Info:

Publication: August 1st, 2017 | Harlequin Super Romance | The Malone Brothers #3
A love worth fighting for
Once a dedicated Coast Guard rescue swimmer, Nathan Malone lost more than his confidence the day he couldn't save his fiancee. He lost his faith in love. Nathan's come home to Cassabaw Station and put his life on hold. That changes, though, when Sean Jacobs and her five-year-old daughter move in next door. Sean is unpacked and unsettled, and the fear in her eyes tells Nathan she's running from something. Yet despite his better judgment, Nathan can't ignore the tug at his heart. He'd do anything to protect Sean and her adorable daughter, because Nathan's not letting love slip through his fingers again…