All About Us by Tom Ellen: A time jumping narrative is never an easy thing to pull off with a sense of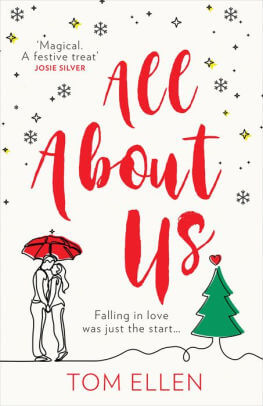 originally, given it has been covered, wrapped up and then bundled away in time-jumping bubble wrap repeatedly. However, All About Us managed to achieve some feats with it's overarching thematic intent of the grass isn't always greener and indeed, we do know what we have got when it's gone.
Beginning in a semi-non-linear way with a precursor involving a university play, an after party and a hook-up backstory that eventuates in 15 years of marriage for Ben and Daphne, Ben finds himself lost on Christmas Eve and drowning his woeful sorrows with Harv, his best mate, over a pint of Guinness. As fortune would have it, Ben begins to initiate a heart-to-heart with Harv only to succinctly over-estimate their friendship intimacy. By coincidence, a drunken vagrant watch maker gives drunken Ben a broken watch for Christmas, before literally disappearing as Harv returns from the pub toilets, and after dismissing his earlier attempts as 'beyond their friendship reach,' Ben returns home to pass out in the attic reminiscing about a life he didn't get to live.
As one day moves to another year, Ben learns about his patterning, his insecurities, his deepest desires and longs to return to his present in order to address his thinking and ultimate reality. In true self-absorbed fashion, Ben travels his time warping journey with what seems to be the underlying intent to learn who he has been in order to discover who he really is, and indeed, who it is he wishes to become.
Primarily, having a masculine narrative voice is a quick change-up for avid Romance readers. The simple yet complex intent has been covered in many-a-RomCom, yet, Ben's characterisation was so entirely 'normal', that the narrative voice hit a sweetness bell, that chimed with fairly relevant and novel ideas. Indeed, many 'big picture' rhetorics were aired throughout – how many what-ifs are too many? Is the grass really any greener? If we could do it all again, what would we do differently – and if we could, would we really be any happier with the outcome? Perhaps, some of the underlying intent was purposefully trying to remind us that regret is fickle, and a breeder of discontent, and perhaps, more importantly, is an important adviser to any lesson we can learn about our behaviour and patterns in the interest in shaping a better future. Whilst Bens self-pity was a little off-putting at times, the writing and overall narrative voice was appropriately British and quite real. The various periods were well considered, particularly in terms of fashion, technology and popular culture, adding an authentic element which banked credit against the originality considerations. Mostly however, this was a relatively engaging novel of love, in which a man learns his place in the world, who he is and what he values.
For those who enjoy a non-linear time leaping narrative, with a bunch of British quirks, then I highly recommend you set aside some time to consider who you were before to determine who it is you have become because maybe it really is All About Us!
Book Info:

Publication: 13th October 2020 | Harper 360 |
Ben's always loved the month of December, but this year, with his relationship with Daphne on the rocks, it's missing its usual magic. And then his old friend Alice gets back in touch. Ben's always thought of Alice as the one that got away, and he can't help but wonder: what if he'd done things differently all those years ago?
He never imagines he might get to find out… but when a stranger sells Ben a mysterious watch one freezing winter's night, he's astonished to wake up the next morning on 5th December 2005: the day he first kissed Daphne, leaving Alice behind.
Now Ben must make the biggest decision of his life, all over again. But this time around, will he finally find the courage to follow his heart?