All the Dirty Secrets by Marian Lanouette is the 4th book in her Jake Carrington thriller series. Marian Lanouette sets a perfect pace of action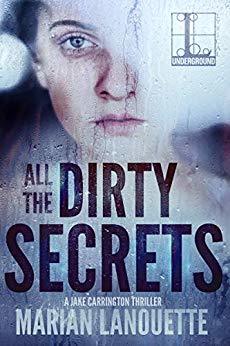 and suspense in this story. Each suspect is thoroughly investigated and eliminated or moved up the prime suspect list.
Jake Carrington is recuperating after barely escaping with his life and gets a call telling him he is needed to invesitgate the murder of the Police Commissoner's wife. Only he and his partner Sargeant Louie Romanelli are trusted by Commissioner Todd Blake to work this case. He can't say "no" so somewhat weak and in pain he drives to the crime scene at a cheap "hourly rate" hotel. There he joins Louie who has already secured the crime scene. Callie Blake has been shot in the chest, is dressed like a hooker and has scandalous photos scattered around her body. The pressure is on to find her killer. It is known by the Commissioner and Jake's Captain, Shamus McGuire that Callie received a blackmail note but blackmailers usually don't murder their victims since they plan to keep blackmailing them. What is going on here?
Deep into the investigation Jake and Louie discover other potential blackmail victims. What they have in common is photographer Melinda Mastrianni, Jake's high school girlfriend. Then Melinda disappears. Has she been snatched or did she rabbit? Another potential blackmail victim is kidnapped. Is this related to Jake's murder/blackmail case or is her soon-to-be-ex husband responsible for her kidnapping? Two tough investigations going on for the wounded police lieutenant.
The characters are well-developed and very three-dimensional. They almost jump off the page. I really enjoyed the camaraderie between partners Jake and Louie. They play off each other well. This story is an excellent suspense story. Can't wait for this author's next installment in Jake Carrington's crime solving.
Book Info:

Publication: May 14th 2019 | Lyrical Underground | Jake Carrington #4
It's a shocking blast from the past when homicide detective Jake Carrington finds himself investigating the last woman he'd suspect of murder . . .
Recovering from a stab wound to the gut, and dealing with the news that his sister's killer might beat the system, Lieutenant Jake Carrington needs some downtime. But that's cut short by a very sensitive case: the murder of the police commisioner's wife. The crime scene—a dive hotel, complete with provocative, incriminating photos—suggests the victim was having an affair. But Jake finds that hard to believe—as hard to believe as the #1 suspect . . .
Jake hasn't seen his highschool sweetheart, Melinda Mastrianni, since the day his sister, Eva, died. He'd turned down Eva's request for a ride so he could go see Melinda, and the guilt has never left him. Now Melinda's a local photographer, mostly shooting weddings and graduations. Definitely not the kind of pics that led him to her doorstep. But when Melinda disappears, and more prominent women turn up dead, Jake will have to navigate through a twisted blackmailing scheme to find out if the girl he once knew is long gone—or if she's a killer's next target . . .
"Tense and authentic—a suspenseful page-turner!"
—Leo J. Maloney on All the Pretty Brides