Baby it's cold outside is a fun, sexy and steamy anthology by four great authors. All four stories are great and have a concurring theme. A one-night stand that just might become more, if they are willing to fight for it and believe in it. I won't give too  much away so here is my brief preview for you on these stories:
Kate Hardy's 'TIS THE SEASON TO KISS SANTA: 
Mitch has been looking forward to taking over after his boss retires at the Holford PR. But he is now being asked by his boss to play Santa for at a hospice. While Mitch has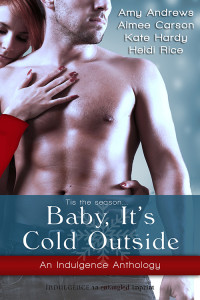 done everything possible to make the right image for the firm, CJ Holford thinks that Mitch needs to show more heart, and this is his only chance for it.
Ellie has always loved Christmas. But this year she doesn't want to be near her family and friends since they only pity her lately and she can't stand it anymore. After learning that her godmother was having her hip replaced, she decides to go help her to go away. Now Ellie is the chief elf in the hospice where her godmother always volunteers.
But she will need more than her regular cheer to help this scrooge find the spirit of Christmas. Being snowbound might just help her get her wish.
Heidi Rice's 'TIS THE SEASON TO GO SHOPPING
Kate Braithwaite has gotten the worst possible Christmas present, an email from her long-time boyfriend breaking up with her. Now alone in New York and with no one to celebrate Christmas she decides to go into work at the department store and take her mind away from her loneliness.
Ryder Sinclair is tired from being in a war zone and a long flight.  All he wants is a gift for his daughter and a bed to go to sleep. He is believed to be a playboy, but not many know what his life really involves. They all believe and think the way that his father does.
Trapped in the department storm after a blizzard hits, Kate and Ryder might just need to open up to find a way to pass the night and might find in each other the thing that was missing in their lives.
Amy Andrews's 'TIS THE SEASON FOR KISSING
Tamara has decided to stay locked away in her friend's Georgia's family cabin. It's New Year's eve and she doesn't want to go to Time's Square to celebrate with others, where there will be a lot of couples kissing, when she has no one in her life to kiss. Now as she is truly into the eggnog pitcher that Georgia left when someone is entering the cabin!
Luke has been away on deployment for nine months. After a long flight all he want is a bed to rest. But as he walks into the cabin he is attacked by a little pixie with his father's golf club, as instincts take over and he is now holding a very soft woman when he has not been with anyone since his deployment.
Being trapped in the cabin with a snowstorm outside is not what they would like. Especially since there is only one bed and they have both been without a partner in quite a while. But Luke is 4 years younger than Tamara, and he can't want the commitment she is looking for, or so she thinks. But Luke still has to find a way to get to the ten dates that Tamara wants before even a kiss can pass between them, can he accomplish it just in time to get the New Year kiss from her?
Aimee Carson's 'TIS THE SEASON TO BE TEMPTED
Wes is tired and all he wants is to sleep on the flight. But he can't help but recognize the voice complaining a few seats back. He would probably ignore it and the panic he hears in her voice, until he realizes that she might delay the flight and get thrown off the plane. Then there is the fact that they are going to give her alcohol to help her relax, but she can't handle her alcohol as far as he remembers.
Evie has been away from her family for ten long years and it's taking everything in her to get on the flight that will take her back to the place she ran away from, with nothing to show for it. She has lost her boyfriend and her job.
After Evie gets drunk she tells things to Wes she had not had the courage to do ten years before. After sleeping off the alcohol for 5 hours, Evie awakens to find Wes taking care of her. But she doesn't remember everything she told him, which Wes decides to use to his advantage and tease her after she tortured him with everything she told him. But not being able to go on to their destination due to heavy snow, Wes has rented the only hotel room available they will have to share.  Can the temptation that has been hidden and brewing since their teens evolve now that they will have to share? Wes is everything that Evie ran away from, but at the same time he feels like home. She will need to have lots of courage to see this through.
If you want to read a fun and steamy novella, here you have 4 that will get you in the spirit of the season and will leave you wanting more.