Back to the Good Fortune Diner by Vicki Essex is a sweet romance story about taking a chance and embracing change.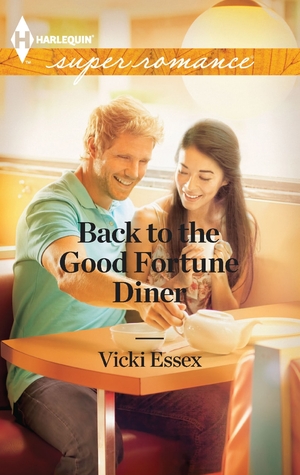 Tiffany Cheung has always wanted to be perfect at everything. Once she sets her mind and course she won't change it. But after loosing her job in New York she finds herself going back to her parents house while she finds a new job. But admitting that she failed is not something she is comfortable with, and going back to Everville is not easy, for her family is the only Chinese family there, and acceptance was never easy.
Chris Jamieson has always been fond of Tiffany. She tutored him while in High School and helped him graduate and earn a scholarship. Now that he heard that she is back he can't help but want her to help his son with his school as well. What Chris doesn't expect is the change time has had on Tiffany. She is not only smart, but now she also hot, really hot and his attraction couldn't have come at a worst time.
For Tiffany plans to get out of Everville as soon as possible and get back to her real life.Tiffany has always had a crush on Chris and she can't believe that he is attracted to her. But she can't promise forever, for she has a life to get back to, and all she can commit to is right now. What she doesn't count on is not only falling for Chris but also for his son. It will take true love and some hard knocks for Tiffany to accept that maybe change is good and not the failure she believes it to be.
If you want a sweet romance about a very stubborn heroine and a sweet and hard working hero that is always thinking family first, then this story is for you.
Rating:
Book Info: Publisher: Harlequin (January 2, 2013)
Everville, New York—it's the town where Tiffany Cheung grew up, and the last place she wants to be. But after losing her job in Manhattan, that's exactly where she finds herself. Worse, she's working at her family's Chinese diner and feeling like the outsider she once was. The only bright side is that Chris Jamieson, the boy she used to tutor, is still around. Her high school crush is hotter than ever, and he needs her help…again.
Tutoring Chris's son is the perfect temporary job. Except, Chris finally seems interested in her—and is hinting about a less temporary arrangement. Talk about bad timing! Because Tiffany's not staying and nothing will stop her from getting back to her real life. But maybe what's real is about to change….