Baring It All by Megan Frampton is a hot, fun and hot read.  Lady Violet has been the best friend of Christian Jepstow's young sister for a long time. For that reason alone she knows that Christian is interested in women. Her problem is that he doesn't seem to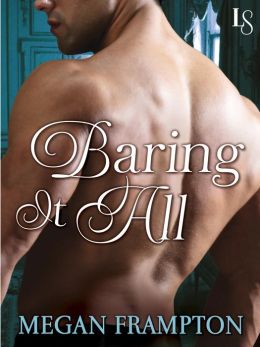 realize that she happens to be a woman, yes he may have asked for her hand in marriage, but he has not laid a finger or even kissed her once. She loves him very much but she cannot enter a marriage without mutual love or passion. And so she comes up with a plan.
Christian knows that passion can overrule his mind to the point that he forgets about his studies. It happened when he was younger, and he vowed to not let passion rule him again. Now he has betrothed Lady Violet, thinking that she is a safe person to marry. But when his sister unexpectedly goes out of town leaving him home alone he will be in big trouble.
Violet has decided to discreetly enter her betrothed's home and find out once and for all if they can have the marriage she dreams of or if their engagement will be over once she exits his house. But first she will have to seduce him into passion, by slowly undressing in front of him in the guise of helping him write his sister's article.
This story is sizzling, fun, very entertaining and has a lot going in such a quick read that will not leave you wanting but will definitely leave you wishing there was more. Kudos to Megan Frampton, she definitely kept me hooked and left me satisfied with this novella. If you want a nice quick and fun read, don't miss Baring It All by Megan Frampton
Book Info
Publisher: Loveswept (June 24, 2013)
It is with great discretion that this columnist discusses the sensitive topic of undergarments. Some ladies, it seems, do not pay strict attention to what they wear under their gowns. A crucial error, my ladies.
Lady Violet knows Lord Christian Jepstow is interested in women. The problem is, he hasn't seemed to realize that Violet is a living, breathing woman—a woman with needs. Which is a huge problem, considering the fact that Violet and Christian are betrothed. Violet has no intention of saying her vows without knowing if her husband has the capacity to love her properly, so she does what anyone would do in her situation—she steps into his study and offers to take off her clothes. What happens next could be an utter disaster . . . or it could be surprising, seductive, and sizzlingly sexy.