Beautiful Bitch (Beautiful Bastard #1.5) by Christina Lauren: If you enjoyed the first book in the Beautiful Bastard Series, than you will definately want to pick up Beautiful Bitch by Christina Lauren. This is the follow-up novella and it was awesome.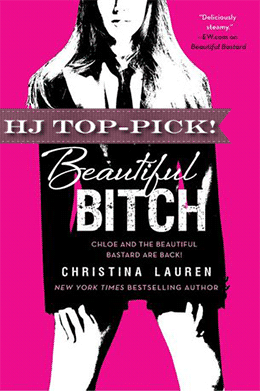 This novella gives you a look into what has been happening with Bennert Ryan and Chloe Mills since the end of Beautiful Bastard. Still told from both points of view, we get great flash backs of what happened a after they got back together, and what their life has been like since they became a couple.
Chloe and Bennet are both working long hours, traveling and missing each other like crazy. It seems like anytime they try to carve a little time out for each other, there is some type of emergency that interrupts. When Bennet surprises Chloe with a 3 week vacation at a French Villa, you have to know that things for Chloe and Bennet will not run a smooth course.
I loved this novella as much as I enjoyed the first book. Even though they are now a couple, that does not mean that it is smooth sailing for them, and that leads to the wonderful fights and othere activities that are so Chloe and Bennet. This novella also sets you up perfectly for the next book in the serise. I can not wait to read more in this series and I look forward to more Chloe and Bennet.
Book Info:

 HJ Top Pick
Published July 9th 2013 by Gallery Books | Series: Beautiful Bastard #1.5
Just when Chloe's career starts to take off, Bennett wishes it would all slow down long enough to spend a wild night alone with his girlfriend. But after he refuses to take no for an answer, Chloe and Bennett find themselves with two plane tickets, one French Villa, and a surprising conversation that, predictably, leaves them wrestling under the covers.