Beautiful Killer by Sherilee Gray is book three in the Lawless Kings series and is read as a standalone. Filled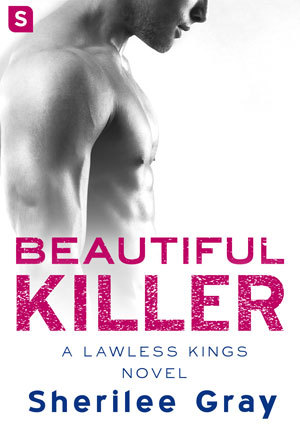 with gritty emotions, sexy nights, and an unexpected secret, readers won't be able to read this fast enough.
Zeke is a former SEAL sniper with shadows chasing him. He was diagnosed with PTSD and isn't the most talkative person. He growls, grunts, and stays isolated. He's working security now, but there are times when the bad memories come out of nowhere and send him into a panic attack. He isn't the same man he used to be. He's broken and it will take a strong woman to put him back together again.
When Sunny walks into the bar and spots Zeke, she works up the courage to approach him for a one-night stand. He might not say much but it's clear that his body wants her. Once they're done heating up the sheets, Zeke leaves…only to come back the next night and then the following one after that. Not much communication, just some hot, sweaty sex. Sunny understands that they have no future together, but will take what Zeke allows her to have. His body and nothing more.
The only time you really see Zeke show a bit of emotion is when he finds out Sunny was attacked, and then it's gone in a blink of an eye. He doesn't stay like this the whole book, but readers won't see any real feeling from him until the end.
Sunny is used to being alone. She's been by herself for the longest time. Her last boyfriend dumped her when she told him she couldn't have children and her step-sister only speaks to her when she needs money. It's not a very nice way to live, and because of that, Sunny hides herself away. But Zeke sees this and draws her out.
Zeke is the very definition of a tortured hero. He wants Sunny but thinks he's not good enough and constantly pushes her way. Only, circumstances out of their control bring them right back together.
I enjoyed Sunny as a heroine. She didn't chase after Zeke, and I really appreciated that. Readers that love damaged heroes, should definitely give this book a read.

Book Info:

Publication: January 9th 2018 | Swerve | Lawless Kings #3
She's wanted a big family ever since her distant father and cold stepfamily isolated her from affection. He's an ex-SEAL sniper with PTSD.
Too bad she's been told she can never have children, never have a family of her own.
Too bad he's shut off his heart from love.
What do you do when one secret could bring you ultimate happiness…or destroy everything you hold close?
Beautiful Killer is an intense, ultra-sexy standalone novel set in the world of the Lawless Kings. Sherilee Gray's raw, deeply-emotional voice will leave you breathless long after the last page.