Blackmail and Lace (A Hard Men of the Rockies Novella, #5) by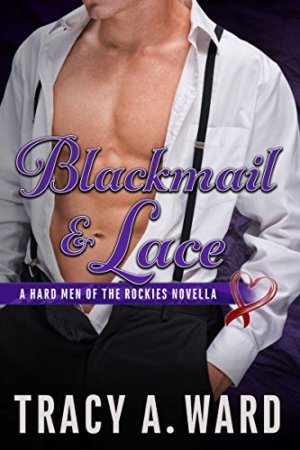 Tracy A. Ward was an entertaining, touching, and sexy read that took me on an emotion filled journey. From heart ache to hope and new beginnings, I went along with Grayson as she embarks on promises to her sister that eventually become promises to herself. Adam Holder is on her list and suddenly right on her path…doing what she can to use him to fulfill a promise, it soon becomes apparent to them that there is much more to life than just doing what is expected of you. As the attraction between them quickly flares to life, can the past make way for the future?
I loved this fast paced read. The attraction is quick, the action is hot, and the emotions are intense. Everything is written so well and in such a way that it makes all that immediateness believable. Adam and Grayson felt right together, but their pasts collide in unexpected ways and it was uncertain if that could be overcome. There is some conflict and tension in their struggle, but the feelings remain strong which gave me hope.
The majority of the plot is over a short period of time, but I never felt that it was rushed and I felt like the story that needed to be told was told. I saw a lot of growth in Grayson in Blackmail and Lace. I felt that she deserved to live her life how she wanted to live it and hoped she would take that leap.
I enjoyed Blackmail and Lace and felt really good with how Tracy concluded it. I'd recommend Blackmail and Lace to any romance reader.
Book Info:

Published: September 13th 2016 by Tracy A. Ward
Grayson Montgomery is on a mission and bad boy Adam Holder is on the top of her bucket list. When the successful defense attorney mistakes her for an old flame, Grayson doesn't hesitate to use a misleading video to bring him to his knees and blackmails him into a trip he would never make. Duty-bound to a deathbed oath, Grayson doesn't count on the intense attraction between them or how much she's falling for the sexy bachelor.
Adam Holder loves women, but he loves success even more. He would never jeopardize his career, until a case of mistaken identity makes him look guilty of a crime he'd never commit. Not willing to take a chance with his future, Adam submits to the blackmail of a beautiful woman while plotting his revenge…but when their sparks of passion ignite, Adam forgets his thoughts of retaliation and risks it all to win Grayson's heart.