Boone by Emily March finds two wounded souls in Boone McBride and Hannah Dupree. Both have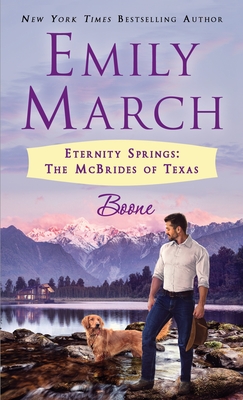 suffered terrible losses, but whereas Boone is finally ready to start moving on towards healing, Hannah is stuck in a constant state of pain. When Boone finds Hannah sitting on the edge of a cliff, he recognizes her pain and wants to help her find healing, too. When someone from Boone's past wants him to adopt her baby, will Hannah be able to move past her pain, or will the baby bring up too much pain from her past?
I felt for both Boone and Hannah, because they had both been through so much heartbreak. While Boone had started his journey towards healing, Hannah was very much at the beginning of hers. It was interesting to watch them make the journey together. The difference between both of the beginning to how they were at the end of the story was night and day. I thought their journey and the challenges they faced were realistic, and the growth of the characters was well-done.
There was one point of the story I would have liked to have seen some clarification on. The baby's biological grandparents were going to sue Boone for custody, but then it's dropped. It's implied that they worked something out, but what? It's not mentioned again, and neither is the agreement they came to. I would have liked to have known how they worked everything out, but maybe that's just me. It felt like it was just thrown in the book to create a bit of drama, and it really wasn't necessary if there wasn't going to be any discussion of the resolution.
While this is the third book in the series, it can be read as a standalone. While Jackson and Tucker (from books one and two in the series) are mentioned and make appearances, you can read this without needing to have read their books first.
Boone is a story about heartbreak, tragedy, and healing. It's an enjoyable story that readers both new and old to the series will enjoy.

Book Info:

Publication: December 29, 2020 | St. Martin's Press | Etternity Springs: The McBrides of Texas #3
With his smooth talk, rugged good looks, and deep pockets, native Texan Boone McBride appears to be a man who has it all. Few people know about the heartbreak behind his decision to leave home, family, and career for the isolation of a small town in the Colorado Rockies. Luckily, time and life in Eternity Springs has worked its healing magic upon his wounded soul, so when he meets obviously troubled Hannah Dupree, Boone sees a chance to pay his good fortune forward. The last thing he anticipates is tumbling into love.
Tragedy has taken everything Hannah loves, and her will to keep going is failing. So when Boone strides into her life determined to save her, it's easier to go along with him than to resist. Soon she is drawn into the fabric of life in Eternity Springs, and as her spirit begins to heal, her strength returns, and she's able to go toe-to-toe with this hardheaded, big-hearted Texan. But just when love blooms and happiness is within their grasp, shadows from the past threaten. Hannah and Boone must stand strong and united in order to defeat old ghosts—if they are to create a brand-new life together.