Bound by the Unborn Baby by Bella Bucannon: After Ethan's sister and her husband die,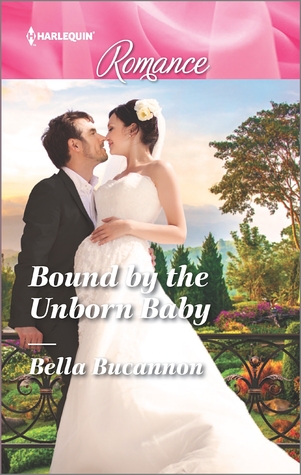 he is left with nothing but grief when the two most important people in his life are gone. But in comes Alina, the surrogate for Ethan's sister. Needing this connection to his sister and her husband, needing this child to have his name and protection, Ethan convinces Alina to marry him.
But for Alina, stuck in grief from past tragedy, this marriage has to have an end date. She'll do it for the baby and for her only friends, but she refuses to open up her heart again.
When the ping announced the opening of the doors he scooped her into his arms—ignoring her protests—and stepped out.
'This is for me, sweetheart.'
Her pupils dilated, making her eyes even more alluring.
'This will be my once in a lifetime.'
I really liked Bound by the Baby. It was a slow build of them getting to know one another. Slowly becoming more intimate and opening up. Ethan's protective attitude towards Alina was just perfect and oh so sweet. It just made me adore him. Alina, too, was lovely, but the real star in this story is Ethan.
Part of my issue with Alina is her grief was still so strong. I found it hard to believe that in one month she would be able to let it go and finally realize she could love again. I loved watching her do it, I'm just not sure how much I could believe it.
Even so, I felt their deep connection blossom. I loved seeing them move past their insecurities, Ethan's rigid control and ability to conquer every situation. I highly recommend Bound by the Baby who want a sweet and slow romance with a sweetly in control hero.

Book Info:

Publication: July 5, 2016 | Harlequin Romance |
"As far as everyone's concerned, Alina, this child is ours."
Surrogacy is the closest Alina Fletcher dares get to motherhood. But when she must tell tycoon Ethan James she's carrying his late sister's child, his solution takes her breath away—a temporary marriage of convenience for the baby's sake!
Alina knows it's the right decision for her baby, but is marrying a stranger—especially one who makes her heart sing!—the right choice for her? Having loved and lost her own family, this proposal could be another chance at happiness…if only Alina's brave enough to say "I do"!