Burned by Christina Phillips is the third story in her Viking Bastards MC series, a second chance romance set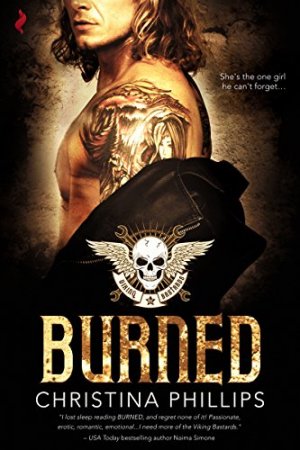 in the gritty world of motorcycle clubs and all that entails.
Jas left her life in the thick of the motorcycle club life as the 17 year old girlfriend to Ty, the son of the Viking Bastard's president, when she endured an assault that she kept hidden. Leaving her mother, she'd moved away and moved in with her father and step-mother who helped put her through school to get her law degree. The death of her mother has brought her back to L.A. to sort through her things and give her a proper funeral. It's also brought her back into Ty's orbit.
Ty never knew why Jas left him so abruptly. He knew his family didn't approve of her, or her mother, a stripper who hung around the club, but he cared for her very deeply and was hurt when she left. Seeing her again brings back lots of memories, good and bad. It also brings their attraction back in full force. Jas will only be around for a few weeks as she settles her mother's affairs. A sex only fling seems like a good way to put their memories to rest, but will it lead them to wanting more once again?
I read and enjoyed the previous romances in this series and this one is also a very good read. Jas always believed Ty would put the club and his family ahead of her and had to make some quick decisions for her mental and physical health. They were the right ones for her at the time, enabling her to have a more stable home life and get a decent education and a good paying job. Being back in L.A. is difficult for her, especially when she discovers how bad the situation had been for her mother in the past few years. She finds out that Ty employed her mom out of loyalty to Jas for which she at first is dismayed (not knowing what kind of job she'd had) then grateful (when she finds out the truth).
The chemistry between Jas and Ty is pretty hot and their sex scenes are equally so. It also brings back their emotional bond. Jas isn't sure how or if she should tell Ty what really happened to make her leave though he suspects he's missing parts of the puzzle. Jas has no plans to stay in L.A. with a permanent home and job elsewhere and even though her feelings for Ty are strong, she will not be a part of his life while he is in the local Vikings Bastards club, nor will she make him choose between her and them. There are some emotional scenes as things play out, but in the end Ty and Jas make the choices that lead to their happy ending. It's an intense, steamy read.

Book Info:

Publication: April 16, 2018 | Entangled Publishing | Viking Bastards MC #3
Ty…
Ten years ago I offered her everything, and she threw it back in my face. When she walked, I vowed no other woman would ever screw with my head the way she did. I moved on. Now I'm the V.P. of the Bastards, run my own nightclub, and nameless sex keeps me sane. No commitment or ties, just the way I like it.
Now she's back, for one week only, gorgeous, successful, and I can't keep away. She offers a long goodbye, a way to heal our fractured past. She burned me so bad––there's no way I should even want to be near her. But the more she gives, the more I need. Until I discover the real reason she left, and my whole damn world implodes…