Burning Up (Flirting with Fire #1) by Jennifer Blackwood is a hot and sexy story that will bring a smile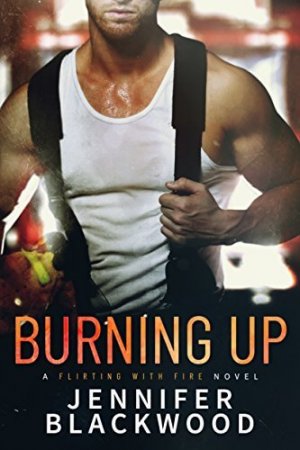 to your face and show you that true love does exist if you have a little faith and are willing to make a wish. This is the story of Erin and Jake.
Erin Jenkins was fired from her job in California, she is back in Portland to help her mother recover from a hip replacement. Her stay is temporary because she does not want to stay in the place that she ran from more than a decade ago. When she runs into her high school crush who also happens to be her brothers best friend, those old school girl feelings start to resurface. Jake Bennett may have been cute in high school, now he is 5 alarm hot.
Jake Bennett has one priority besides to the men that he works with at the fire station, that that is to his daughter. Everything that he does is for her. He has even given up on dating because he does not want to bring someone into their lives that might leave them broken hearted. When he is forced to bring someone to his sisters wedding, who better than his best friends sister, Erin. But Jake does not count on the chemistry and the electricity that will be flying whenever Erin is around him. How is he suppose to remember that Erin is suppose to be hands off.
The more time that Erin and Jake spend together, the closer that they become and the harder it is to resist the temptation of giving in to the heat that is building. But just when things start to become very real for the two of them, Erin is offered her old job, and that will force her to make some real decisions. Does she pack up and run like she has always done, or does she stay and make a life with the man that she has fallen in love with in a city that is now so much more than home.
This story was a fast read, and it was sweet and amazing. I really felt for both Jake and Erin. They both wanted each other, but they were both so afraid of screwing things up . There was a lot of humor in this story. Especially when they were at the wedding and their in room TV was stuck on the porn channel! I don't think I have laughed so hard in forever! This book is an amazing start to a great series and I cannot wait to see who falls next.
Book Info:

Publication: May 8th 2018 | Montlake Romance | Flirting with Fire #1
Unemployed schoolteacher Erin Jenkins is back in Portland, the town she hasn't called home for more than a decade. It's not the way she wants to spend her last days of summer: in between jobs and avoiding her mother's snooping by escaping to the ice-cream aisle. But when the opportunity arises for her to accompany her brother's best friend—her lifetime crush—to a wedding, summer gets a whole lot more interesting.
Firefighter and single dad Jake Bennett has built a nice, safe wall around his heart—no romance, no getting burned. That doesn't mean he's ruling out a fling. Considering Erin's visit is temporary, they're the perfect fit for a scorching no-strings one-night stand. Or two. Or five. Until the worst thing happens: Erin and Jake are feeling more. Damn that four-letter word.
Now their hearts are on the line, and when their smoldering summer comes to a close, it's going to be harder than ever to put out the fire.