Christmas Seduction by Jessica Lemmon is a sexy holiday themed romance and the latest in her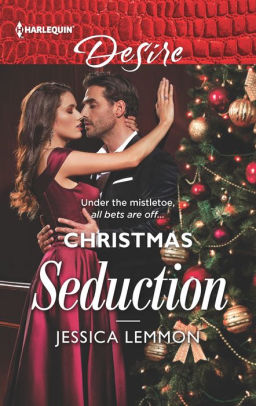 Bachelor Pact series. In One Night, White Lies, Reid Singleton discovered that his twin brother, long though dead is actually alive. This is his story.
Tate Duncan is still reeling from the news that his whole life has been a lie. It turns out that he was kidnapped from his home in England as a toddler and sold through an unscrupulous adoption agency to a couple desperate for a child who didn't look too deeply into his history. Now that Reid has recognized him and told him the truth, he has two families to contend with and a lot of complicated feelings. The one thing that grounds him is the wellness community he's developed on Spright Island and the people who live there. One woman in particular has caught his eye – yoga instructor Hayden Green.
Hayden left her own family drama behind to settle on Spright Island and open a yoga studio. When Tate shows up at her studio on a rainy night, clearly needing a friend, she's quick to offer him tea and a listening ear – and a kiss to help take away the pain. It's the start of a friendship and a dating relationship, no strings attached. Tate is recently single, his fiancee having left him with the news of his family complications and he's probably on the rebound so Hayden is wary of getting in too deep. But when Tate asks her to pretend to be his fiancee and travel to London to meet his birth parents, will it lead to something more?
I love that the author was able to give us Tate's story! I was curious about him since he appeared in Reid's romance with Drew (which I also greatly enjoyed). It's definitely a soap opera worthy plot, having someone recognize you in a coffee shop as their presumed dead twin brother. For Tate, it's been understandably hard to adjust. He has kept his distance from his adopted parents who took his adoption information as given (that he was an orphan) and didn't question it. Now he has the opportunity to meet his birth parents by traveling there for Christmas with Reid and Drew, but he needs someone to be his buffer, and that someone is Hayden.
The setting in this story is unique, with the wellness community sounding like a really lovely, natural place to live with people who care about the environment and living a healthy lifestyle. It's the perfect place for Hayden who comes from a busy, dysfunctional household in Seattle, with a grandmother who is an alcoholic and a mother who enables her. I loved the scenes set in London with Tate's family as he reconnects with his parents, and the lovely English Christmas traditions like pulling crackers to discover the toys inside.
Hayden and Tate share a mutual attraction that results in some sexy love scenes. When things between them start to get more serious, there is a bit of drama with Tate's ex that pushes them apart before they fix things and get their happy ending. It's an interesting and entertaining story and even though Tate wasn't a part of the original Bachelor Pact, I'm glad his story has been added to the series!

Book Info:

Publication: Oct 01, 2019 | Harlequin Desire | The Bachelor Pact #4
Under the mistletoe, all bets are off…
Christmas with his real family…
And his fake fiancé!
Developer Tate Duncan has everything under control–until he discovers his family isn't his own. Now, only the sympathy and sexiness of yoga instructor Hayden Green offers escape. He needs her. So he entices her to spend Christmas with him as he meets his birth parents…posing as his fiancée! But when they give in to dangerously real attraction, their ruse—and the secrets they've been keeping—could implode!