I absolutely loved Confessions of an Italian Marriage by Dani Collins! Right from the very start I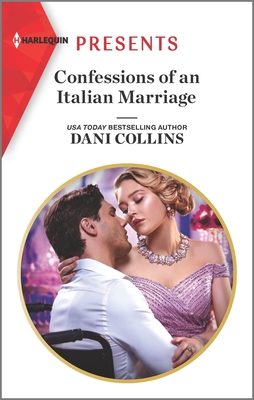 was hooked, I think it is safe to say this has been my favorite Harlequin Presents book to date!
When Freja's husband all but deserts her, she is forced to go to extreme measures to get him to come back and if that means she has to pretend to get remarried so be it. The entire reason for Giovanni going into hiding was to protect his bride but when Giovanni gets wind that Freja is planning on getting married again he has no choice but to come back and fight for the marriage that he himself was not sure he wanted this strongly.
I absolutely loved that this was not your typical romance, firstly the chemistry between the two main characters was so on fire, but the thing that won me over in this novel was that the female lead was no damsel in need of saving. Freja was a strong go getter, she did not wait around for Giovanni to come to her, she made things happen. In fact there was one point that she actually came to his rescue. However in saying this I loved that Giovanni was not your average alpha hero. Giovanni is a paraplegic but this does not define him or hold him back in the least. I loved that Collins portrayed Giovanni as a strong capable man that was not limited by his wheelchair. This was a nice change of pace in that both the hero and heroine were genuinely nice people.
I truly enjoyed this Harlequin Presents novel, not only did it have a beautiful story but it was deep, intense and gripping all while holding true to its romance roots. Confessions of an Italian Marriage was an a beautiful written novel that packed a punch while being a fast read that wrapped up very well. This is definitely a book that I would reread.
Book Info:

Publication: September 1st 2020 | Harlequin Presents |
An estranged husband and wife rekindle their extraordinary passion in this emotional marriage reunited romance by USA TODAY bestselling author Dani Collins.
He's back to reclaim her…but where has he been?
What do you do when your husband goes missing? Flush him out by pretending to marry again! Billionaire Giovanni's dramatic return forces Freja to confront the deep hurt she felt at his desertion…and the sparks that continue to fly between them…
Giovanni had to go into hiding to protect his new bride, but he's shocked by the consequences his mysterious past had on Freja. Now he'll have to let her in closer than he's allowed anyone before if he's to save the whirlwind marriage he's suddenly so compelled to fight for!